Description
Co-hosted with A Good Space
Welcome to join us for SMS (Seniors-Meet-Seniors) Knowledge Cafes;
Knowledge Cafés for Seniors are fun productive conversations to learn from each other and to make better sense of living in an urban community.
Objective: Encourage peer-led, small group learning for seniors
Date: 15 November 2018 (Thursday)
Time : 2pm to 4.30pm
Venue: NVPC @ Clarke Quay Central 6 Eu Tong Sen Street, 04-88, Singapore 059817
Free Admission
Topic: The Ageing Body
The Ageing Body will focus on how ageing affects the health and fitness (collectivity known as wellness), with tips on keeping the body functional and even improve it.
Join us for some interesting and enriching sharing and discussions.
Other sessions please register at the main u3rdage.eventbrite.com page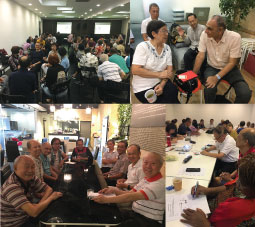 FAQs
Where can I contact the organiser with any questions?
Please email u3a.carol@gmail.com
This event is co-hosted with A Good Space - where changemakers flourish as a community to imagine and create experiences that expand perspectives across diverse social issues.
From Poverty Simulations to a Feast with Seniors, come learn about a wide range of social issues through innovative activities. To learn more and join the community, visit their website at:agoodspace.org
In registering for this event, you consent to the collection and processing of your personal information for the purposes of this event only, in accordance to the Personal Data Protection Act (2012).