Description
A project supported by the LearnSG Seed Fund ~ Every Day, A Learning Day
SMS (Seniors-Meet-Seniors) Knowledge Café is open to all. SMS Knowledge Café is a place where people can meet seniors to have fun and productive conversations to learn from each other and to make better sense of living in an urban community. The objective of the SMS Knowledge Café is to encourage peer-led discussions and learning in small groups for seniors.
Date: 18 July 2019 (Thursday)
Time: 2pm to 4.30pm
Venue: 10 Square @ Orchard Central Level 10, Arena
Free admission
Topic: Introducing E-payment to the Senior Generation
Please click on this link to fill in this Pre-Survey Form after or as registration.
The objective of the session
To teach participants how to use the Paynow app of DBS/POSB, UOB and OCBC to make e-payment.

Pre-requisites of the participants
1. Participant must possess a smartphone.
2. Participant must have an internet-banking account with DBS/POSB, UOB or OCBC (otherwise, go to the bank to apply for one)
3. Participant to indicate the bank which they want to learn the Paynow app.
4. Participant to bring bank security token (in case required for other bank account related set-ups during the session).
5. Participant to remember their email and login-in password (to check if there is an email after the transfer).
View SMS photos on facebook.com/u3rdage
Other activities, please register at u3rdagesms.peatix.com
Photographs and videos may be taken during the programme for news and publicity purposes.
For queries, please contact the organizer or if you would like to join our weekly email group for updates on the discussion topic.
Email u3rdage.carol@gmail.com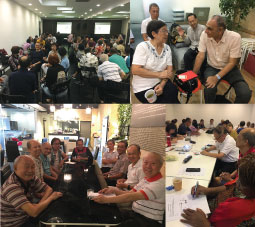 In registering for this activity, you consent to the collection and processing of your personal information for U 3rd Age Pte Ltd mailing list, in accordance with the Personal Data Protection Act (2012).
You may choose to unsubscribe at any point by sending an email to u3rdagesingapore@gmail.com