Description
SMS (Seniors Meet Seniors) Knowledge Café is open to all. SMS Knowledge Café is a place where people can meet seniors to have fun and productive conversations to learn from each other and to make better sense of living in an urban community. The objective of the SMS Knowledge Café is to encourage peer-led discussion among seniors and learning in small groups for seniors.

Date: 25 July 2019 (Thursday)
Time : 2pm to 4.30pm
Venue: Bishan Public Library, 5 Bishan Place #01-01 S579841 (Programme Zone @ Level 2)

Discussion Topic:
This sharing is about Retirement Planning with special emphasis on Monetizing the Hobby as a supplementary income to support retirement. Retirement Planning is absolutely essential. One cannot simply retire without any plan whatsoever. The key considerations are finance, medical, healthcare, time and socializing. Indulging in any hobby to occupy the ample free time is recommended. Such indulgence can also be monetized to supplement the retirement income.

Do you enjoy sharing your experiences with others? Turn that passion into a financially-sustainable project with The One Piece Shop (TOPS).
TOPS helps anyone with a willingness to share a platform to launch their own series of gifts. We help to curate every series of gifts and narrate your story/experiences through each gift. The gifts will then be listed for sale to the public on our various online (Facebook shop) and offline (exhibitions, marketplaces, makers' fairs) platforms.
Not a maker? No fear! TOPS can still help to tell your stories by creating merchandise with your content (e.g. bookmarks, postcards, etc.) Since this is a community project, all profits from the gifts will go back to our seniors in life!
View SMS photos on facebook.com/u3rdage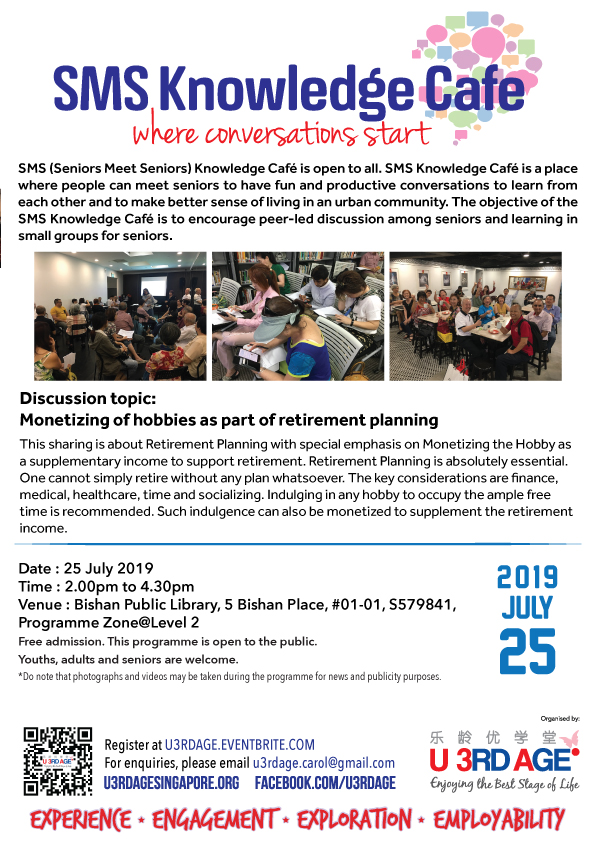 Other activities, please register at u3rdagesms.peatix.com
For queries, please contact the organizer or if you would like to join our weekly email group for updates on the discussion topic.
Email u3rdage.carol@gmail.com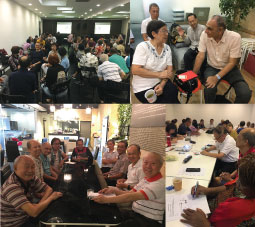 This event is co-hosted with National Library Board
In registering for this activity, you consent to the collection and processing of your personal information for U 3rd Age Pte Ltd mailing list, in accordance with the Personal Data Protection Act (2012).
You may choose to unsubscribe at any point by sending an email to u3rdagesingapore@gmail.com