Description
A project supported by the LearnSG Seed Fund ~ Every Day, A Learning Day
SMS (Seniors-Meet-Seniors) Knowledge Café is open to all. SMS Knowledge Café is a place where people can meet seniors to have fun and productive conversations to learn from each other and to make better sense of living in an urban community. The objective of the SMS Knowledge Café is to encourage peer-led discussions and learning in small groups for seniors.
Date: 22 August 2019 (Thursday)
Time: 2pm to 4.30pm
Venue: 10 Square @ Orchard Central Level 10
Free admission
Discussion Topic: My Retirement and Me.
Through this talk, you will be able to better appreciate CPF as intended for retirement adequacy. Find out what are the 3 basics needs in retirement and how does the CPF system help you prepare for them in your golden years. We will also share with you, through case studies, how to discern facts from the increasing incidence of DRUMS* on social media that are targeted at CPF schemes, and CPFB's evolving efforts to deal with these DRUMS.
*DRUMS is an acronym for Disruption, Rumours, Untruths, Misinformation, and Smears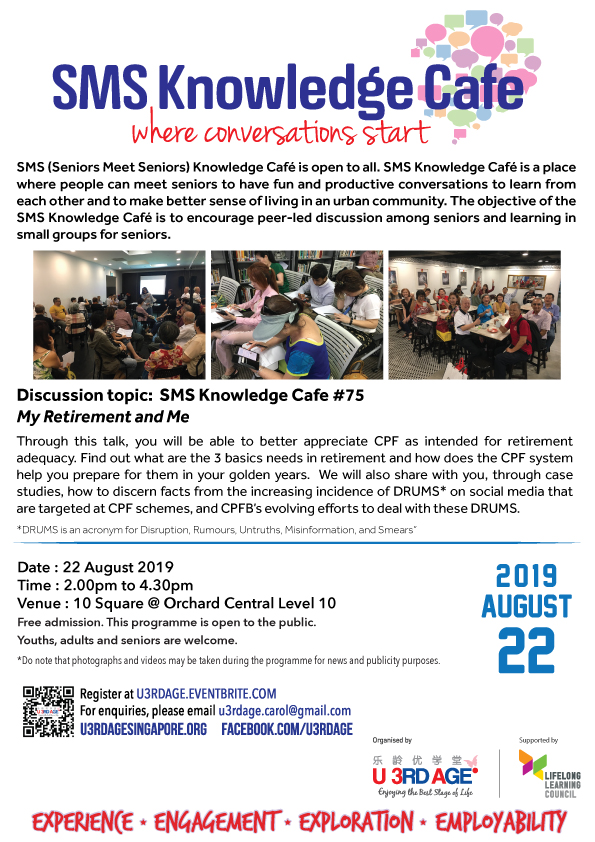 View SMS photos on facebook.com/u3rdage
Other activities, please register at u3rdagesms.peatix.com
Photographs and videos may be taken during the programme for news and publicity purposes.
For queries, please contact the organizer or if you would like to join our weekly email group for updates on the discussion topic.
Email u3rdage.carol@gmail.com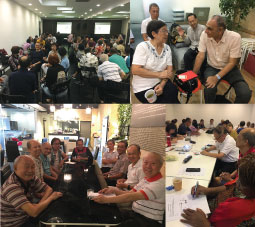 In registering for this activity, you consent to the collection and processing of your personal information for U 3rd Age Pte Ltd mailing list, in accordance with the Personal Data Protection Act (2012).
You may choose to unsubscribe at any point by sending an email to u3rdagesingapore@gmail.com