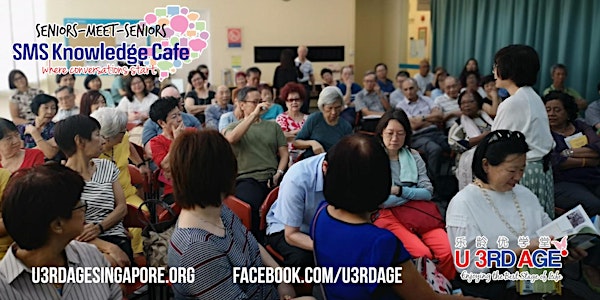 SMS (Seniors-Meet-Seniors) @ Tekka Place, Feb 2023
Simple Qigong Exercises are easy movements to keep our body physically refreshed!
Date and time
Thu, 9 Feb 2023 14:00 - 16:30 +08
Location
Tekka Place 2 Serangoon Road (Main Block) #B1-01/02 Singapore, 218227 Singapore
About this event
SMS Knowledge Café is a place where people can meet seniors to have fun and productive conversations, learn from each other, and make better sense of living in an urban community. The objective of the SMS Knowledge Café is to encourage peer-led discussions and learning in small groups for seniors.
Topic: Introduction to Qigong Exercises (Ping Shuai Qigong or Swing hands exercises)
Date: 9 February 2023 (Thursday)
Time: 2.00 pm to 4.30pm
Venue: Tekka Place (Main Block) #B1-01/02
2 Serangoon Road Singapore 218227
https://www.tekkaplace.sg/getting-here/
Free admission; registration is required due to limited seats.
About the organiser
U 3rd Age (University of the Third Age) is a community of seniors coming together to share learning experiences and social-cultural values. It organizes activities for seniors to achieve active ageing and have fun in later life learning. U 3rd Age also creates a platform to connect with younger generations by sharing life experiences, family values, and personal stories.