Learn more about the emerging challenges for cities in Southeast Asia.
About this event
A series of recent global reports have identified linked areas of deeply systemic and intertwined social and political risks that will impact cities and their inhabitants as we move further into the Anthropocene. In Southeast Asia, these interlinked issues – including climate change, migration and public health – necessitate solutions not just from the sciences, but all fields. This speaker series will explore how some of these issues are being addressed from different disciplinary perspectives, by scholars and policymakers across the social sciences and humanities.  
Presented by:
Karen Chan, Executive Director, Asian Film Archive
Leandro Poco, Philippine-registered Architect/Environmental Planner, Leonardo A. Poco & Associates, Architects

 
Moderated by:
About the Speakers and Moderator
Karen Chan is the Executive Director of the Asian Film Archive (AFA). She joined AFA as an archivist in 2006 and was appointed Executive Director in 2014. For the past 24 years, she has focused on the preservation and access of collections, increasing film literacy, and training of archivists. Karen writes, publishes, and presents nationally and internationally. She is the current President of the Southeast Asia-Pacific Audiovisual Archive Association and serves in the Singapore Film Commission advisory committee. She previously worked at the National Archives of Singapore, the National Arts Council, and the Natural History Museum in New York City.   
Leandro Poco is a Philippine-registered Architect/Environmental Planner. He is a partner at Leonardo A. Poco & Associates, Architects. He completed his MSc Space Syntax: Architecture and Cities degree at the UCL Bartlett School of Architecture (2019); and his MA in Urban Design at the National University of Singapore (2008). His research centres on how Metro Manila's urbanism forms socio-spatial enclaves within private CBDs and gated villages.
Darlene Machell de Leon Espena is an Assistant Professor of Humanities at Singapore Management University. She earned her PhD in History (2017) and MSc. in Asian Studies (2012) from Nanyang Technological University (NTU). She teaches courses such as International Relations on Film, Film in Southeast Asia, Cultural History of the Cold War in Asia and Big Questions.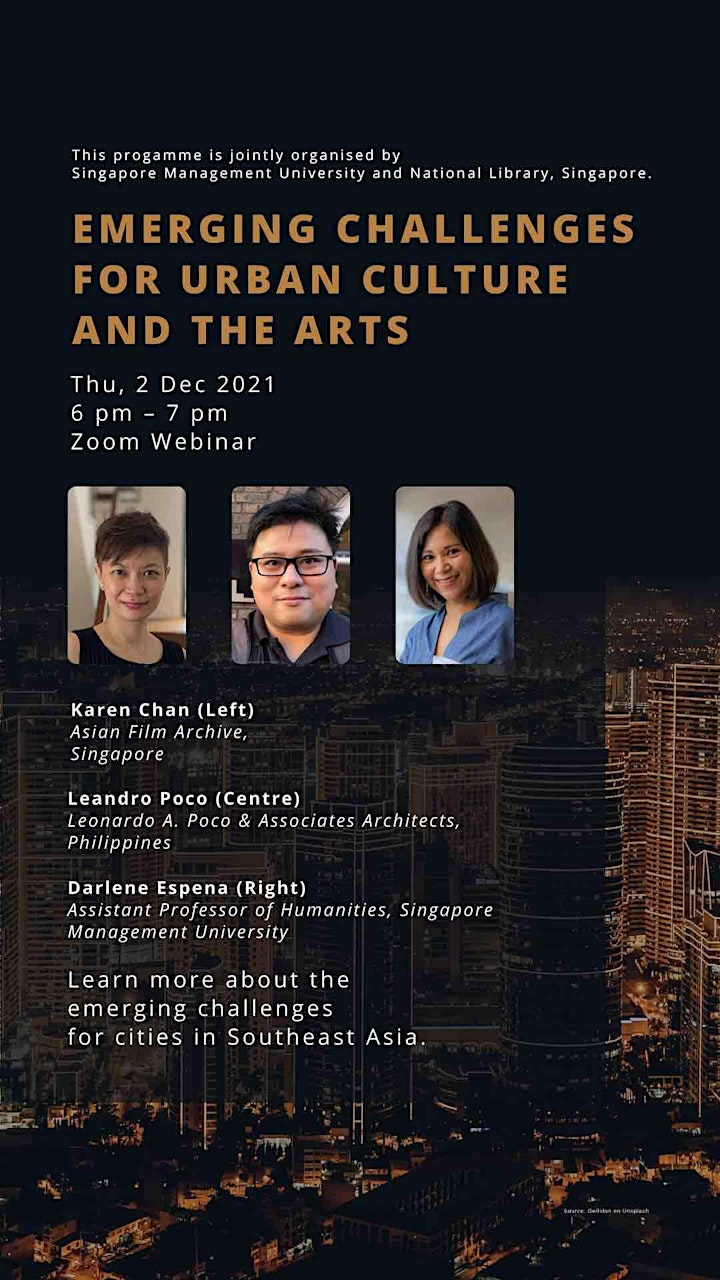 Organizer of SMU x NLB Series: Urban Culture and the Arts
The National Library Board (NLB) manages a network of 27 public libraries, the National Library and the National Archives of Singapore. NLB promotes reading, learning and information literacy by providing a trusted, accessible and globally-connected library and information service through the National Library and a comprehensive network of Public Libraries.