Description
What's your favourite secret spot in Queenstown? Is the view from your window breathtaking? Ever thought of taking a snapshot of it? Everyone has their own special images from daily life in Queenstown. Scenes that only you notice, places that only you know about, and memories that you treasure.
This August, we invite you to contribute to our community photo exhibition by capturing these moments and sharing Queenstown through your lens. You'll get to try out film photography - cameras provided! - and also see and touch your photos after they're professionally developed. With 10 interesting themes over 30 days, feel free to get creative and have fun snapping!
It's ok if the photos don't look nice or you've never used a film camera. What's important are your stories! This is your chance to showcase your everyday Queenstown that no one's seen before and preserve precious memories.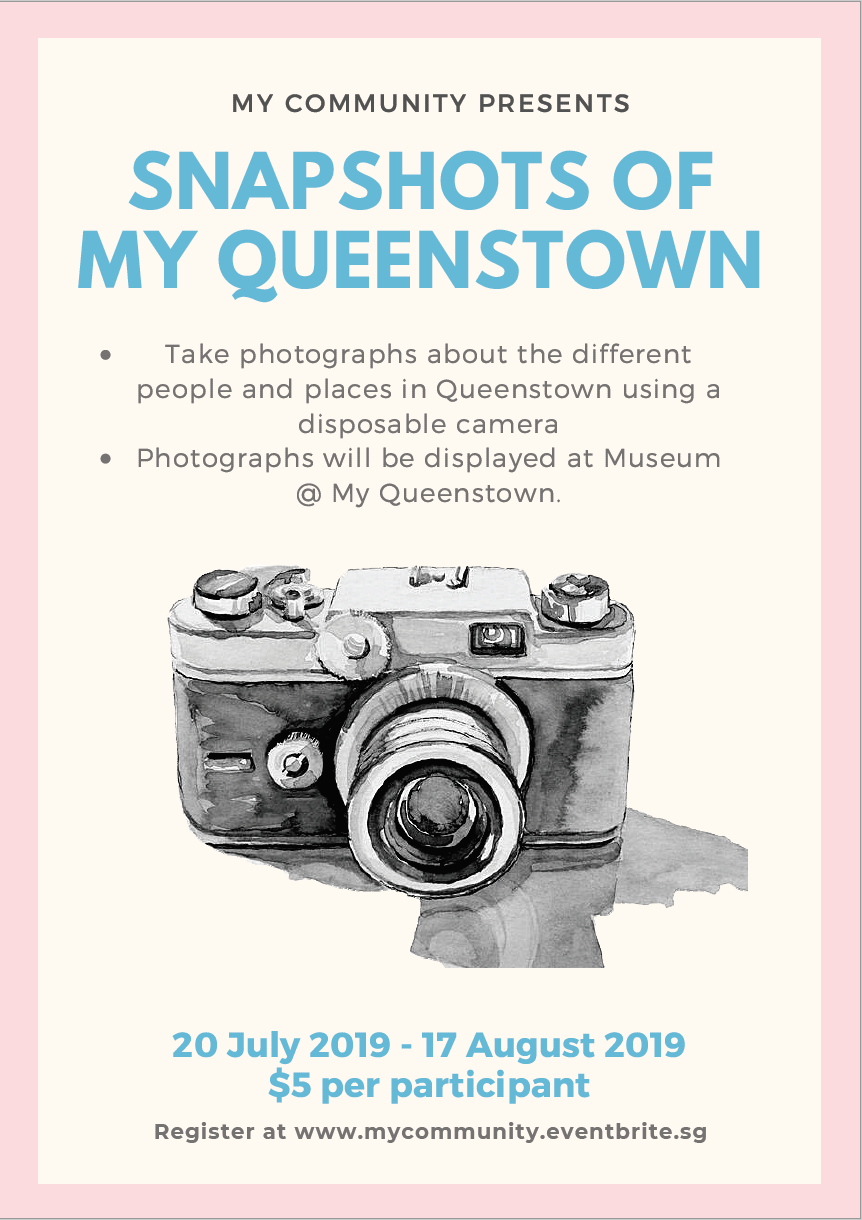 Who should come?
Open to all Queenstown residents, and if you're already into photography too that's perfect! If not, don't worry, this is a great chance to learn - come with an open mind and we'll show you how to use the film camera!
What to bring?
The camera is yours to use for free! Just indicate your interest here on eventbrite, and bring the $5 deposit when we meet to pass you the camera. The deposit will be refunded when you return the camera to us after the 30 days.
Duration & Meeting Place
We will pass the camera to you in August and collect it back after 30 days!
We will collect $5 from you after you have provided us with your name, contact number and other details!
Once we have the cameras back, we will develop the photos and exhibit them at the My Queenstown museum. Please do come down to see yours and your fellow residents' works!
For updates/questions
Visit www.facebook.com/myqueenstown or www.mycommunity.org.sg for updates or to get in touch!