So You Want to be an Author?

Thursday, 3 December 2015 at 09:00

-

Friday, 4 December 2015 at 18:00 (Singapore Standard Time Singapore Time)
Event Details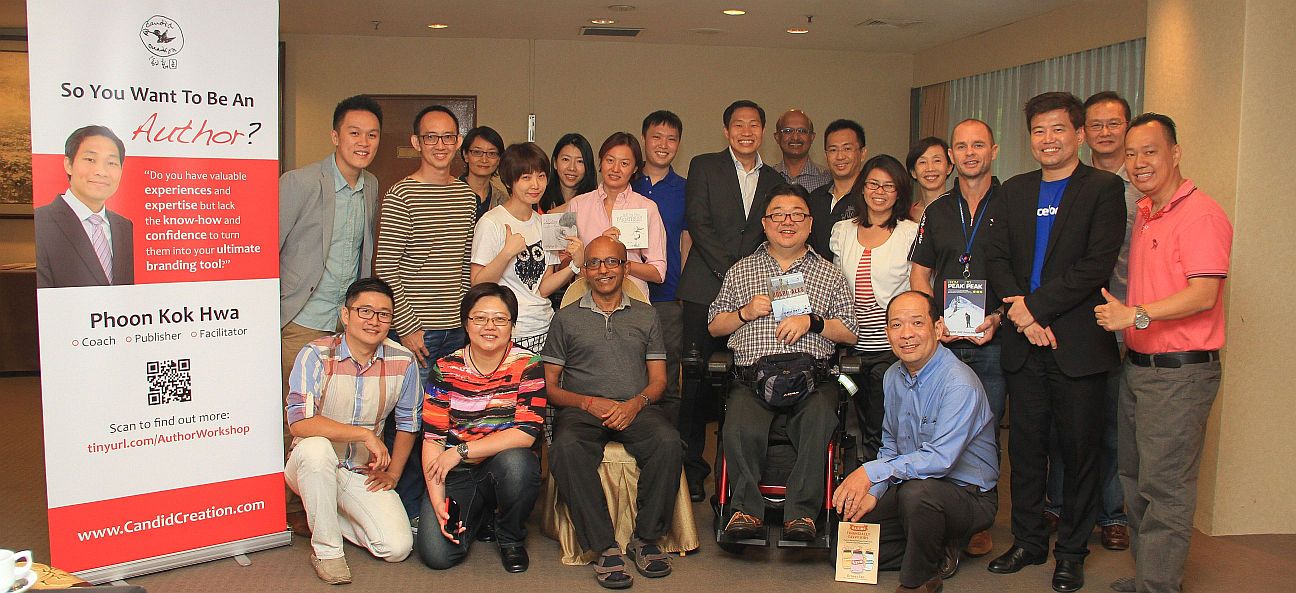 So You Want to be an Author? :
Developing Your Blueprint to Publishing Success

Ever wished that you have an effective way to create

visibility

and increase

mind share?

Ever wished that you have a

branding tool

so powerful that it can almost give you

instant credibility

without fail every time?

Ever feel that you have valuable experiences and expertise but lack the

know-how and confidence

to turn them into a book?
Ever dreamt of having the satisfaction of seeing your own work in print and in circulation, and having the

opportunity to create an impact

with your sharing?
If you are ready to learn how you can leverage on this tried-and-tested tool to dominate your chosen niche and take your business to a whole new level, join us in this 2-day hands-on authorship workshop.
Learning Outcome

How to identify a NICHE and develop the contents for a book
How to nurture your book from IDEA to MARKET
What are the CRITICAL SUCCESS FACTORS that can make or break a book
How to GET OTHERS TO PAY FOR YOUR BOOK before it is even published
What you must do to market your book to gain MAXIMUM EXPOSURE for you
How to generate FREE PUBLICITY for you and your business

Who should attend
'So you want to be an author' is a 2-day hands-on workshop specifically tailored to help aspiring authors who are committed to becoming published authors of non-fiction books and grow their business. This workshop is suited for Professionals, Business Owners, Entrepreneurs, Speakers, Coaches, Consultants, Facilitators and Trainers.
Let's hear from our past participants...
"Engaging, experienced, masterful in pedagogy, Kok Hwa delivered way beyond my expectations from this workshop: not only did I learn what I need to do to get my book published, but I got to advance my work on it significantly. I have gained clarity and positive energy to make it happen soon."
Jean-Francois Cousin
Global Executive Coach, GREATNESS Leadership Coaching
"This is a must attend workshop for anyone who have or is toying with a dream of becoming an author. Great insights on the process involved, options, considerations and success factors. Kok Hwa is a great coach, publisher and in addition an authentic & honest teacher!  His knowledge of the local publishing scene, with deep awareness of Asian readers needs combined with a strong desire to bring out the best in an author through coaching conversations is the best one could ever expect in this engagement with a publisher! Congratulations and all the best Kok Hwa!!"

Jayan Warrier
Director, Singapore Centre for Positive Change

"Inspired and empowered.

This is how I feel after undergoing a two days workshop by Phoon Kok Hwa of Candid Creation Publishing. You see, I've got a book in me but I've hesitated and procrastinated for the longest time but this weekend, I invested in an authorship workshop facilitated by Kok Hwa and gained so much clarity about my intention and flow of my book.

Never once did he try to up-sell us any publishing packages but he chose to focus on putting the spotlights on us so we got clear on why we write. He also invited his past authors to share and that really lent me more courage to get my word out. Among the couple of publishing consultants in Singapore I've met, I can safely say he's one of the most authentic, knowledgeable and author-oriented publishing consultant.

Forget about those rogue "consultants" who are just out for the money when Kok Hwa's the one who's more concerned about the helping his authors fulfill their mission."

Benjamin Loh
Founder & Principal Trainer at Speaker's Flare Training & Consultancy


"The 2 day workshop, especially for someone totally new in the area of publishing, is simply an eye-opener. It provides good structure, is comprehensive and very informative."
Helen Lim
CEO, SilverSpring Pte Ltd
"Before coming into the workshop, I didn't know what I didn't know. After 2 days, I have a clear framework to writing my first book and creative idas to make it a success."
Sean Collins
Managing Director, Talent Mobility Asia
"This workshop has helped me understand what publishing a book is all about. The process, motivation, marketing and promotional aspects inclusive. It has inspired me to probed further on establishing my goal in writing my series of finess books. Excellent delivery and information plus great networking."
Caroline Teo
Managing Director, Physique 360 Pte Ltd
"While I was at the workshop by Candid Creation Publishing facilitated by Phoon Kok Hwa, I reminded of Earl nightingale's diamond mine story.

Instead of talking all day by himself, He chose to make us look into "why"s. He was candid about the reality of book publishing. No single sales pitch was mentioned in 2 days. He was sincere, genuine and fully devoted to guide all of us to find answers that lie deep in ourselves.

I am honoured to be with fellow attendants. I used to live in the world where things are measured by profit and loss. Talking about things that cannot be measured made me feel silly. Within this group of people, I don't feel shy about myself talking about values, visions and possible future books."

Ellie Kim
Self-employed

"After attending a weekend workshop in Singapore on authorship by Phoon Kok Hwa of Candid Creation Publishing, I've gained more insights of my future plans as an intuitive artist. Kok Hwa's idea of visualizing my very own book is brilliant and encouraging! I also felt that he had shared his knowledge with such an authentic heart without any intention to sell any package.
Big 'Thank You' to PR strategist Andrew Chow for recommending this workshop to me.

If I could describe my feeling in one word, it'd be BLESSED. As I'm packing in my hotel room, I fill in my suitcase with this wonderful feeling of blessedness that my dream shall continue upon another dream.

A journey to a dream. With a dream, a journey is created."

Ng Hui Fong
Intuitive Artist

"I would strongly encourage anyone who is considering publishing a book to first attend "So You Want To Be An Author?" workshop. The workshop had helped me change my perspective on book publishing completely. If I had not attended this workshop, I may have ended up committing to publishers who are only interested in pushing costly packages of services that many authors don't really need.

Kok Hwa is an engaging and content-rich speaker and his presentation was easy to understand. The workshop contents are really structured, practical and actionable and I find it immensely beneficial in helping me understand what needs to be done during the various stages of writing, producing, promoting, and marketing my book to make it a success. Therefore, this workshop is specially suited to all aspiring authors who wish to write and publish a book but lack the confidence and know-how.

Kok Hwa is in the business of turning dreams into reality. With his practical advice and extensive knowledge, you can't go wrong with your book project. I must say that attending "So You Want To Be An Author?" workshop has been the best investment of my time and money in my publishing journey."

Ernest Tan
Founder of Jopez Academy
Author of Raising Financially Savvy Kids

"I feel that this program was sincerely crafted from someone very experience in the trade and know the industry and his scope of work very well. It provided me, an author-to-be, very precise and clear steps needed of me to focus my time and effort on so as to minimize the unwanted experience before I embark on the journey. The program was carried out in a very interactive manner engaging participants, ex-participants, guest speakers (authors) and trainers and this made possible for me to see and understand things from all perspectives and shed lights into the areas unknown.

In addition, the discussion and activities based learning further intensified my learning experience and made me feel that I had already begun my journey as an author. Beyond just writing a book, the other aspect of the Publicity and Promotion which I never really thought of to be associating with writing a book were incorporated in this program. These areas further expand my awareness into the challenges which I would be experiencing and offered me good insights into addressing them.

This program has successfully equipped me with the knowledge and insights to prepare me for my journey, and reinforced my belief in the purpose of doing so. I am grateful."

Adrian Soon
Internet Marketer and Trainer
E-Journey Pte Ltd

"A practical workshop to attend for anyone aspiring to be an author. Presentation are down-to-earth, giving a very realistic view of what challenges can arise when writing a book. The holistic approach taken in this workshop will add significant value to anyone writing a book for the first time."

Sim Peck Cheng
Senior Financial Consultant

"This is a workshop that comprise both knowledge and how to's. Participants are given relevant tools to help them in the publishing process.

The discussion and practice within the workshop provide essential reality checks to "Why" I want to publish. It gave me a clear process of how to publish, at the same time the presenters provided me with valuable insights and experiences on the journey that will be challenging but can be rewarding."

Ooi Lay Yong
Executive Director
Pilates Body Tree
About the Facilitator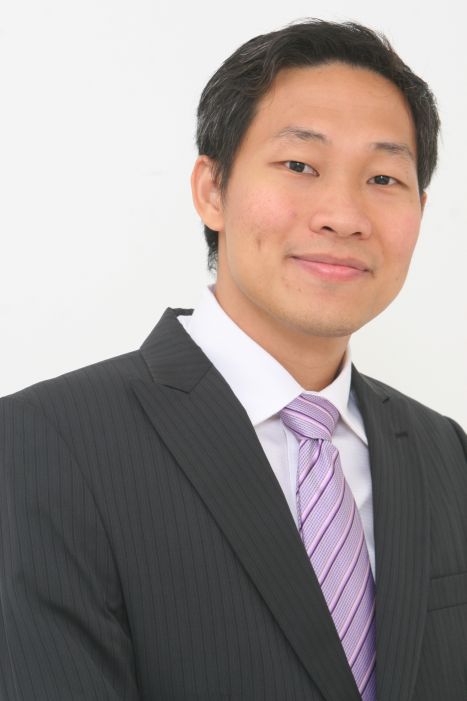 Phoon Kok Hwa is a Publisher at Candid Creation Publishing, where he has spent the last decade helping hundreds of aspiring authors to get their books written, published, distributed and marketed.
Kok Hwa is a literary agent at heart, nurturing and extracting the potential book out of every aspiring author. He believes that there is a book in every person, just waiting to be published. It comes as no surprise that he does not even restrict himself to a particular genre as he believes that authors can come from all walks of life, and are most compelling when they are themselves, writing about a subject that is close to their hearts. Kok Hwa continues to look for the distinct voices emerging from Singapore and Asia. His hope to broaden the appeal of Singapore's published works continues to fuel his passion and creative flair for helping authors identify personally compelling narratives to drive their writing style. Apart from his personal beliefs in author expression, he also believes in a pragmatic aspect to publishing a book--personal branding--often stating that nothing produces instant credibility faster than giving away a book as a calling card.
About the Co-Facilitator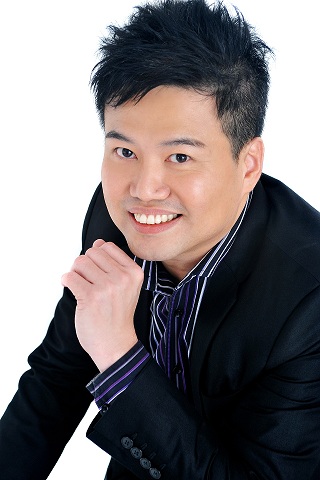 Andrew Chow is a passionate social media and public relations strategist, entrepreneur, speaker and author of Social Media 247 and Public Relations 247. Based in Singapore, his insights into social media strategy, media management and entrepreneurship have made him a choice selection for workshops and public speaking engagements across Asia,through which he educates professionals on how to leverage social channels for business results. Andrew's careerhas seen him work with an array of clients including AXA Insurance, Abbot Medical Optics, Singtel and Sony Pictures.
Terms and Conditions 

1. Registration is on a first-come-first-served basis and workshop fees must be paid before the workshop. If the minimum number of participants is not met for the class, the organisers will inform all participants about possible postponement and cancellation of workshop, one week before the workshop date. Participants will be fully refunded for workshops cancelled by us.
Minimum Number of Participants: 15 pax
2. Fees paid are non-refundable but transferable to another person. Participants who are unable to attend the workshop they have registered and wish to transfer to a substitute are to inform us at least one week before the workshop date, failing which we reserve the right not to accept the substitute.

3. By registering, participants also agree to have photos/videos taken of themselves during the workshop for marketing purposes, including but not limited to print, audio-visual and social media.
4. By registering, participants also agree to indemnify the organiser against claims arising from any personal loss, injury or damage.

Upon submission of your registration, you are deemed to have read and understood the registration procedures and accepted the terms contained therein.
Contact
http://www.candidcreation.com
When & Where

Hotel Grand Pacific
101 Victoria Street
Level 2 Victoria Room
Singapore 188018
Singapore

Thursday, 3 December 2015 at 09:00

-

Friday, 4 December 2015 at 18:00 (Singapore Standard Time Singapore Time)
Add to my calendar
Organiser
Founded in 1999, Candid Creation Publishing, is an independent English-Chinese bilingual publishing house based in Singapore.

We provide a one-stop publishing service that takes individuals and organizations from idea to market. Our objective is to lower the barriers to getting published and to make professional publishing accessible to all and with a personal touch.
In contrast to self-publishing services, every book by Candid Creation is carefully curated by experienced professionals to ensure all titles meet the highest quality standard. Our professional services include consultancy, coaching, conceptualization, planning, project management, writing, translation, copyediting, design, illustration, typesetting, proof-reading, printing,  ebook publishing, distribution, sales and marketing.

We have built a reputation of being the publisher of choice for many renowned personalities and esteemed organizations, an honour made even more special as this was made possible through personal recommendations from the satisfied clients we have served.

We are book publishers who do not restrict ourselves to any particular genre of books but instead seek to understand the needs of our authors in order to extract and express their voice through their books. We have helped hundreds of authors from the age of 12 to 80 to publish their books in both print (pbook) and digital formats (ebook). To date, we have published over 250 titles in a wide variety of genres that include categories such as: arts, autobiographies, children's books, critical prose, finance, humanities, literature, medical, music, personality profiles and self-improvement; among many others.

Candid Creation Publishing is proud to be a member of the Singapore Book Publishers Association.