SOTA Year 4 Theatre Showcase 2014 - Footfalls

Daily Event: 20:40 to 21:00 (Singapore Standard Time Singapore Time)
Event Details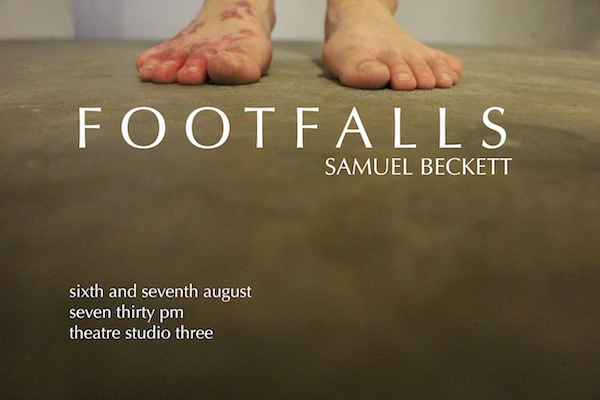 Footfalls was written by Samuel Beckett in 1975 and is loosely based on Beckett's perceptions of his own mother. It explores the psychology of the human mind and delves into existential ideas. While this is common in many absurdist plays, Beckett used Footfalls to explore the relationships between mother and child and the complicated dynamics which follow.
It is also very much about what it means to be alive and the struggle of truly existing.
May is one such person familiar with the struggle, she depends on the sound of her footsteps to convince herself she exists. Over the course of the piece, we observe her innermost thoughts as she speaks to her mother in the dark.
Where

SOTA Theatre Studio 3 - Level 9
1 Zubir Said Dr
Singapore, 227968
Singapore

Daily Event: 20:40 to 21:00 (Singapore Standard Time Singapore Time)
Add to my calendar