Master your energy and intuition! Explore your own gifts of spreading the love and light...
About this event
Be a Soul Therapist (English class)
Explore your own gifts of spreading the love and light...
If you are aspired to empower beautiful souls to fulfill their life purposes and advance together in spiritual path, be a soul therapist.
3-months programs include:
- Two healing sessions for karmic cleansing
- One energy alignment session
- Learning of manifestation on abundance
- Practicing of self-love
- Activation of intuitive writing/intuitive art
- Activation of One spiritual gift eg. communication with animals, crystals or plants etc
- Meditation training and guidance
- 12 hrs of Training & Coaching on Soul Healing which include introduction to soul advancement and energy healing, practice on sound/energy healing, to develop your own modality)
- Total 13 lessons and each session is averagely 2-3 hrs.
- Bonus: Complementary 3 months guidance and marketing strategy to launch your therapist's career after the training completion
- Conducted by Soul Coach: Bestarz (www.bestarz.sg)
Review:
"During the healing session, I traveled back to my 20s and remembered how challenging that time was especially in relationship with my mum, I realised I need to truly forgive her and love myself more... And grew the desire to help those who are travelling the same path.... During the course, I am able to connect with my higher self and realise the gift of communicating with various crystals and matching them with individual needs." ~ Ms Diana
"Unlike other classmates, I have zero knowledge and very new to spiritual topics and terms, but with guidance of Bestarz, we learnt and have fun together throughout the weekly online lessons... I have also learnt intuitive writing, understanding & connecting with spiritual guides, and my gift in using colour energy as my healing modality. Well, if you were to ask me what's the most important topic I have practiced, it will be self-love, because if I don't love myself, how can I love and help others? " ~ Ms Karen
Course fee:
Private sessions (1-to-1): $3k/pax
Min. 4 pax and max. 8 pax per class: $1k/pax or $1.2k with 6 months installment.
Bonus: Complimentary 1-year Blissful Soul Membership worth $368 on www.soulitaire.com.sg. T&C apply.
Lessons will be conducted in WhatsApp/Zoom/Nature. All Homework and materials included.
Actual course schedule will be finalised within the classmates.
Email sea@soulitaire.com.sg or WhatsApp +6596208280 to begin your journey of self-awareness and experience the amazing power of soul healing.
More information: https://mailchi.mp/soulitaire/be-a-soul-therapist
About the Trainer:
Bestarz is a soul coach who has the ability to communicate with spiritual guides and divine beings. In addition, her sensitivity towards earthly energy and spirituality can help you in healingz while staying comfortable and calm. Hear her voice while channeling energy from the ocean: http://www.bestarz.sg/about.html
Because all souls are beautiful and deserved to be loved!
Know of anyone needed financial assistance? Feel free to email sea@soulitaire.com.sg to find out more! No soul is to be left behind. You can also contribute to our assistance fund to help low income families/individual to start taking care of themselves.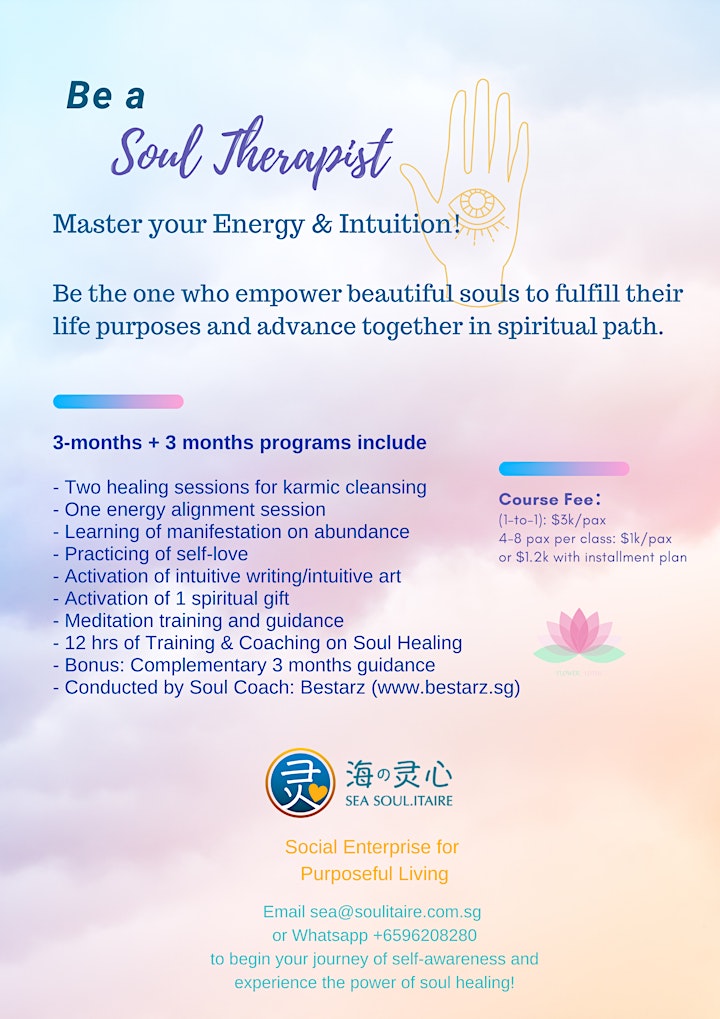 SEA Soul.itaire is a member of the Singapore Centre for Social Enterprise (raiSE):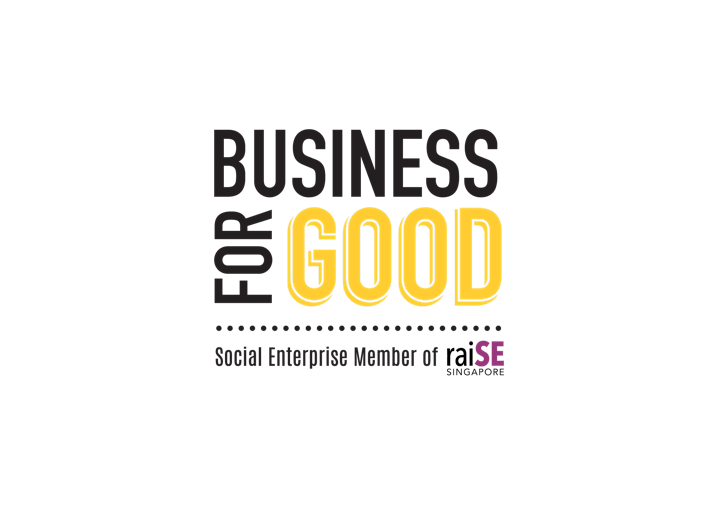 Organiser of Soul Advance: Be a Soul Therapist (English Class)
Soul Empowerment Agency (SEA Soul.itaire 海の灵心) is a social enterprise (member of raiSE) for purposeful living provides holistic wellness program and services/products for self-love, empowering you to be the best version of your yourself!
We also building a community for soul workers to network, outreach and contribute to the society.
SEA Soul.itaire 海の灵心 believe all souls are beautiful. We devoted ourselves to improve the mental health & well-beings of individuals and supporting a team of single mums who are dedicated and passionate soul workers. 20% proceeds of income will be funding the Assistance Fund for low income, caregivers, stay at home mum and single-parent to receive quality services provided by the agency.
SEA Soul.itaire 海の灵心提供一系列疗愈身心灵的课程与活动,以协助人们学习关爱自己并达臻人生目标与使命。
此中心励志与各心灵连结。 在主办身心灵活动的同时,也提供一个平台让心灵导师互相交流。 心灵导师可以通过参与中心的课程和服务,提升技能及推广疗愈。
我们是一个社会企业,致力于改善人们心灵素质,并协助一群由单亲母亲组成的心灵治疗师。我们也为低收入家庭、护理者、家庭主妇、单亲家庭等提供救援津贴,为他们提供优质的身心灵服务。