Empowerment of Buddha Avalokiteshvara (The Buddha of Compassion) & commentary to the practice with Gen Kelsang Rabten. (Online Event)
About this event
All of us have within us the potential for universal love and great compassion and through receiving the blessings of Buddha Avalokiteshvara, we can ripen our limitless potential. Over the four days of this Dharma Celebration, we will be able to mix our mind with Buddha's teachings and develop positive energy to improve our lives and the lives of our friends and families.
In this Dharma Celebration Gen Kelsang Rabten, the National Spiritual Director for South-East Asia, will grant the empowerment of Buddha Avalokiteshvara and give the teachings from "Essential Insights into the Avalokiteshvara Sadhana" from Venerable Geshe-la's latest release, The Mirror of Dharma with Additions.
Who is Buddha Avalokiteshvara?
Buddha Avalokiteshvara is the embodiment of the compassion of all the Buddhas. By relying upon him sincerely, we will naturally increase our compassion and eventually attain the ultimate peace of full enlightenment.
-------------------------------------------------------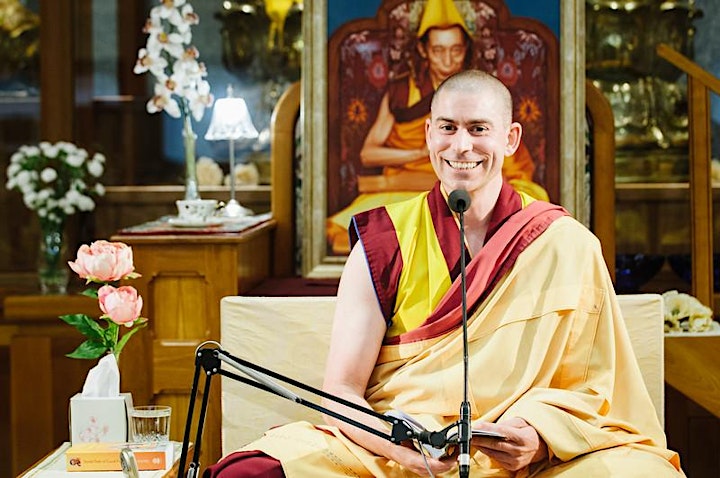 About the Teacher:
Gen Kelsang Rabten will be granting the empowerment of Buddha Avalokiteshvara and giving teachings in this year's South East Asian Dharma Celebration. He has studied under the guidance of Venerable Geshe Kelsang Gyatso Rinpoche for over 20 years. He is the National Spiritual Director of Australia, New Zealand, and South-East Asia.
Gen Kelsang Rabten exemplifies the essence of the modern Kadampa's way of life, brings a warm heart and joyful attitude to sharing Buddha's teachings and the practice of meditation.
-------------------------------------------------------
Programme Timetable:
Friday 16 April:
7.00pm Introduction
Saturday 17 April:
9.00am Guided Meditation
11.00am Blessing Empowerment of Buddha Avalokiteshvara
3.30pm Teaching (1)
6:00pm Wishfulfilling Jewel (Tsog)
Sunday 18 April:
9.00am Guided Meditation
11.00am Teaching (2)
3.00pm Teaching (3)
5.30pm Wishfulfilling Jewel (Tsog)
Monday 19th April
9.00am Guided Meditation
11.00am Teaching (4)
12.30pm End of SEADC