Get a better understanding of these SPC2021 innovation opportunities on Boarding Officers' Role & Seafastening
About this event

Transforming The Role Of Boarding Officers
The Singapore Association of Shipsuppliers & Serivces (SASS) wants to transform the way Boarding Officers work by reducing the need for physical interaction. The solution should enable Boarding Officers to obtain digital signatures and validate their authenticity in compliance with the Inland Revenue Authority of Singapore and Singapore Customs. It should also allow them to remotely perform verification of delivered items with the crew, as well as communicate with them in real time to assist with any queries or concerns they may have.
Send us your questions in advance at https://pigeonhole.at/SPC2021SASS
Rapid Fastening Of Out-Of-Gauge Cargo
When it comes to transportation of cargo by sea, most people think of containers. However, what about large machinery or equipment that do not fit into standard shipping containers? This is what is referred to as out-of-gauge cargo. In order to prevent damage or pose any danger to the vessel and its crew during transportation, these need to be secured to the deck, a process known as seafastening.
MMA Offshore is looking for a solution that can reduce the time required for seafastening, in particular the process of welding and inspections.
Send us your questions in advance at https://pigeonhole.at/SPC2021MMA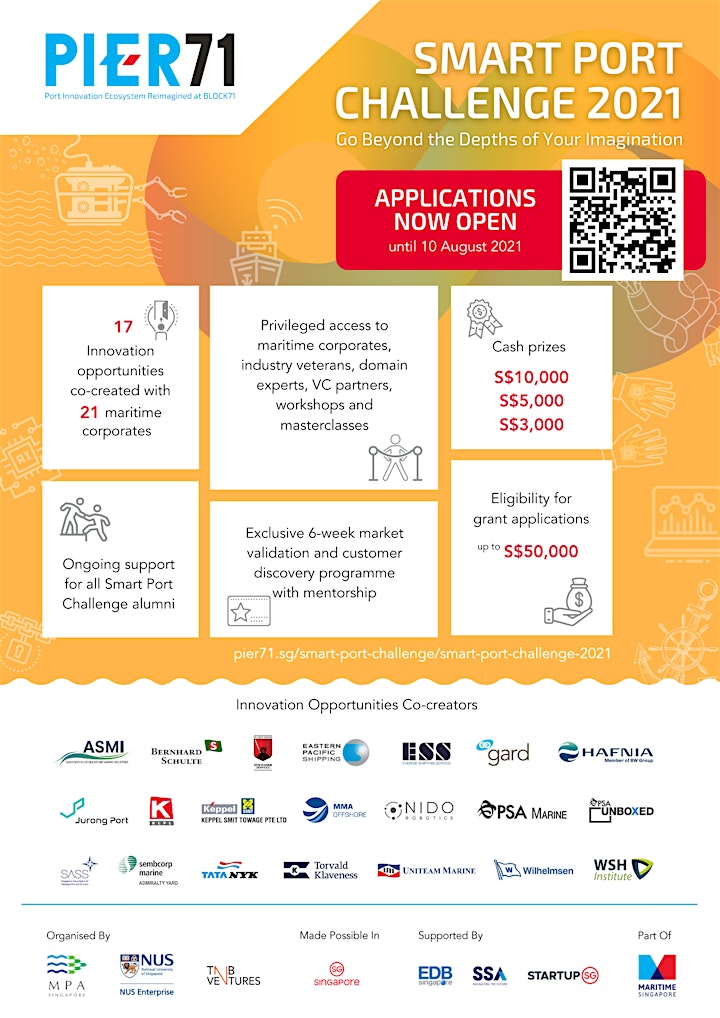 Organiser of SPC2021 Roadshow: Boarding Officers' Role & Seafastening
PIER71 'Port Innovation Ecosystem Reimagined at BLOCK71' is a programme created by NUS Enterprise and the Maritime and Port Authority of Singapore to digitalise the maritime industry.  Our programmes are curated for various stakeholders including entrepreneurs, investors, researchers, corporates, etc.  Join us to build Singapore's maritime innovation ecosystem.  
Smart Port Challenge 2021 is now accepting applications. For details on the innovation opportunities available, visit https://www.pier71.sg/smart-port-challenge/smart-port-challenge-2021/innovation-opportunities/