#SPEAKEASYASIA Edition 5: Featuring Microsoft, LinkedIn, and 2Stallions
Sales Have Ended
Ticket sales have ended
Thank you! We look forward to seeing you at #SPEAKEASYASIA on 17 August. Don't forget to bring your friends, and of course your shining personality :)
Sales Have Ended
Ticket sales have ended
Thank you! We look forward to seeing you at #SPEAKEASYASIA on 17 August. Don't forget to bring your friends, and of course your shining personality :)
Description
2Stallions Digital Marketing & NTUC
Proudly presents the 5th Edition of
#SPEAKEASYASIA: Lead & Traffic Generation
*For S$5 off ticket price, visit us at http://speakeasyasia.co/event-discount-code/

FEATURING PANELISTS: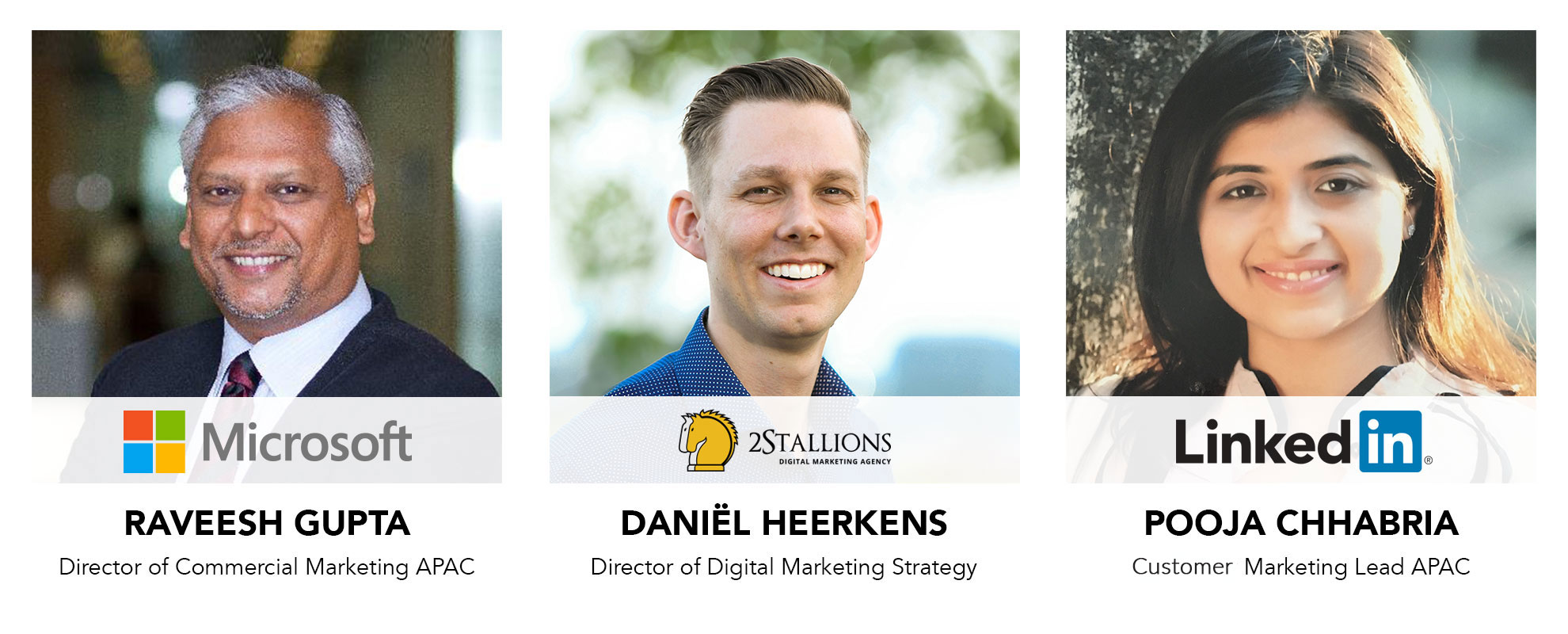 What is #SPEAKEASYASIA?
A series of sharing/networking events aimed at anyone who is passionate about all things digital and business and aspires to excel in their space: be it entrepreneurs, SME owners, corporates, creatives, millennials or marketing enthusiasts. Featuring a different themed event every edition, #SPEAKEASYASIA brings influencers from the business and tech scene to share their experiences and insight into innovation and success and how their business models have disrupted their industries.
LOCATION:
NTUC Centre, 1 Marina Boulevard, Singapore 018989
Level 7, Room 701
(Nearest MRT station: Raffles Place, take Exit C)
THEME:
"Lead & Traffic Generation"
The first step is always the hardest: creating leads. Managing traffic and lead generation is a constant struggle, yet one of the most important KPIs for all companies. Due to the rapid changes of the digital landscape, this area and the role of sales are also undergoing substantial transformations in recent years. For #SPEAKEASYASIA Edition 5, our respected speakers will share their insights and best practices on how they solve the challenge of generating more traffic, leads, and setting the stage to seamlessly turn leads into sales.
PROGRAM:
6.00 pm: Pizza, Registration & Networking
7.00 pm: About the Theme: Lead & Traffic Generation
7.15 pm: Raveesh Gupta, Director of Commercial Marketing, Microsoft APAC
7.35 pm: Daniël Heerkens, Digital Marketing Strategy Director, 2Stallions
7.50 pm: Pooja Chhabria, Customer Marketing Lead, LinkedIn APAC
8.05 pm: Panel discussion and Q&A
8.35 pm: Networking
9.00 pm: End
Watch speaker & attendee reactions from our 4th edition: https://youtu.be/BydulJe1hFk
*For new subscribers only. May not be combined with other discount codes or offers. Visit http://speakeasyasia.co/event-discount-code/
---
ABOUT THE SPEAKERS:
Raveesh Gupta is a senior global marketing leader with over 25 years' experience driving integrated marketing across businesses, channels, and geographies.
Raveesh leads Microsoft Asia Pacific's Enterprise, Digital Transformation and Vertical Marketing efforts. In current and previous roles, he has helped institute transformative digital marketing practices involving cultural, business and change management execution.
Raveesh is a strong practitioner of both the "art" and the "science" of marketing. One of his core focus and interest areas has been defining and delivering the "impact of marketing" to organizations. Raveesh Gupta has devoted structured thought as well as planned training to this marketing excellence discipline.
Daniël Heerkens is a Dutch entrepreneur and marketer who has been featured on the BBC. He has always been interested in Sustainable Products and Digital Innovation. With previous experience working for FMCG Multinationals (Danone & Royal FrieslandCampina) in The Netherlands, Malaysia and Singapore, he is now the Digital Marketing Strategy Expert at 2Stallions. He volunteers as the Chief Editor of the Association of Dutch Business Magazine. A permanent resident of Singapore, he has worked and lived in more than 6 countries. He most recently finished a 1000km bicycle ride through Myanmar to raise funds for charity.
Pooja Chhabria is a marketing and strategy professional with 9+ years of experience in businesses in the Asia Pacific region.
Started her career in consulting at Deloitte working on digital transformation projects for Fortune 500 companies in the Life Sciences and Automobile industries.
Been at LinkedIn for the past 5 years with varied experience across multiple geographies and roles that include Country Marketing leader, acquisition marketing, strategy, analytics, and customer marketing.
She believes that a strong vision and purpose are the two key factors today for businesses to break through the clutter and drive growth. Equal believer in the power of data and storytelling to drive great marketing today.