Description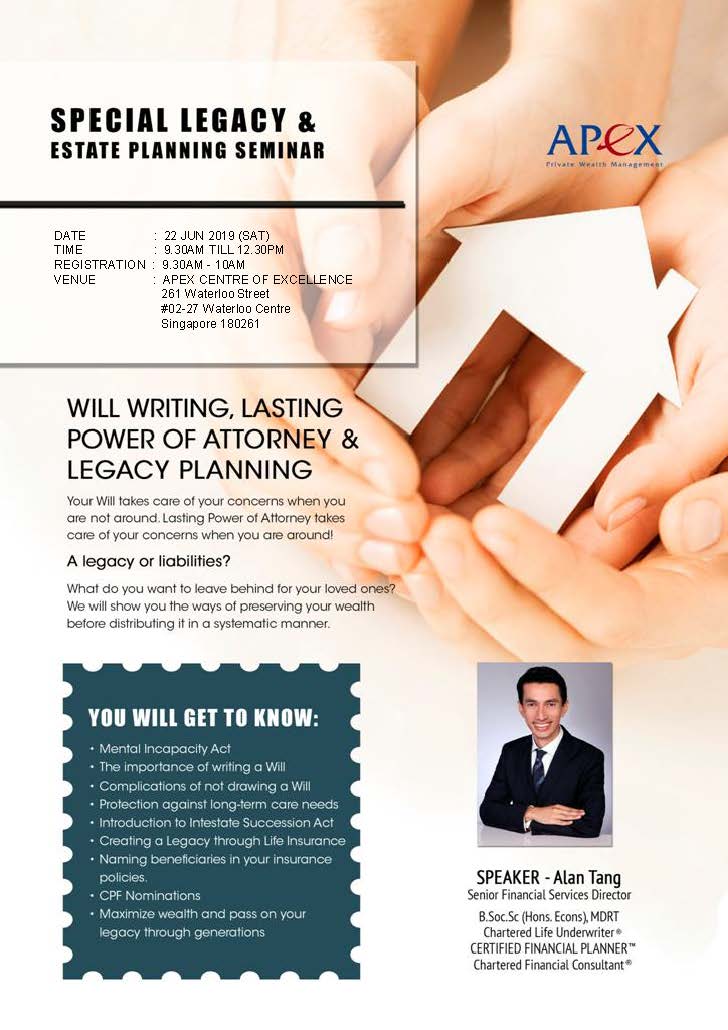 What if one loses his mental capacity due to illness or accident, the family members will not automatically be given the right to make decisions on the person's behalf or have access to his money (if there is no LPA).
They have to apply to the court to be a deputy, and the cost ranges from $3,000 to $10,000, as it includes lawyers' and court fees and this may take as long as a year.
Some 33,360 people have already appointed someone to make decisions on their behalf if they become mentally incapacitated, through a legal document called Lasting Power of Attorney (LPA) since it first begin in 2010 until August 2017.
Attendees' Testimonials:
"Very informative, speaker used simple language and real-life examples for presentation. No product pushing during seminar. However, due to effective presentation, you are motivated to plan." – Ng K F
"I like the informative sharing that is not pressurizing. The speaker is well prepared and knowledgeable." – Lim L G
"The sharing at the workshop was great. Firstly, it is very detailed and next it is humorous and not boring. Slides are clear as well. Speaker is loud and clear and able to reach out various group as I observed. Enjoyed the workshop!" – May M
"Talk was informative and Alan Tang made it very interesting with entertaining examples. Great speaker and teacher." – Mauren L W
"The talk is very interesting and informative. Appreciate the sharing of important notes about Will Writing and LPA. Thank you!" – Lee S H
---
Limited seats are available, register now to avoid disappointment.