Description
Thanks to the response we have gotten for our Basic Self Defence Workshop, Self Defence Research Institute will upgrade the upcoming session on Sun (21 Oct 2018) to a never-before-seen session.
Special: Underfire! Workshop puts you through an hour of Self Defence crash course on how to effectively manipulate objects around you when you are UNDERFIRE - and then turn the tide in your favour. To reward our loyal supporters, the value out of this hour will surpass the extremely low tuition, and there is a chance we may never put up such a price again.
PM Self Defence Research Institute NOW to purchase your tickets. Last few slots!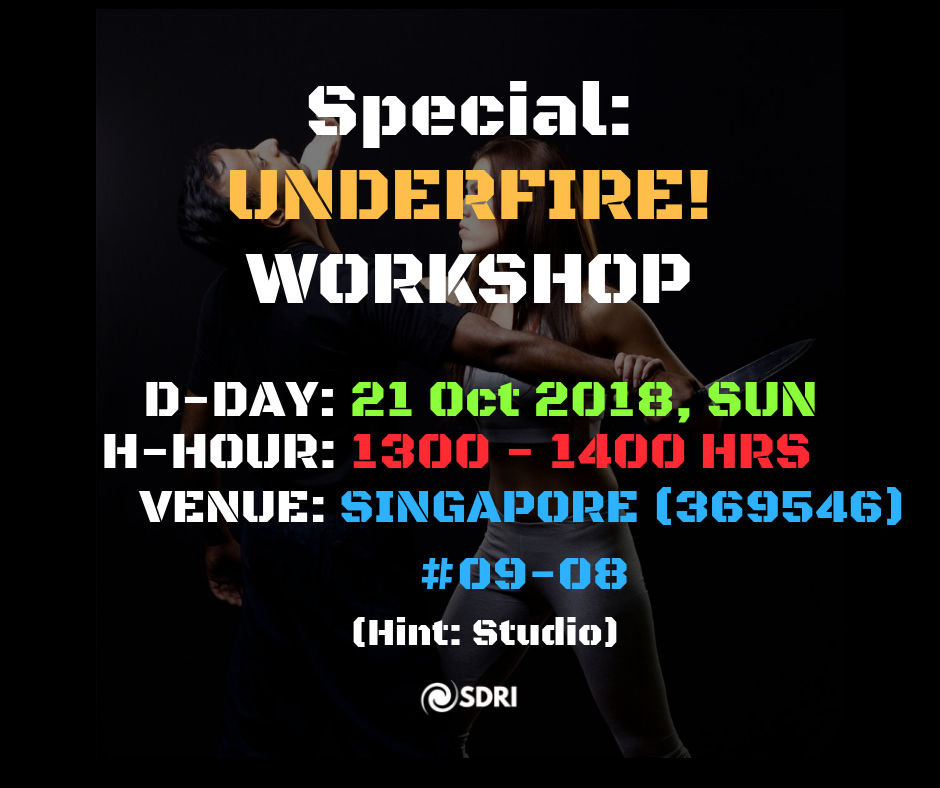 **********************************************************
!! Note to participants:
- Put on comfortable pants and track shoes. (Sports attire is highly recommended)
- Bring along at least 1 litre of water.|
- Be at the venue at least 10 minutes ahead of time for registration.
-Schedule-
12:50pm - Registration Opens
1:00pm - Workshop commences
2:00pm - Workshop concludes
************************************************************
>> How to book your tickets: <<
Option 1: Online payment via Bank Transfer or DBS Paylah!
1. Click book on this site and select tickets, then check out.
2. You will receive an email from SDRI within 48 hours.
3. Complete payment via bank transfer or DBS Paylah! and reply email with verification.
4. Booking will be verified through email.
Option 2: Payment in person at the door
1. Click book on this site and select tickets, then check out.
2. Send us an email immediately to inform us of your intention to pay at the door.
Please contact us via our Facebook Page directly if you have inquiries:
https://www.facebook.com/selfdefresearchinstitute/
* By signing up for the workshop, you agree to Self Defence Research Institute's terms and conditions, including using your personal contact details to contact you, and agree to be exposed to all photography and videography during the workshop - which will be used for marketing materials online and offline.
** Self Defence Research Institute will not be liable for any personal injuries during the workshop.
*** Self Defence Research Institute reserve the indisputable rights to turn away anyone or make any changes without explanation or reason given.