Description
A project supported by the LearnSG Seed Fund ~ Every Day, A Learning Day
SPACE for Self-Expression (SSE) Learning Festival
This registration is for an introductory session on Concepts of Portrait Sketching with a demo.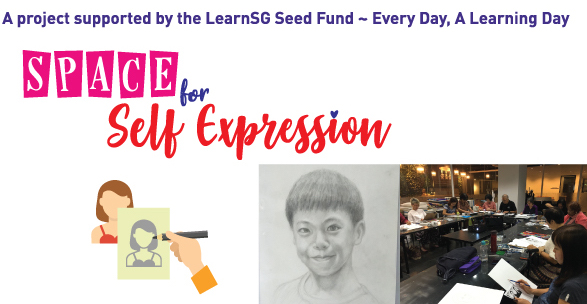 Join us for an afternoon of learning activities with topics on Elderly Learning, Living Your Life Values, Appreciation and Benefits of Chinese Calligraphy, Concepts of Portrait Sketching, SMS Knowledge Cafe and much more!
Experience the art of molding polymer clay into some creative pieces at our crafts booth.
Visit the exhibition area where many of our lifelong learners share their Chinese calligraphy works and Chinese Ink paintings, with a personal story. Be sure to read their individual learning journey and we hope they will inspire you!
Have you also heard of The One Piece Shop (TOPS)? If you enjoy sharing your experiences or wondering how to turn your passion into a financially sustainable project, look no further! Come and learn how TOPS can help.
Date: 14 August 2019 (Wednesday)
Time: 2.30pm - 4.30pm
Venue: 10 Square, Orchard Central Level 10 @ White Room II
Free admission, open to the public
---------------------------------------------------------
SPACE for Self-Expression (SSE)
This project builds communities togetherness in creative workshops and activities. Participants include retirees, working adults, and those on the transition to retirement. They will explore craft arts and learning journeys as part of their balanced lifestyles. Their self-discovery will encourage them to their skills and knowledge in social networking.
Organized by U 3rd Age
U 3rd Age encourages seniors to find meaningful purposes in their life after retirement by embracing lifelong learning, active ageing, and social networking. It is a platform where seniors can share their skills and experiences, and to have conversations on topics of common interests. It is hoped that their voluntary efforts will nudge fellow citizens into lifelong learning as part of a 'learning community'.
In registering for this activity, you consent to the collection and processing of your personal information for U 3rd Age Pte Ltd mailing list, in accordance with the Personal Data Protection Act (2012).
You may choose to unsubscribe at any point by sending an email to u3rdage.carol@gmail.com