SSFS Seminar on Floating Farms for A Sustainable Future

Friday, 24 August 2018 from 08:30 to 16:30 (Singapore Standard Time Singapore Time)
Event Details
Join us for a one-day seminar on the Floating Farms for a Sustainable Future.
The objective of the seminar is to bring together experts and practitioners to share their know-how and expertise on floating farms ideas by using the sea/river/lake/reservoir as the new frontier for the cultivation of food.
As the world's population migrates towards coastal areas, farmlands are under pressure for farming of livestock, fish and vegetables. Technology developed in the field of Very Large Floating Structures (VLFS) is applied to take food production through a quantum leap into a new dimension.
Our presenters from the Netherland, Japan and Singapore will be presenting a number of innovative ideas in floating farms that have been researched into, prototyped and put into small-scale commercial production. Please join us at this knowledge sharing and networking activity with the government planners, food production agencies, investors, civil and structural engineers, naval architects, architects, town planners, academics and students in the offshore industry, shipyard industry, classification societies and universities.  
---
REGISTRATION
Registration via Eventbrite. An e-ticket will be sent to your email, and will be used as proof of attendance (Please kindly IGNORE the 'FREE' tag on the e-ticket).
Registration Fee
FREE for SIT STUDENT (upon presentation of student ID)
$60 for NON-MEMBER
$30 for MEMBER OF SSFS
$10 for NON-SIT STUDENT
Payment Mode
Cash: Payable at the registration desk
Cheque: Payable to "Society of FLOATING SOLUTIONS (Singapore)"
PDU 

Qualified for 4 PDUs by PEB 
---
DETAILS OF THE CONFERENCE
Please Copy & Paste the following URL: http://floatingsolutions.org/event/floating-farm-seminar/
---
OUR SPEAKERS

---
CONFERENCE PROGRAM
0830 to 0930 Registration
0930 to 0945 Welcome, President's Address
0945 to 1045 Lecture 1 – FARMING ON WATER
by Mr. Peter van Wingerden, CEO and Founder of Beladon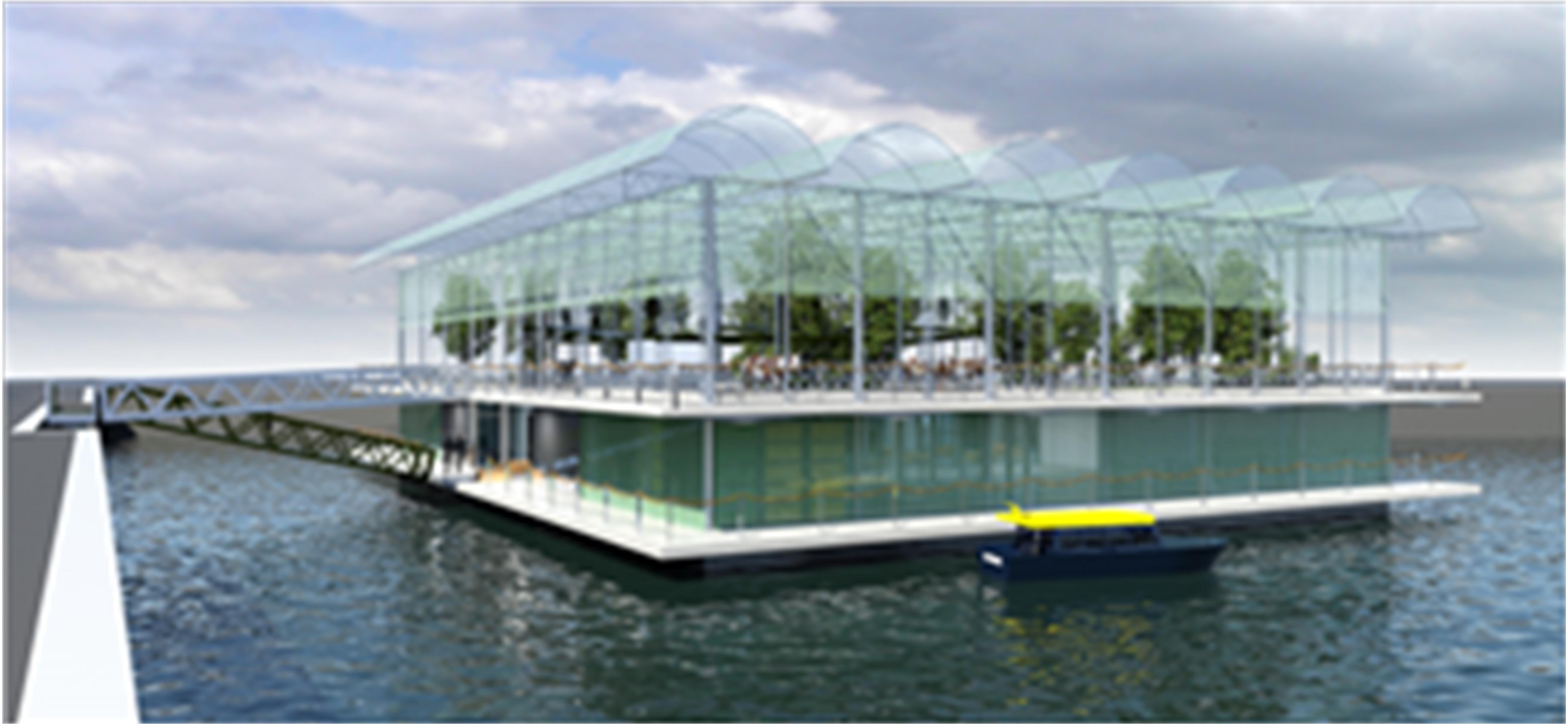 With land as a major constraint for farming, cities could also explore floating farms on water bodies such as reservoirs and sea space. This possibility is being translated into reality in Netherlands where Beladon, a Dutch company, has designed a closed-loop modular farming platform that can float on any water body. The platform is made up of individual units which can be scaled by a factor of two to five, and units can be connected with one another to form a mega floating farm. These can be reconfigured to suit specific farming and spatial requirements. Beladon is utilising this concept to pilot the world's first floating dairy farm in Rotterdam, Netherlands. Currently under construction, the three-storey, 1,000 square metres floating dairy farm will be able to accommodate 40 cows on the top floor and produce approximately 800 litres of milk daily. The dairy processing, feed production and manure storage will be located on the two lower floors. This floating farm's closed-looped system will integrate water supply and treatment, energy generation, waste processing, and feed production. This dairy farm is part of Rotterdam's planned floating farm strip that could potentially expand to include a chicken, goat, and vegetable farm
1045 to 1145 Lecture 2 – SUSTAINABLE LIFT-DOC® ECO-FARMING ESTABLISHMENT
by Mr. Leow Ban Tat, Founder & Managing Director of AME2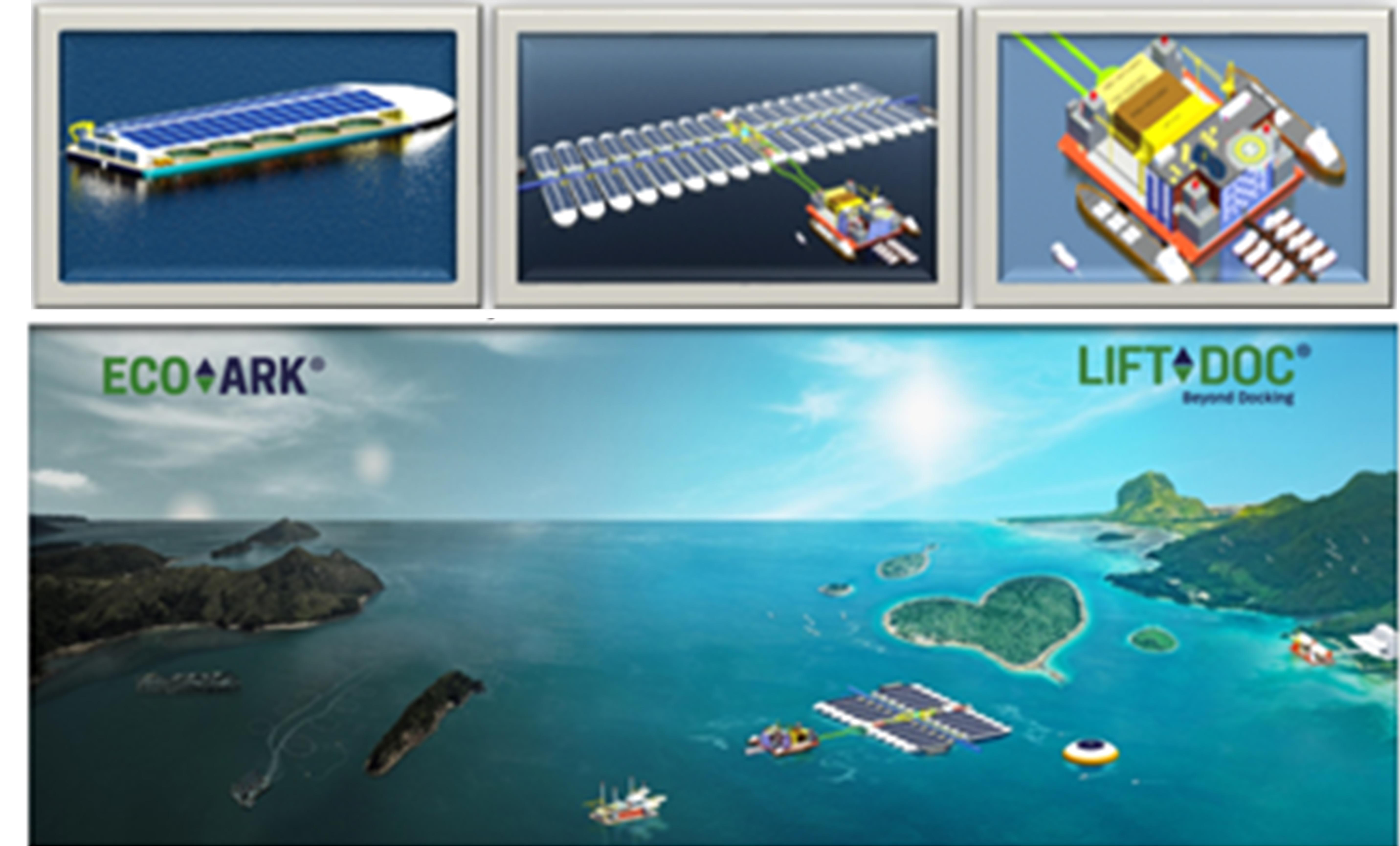 Worldwide, aquaculture is a booming business as wild catch is fast diminishing while the fish consumption will increase by 20%.  In 2016, about 47% of fish are farmed and by 2030 with 60%  aquaculture production and most will be sea cultivation (FA0 2018).  Over 88% of this increase in aquaculture production will originate from the Asian region (FA0 2018).  This growth potential provides opportunities for Singapore to be the Centre of Excellence for Aquaculture. AME2 has developed an innovative and disruptive technology, we called it, Novel Offshore Advanced Hull system (NOAHs) Eco-Ark®, a closed containment flow through (EA-CCFT).  It is a sustainable high density floating fish farm.  It incorporates game-changing technology, which will set the standard for the global aquaculture's food-fish production. Eco-Ark® is cost effective and has greater efficiency in (a) sea space optimization, (b) energy utilization, (c) human resource utilization, and (d) environmental management.   In summary, it can produce higher yields in a smaller footprint, use less energy and eco-friendly compared to any conventional sea fish farming methodology available today.  Eco-Ark®' s NOAHs hull can be build of varying materials, not just steel or concrete.  Also designed & engineered to be unmanned and withstand harsh environments in deeper sea. This makes Eco-Ark® farm deployable in coastal and deep sea farming site. 
1145 to 1300 Networking Lunch
1300 to 1400 Lecture 3 – PROPOSAL OF COMPOSITE PLATE FACTORY BY UTILIZING MARINE PLATFORM
by Assistant Professor Dr. Shinji Sato, Nihon University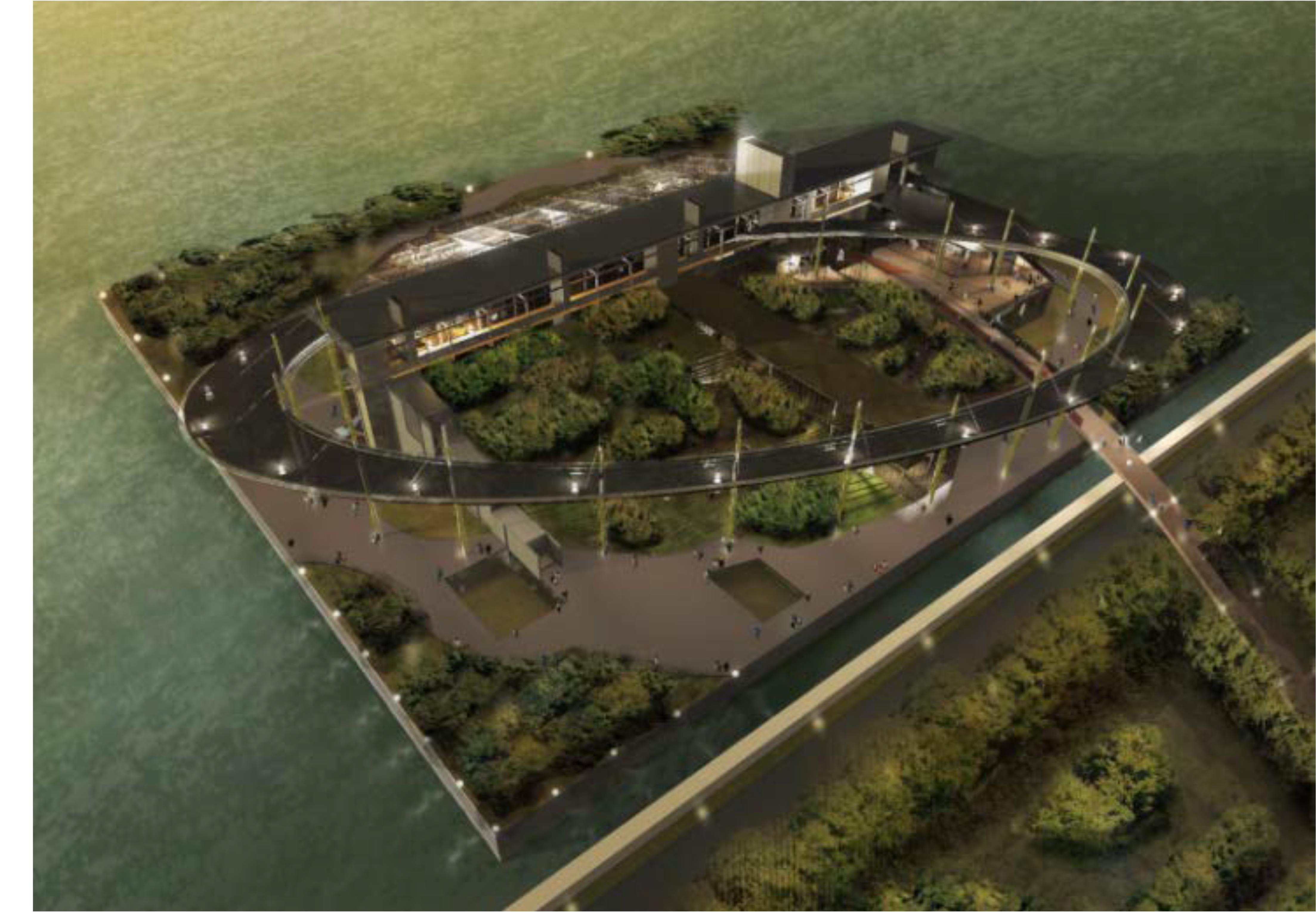 In this paper, by using "aquaculture possibility: algae energy / useful substance extraction" and "algae marine biomass production system: industrialization using algae marine biomass" by using aquaculture technology making use of regional characteristics We propose a new regional environment recycling type of industry. It is the most important point from the viewpoint of technology development to form "a community symbiosis recycling smart community aiming at marine environment creation cities" by making full use of the features and advantages of coastal areas spreading throughout Japan, especially local cities. In this paper, we will introduce a case study conducted in a corner of the Sakaide City Industrial Park of Sakaide City, Kagawa Prefecture facing the Seto Inland Sea, in order to make full use of the benefits of the ocean platform. In this project, we propose to use a fully closed plant factory or algae cultivation factory not as a single unit, but by laminating it and using it in combination. The concept of the basic configuration of this floating type complex plant is that the energy collecting device, artificial light plant and algae cultivating factory with different functions are collectively housed in a floating type marine platform, and mutual interference so that they do not overlap each other. If it is on land, these factories are to be built in separate buildings on a large site, but with the aim of trying to obtain efficiency and synergistic effect by integrating this factory and integrating the entire system vertically is there.
1400 to 1445 Lecture 4 – REPURPOSING OFFSHORE TECHNOLOGY TO UNLOCK THE POTENTIALS OF SEA SPACE
by Mr. Gary Wong, Offshore Engineer of Keppel Offshore and Marine (Deepwater Technology Group)
We seek urban solutions to overcome limitations in space and resources associated with expanding cities and higher concentrations of populations. The regions at the forefront are coastal cities and island nations. Global warming has also contributed to these challenges by introducing a dynamic geography - rising tides, less predictable and more intense weather and rising temperatures where changes to the physical landscape are shaped through actions of others. A recognized strategy has been to develop and expand the coastline through land reclamation. With recent trends in sustainability and social responsibility, we are exploring sea space utilization in a new light. In the offshore world, there are 'cities' in operation for decades. Habitable compounds in remote and harsh environments supporting a small population to drill, produce and support oil and gas operations. There is a strong track record for this technology having been developed, tested and proven for the past 50 years. There is potential for this suite of solutions to be repurposed as urban solutions – when others have become familiar with our technology, gained confidence and knowledge to the level we have become accustomed to in the past 5 decades. 
1445 to 1530 Lecture 5 – DESIGN AND ENGINEERING OF FLOATING STRUCTURES IN NORWAY
by Mr. Morten Lund Hoffmann, Managing Director of Multiconsult Asia
Floating structures have proven to be both costs efficient and safe for a number of different purposes. The Norwegian offshore oil and gas industry has successfully developed floating structures for the harsh Norwegian seas for decades. These solutions comprise various types of purposed design concepts, from traditional catenary moored floaters, semi-submersible platforms, to more complex tension leg and Spar platforms. The superstructures include both steel and concrete solutions. These offshore oil and gas technologies have in recent years been applied to developments of floating wind turbines and fish farms, both inshore and offshore. Also, the large Norwegian fjords impose challenges for infrastructure crossings where the water depths restrict traditional bridge solutions and the use of rock tunneling solutions. Recent developments comprise floating bridge solutions with water depths up to 500 m and crossing lengths of 4-5 km. The design basis has proven to be more decisive for the design of floating structures. This includes a range of parameters, including physical environment, bathymetry and ground conditions. Since the 1970's, Multiconsult has provided innovative technology and project management expertise in the design and engineering of a number of complex floating solutions, from design basis, early design, geotechnical subsea foundations and anchoring, to the structural design of concrete and steel. These structures are located at various places around the world. Multiconsult has also developed a number of numerical engineering tools that are being utilized in developing such floating structures. 
 1530 to 1540 Closing
 1545 to 1630 Networking Tea break and End of Program
---
CONTACT PERSON
Dr. Tay Zhi Yung, Assistant Professor, Singapore Institute of Technology
Email: zhiyung.tay@singaporetech.edu.sg
When & Where

Singapore Institute of Technology (SIT@SP)
510 Dover Road
Lecture Theater 5B (LT5B)
Singapore, 139660
Singapore

Friday, 24 August 2018 from 08:30 to 16:30 (Singapore Standard Time Singapore Time)
Add to my calendar
Organiser
The Society is established in December 2017. It is managed by volunteers, funded by membership subscription and public support. It is non profit making. It has successfully organized several public lectures including speakers from the US, Norway, and Japan as well from Singapore. The Society aims to address economic and environmental problems related to shortage of land in the ASEAN region. Please refer to our website www.floatingsolutions.org for our mission statement, our background of our council members and our activities as well as articles published by our members.