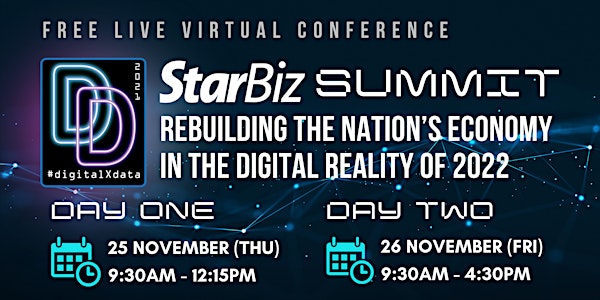 StarBiz Summit 2021
Rebuilding the Nation's Economy in the Digital Reality of 2022
About this event
"The COVID-19 pandemic has been difficult for everyone, and even more so for businesses in Malaysia with the stop-start movement control orders over the last 16 months and a half.
The coronavirus has not only cost of billions of ringgit in losses for the Malaysian economy but also forced many to restructure their business or even close shop."
'Revitalising Key Sectors', The Star, August 2021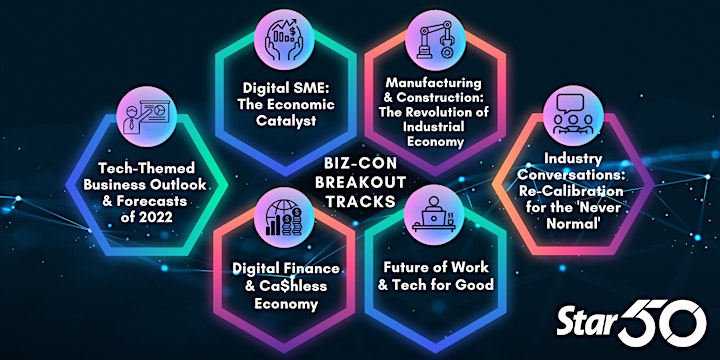 In commemoration of Star Media Group's 50th anniversary the StarBiz Summit is the grand finale of the group's #digitalXdata 2021 events.
As the #digitalXdata MAIN EVENT of the year, the StarBiz Summit is the avenue for businesses and organisations to learn about the industry outlook & market forecasts of 2022 in various critical industry verticals, business areas & organisational functions.
The summit programme is exclusively engineered to spark conversations and discussions on how businesses re-calibrate their transformation journey from merely adapting and surviving, to THRIVING and WINNING in the age of the 'never normal'.
Learn more about the summit agenda and speakers at bit.ly/starbiz2021
Star Media Group's #digitalXdata 2021 kicked off with the Road to Malaysia 5.0 series that was dedicated to enabling digitally-fuelled Malaysia businesses to accelerate growth in the new Malaysia 5.0 digital economy and, to drive innovative change among the society in building a human-centred nation, powered by disruptive technologies.
Win Exciting Prizes Worth RM4,000 at the StarBiz Summit!
Join us at the live virtual conference and stay till the end to find out how YOU will be rewarded with a chance to win cool gadgets at EVERY SESSION!

*Who Should Attend
Business Owners & Main Decision-Makers, Key Influencers & Operation Leads in the Implementation/ Optimisation/ Purchasing of:
Technology | Digital| Innovation | Strategy | Analytics | Transformation | Finance | E-Commerce | Payment Change Management | Customer Service/ CX Risk | Human Capital | Legal & Compliance
From Across Industry Verticals – Private & Public Sector
Conglomerates | Large Enterprises | MNCs| SMEs | Start-Ups | Non-Profit | NGOs | Government Agencies
Business Owners | C-Suite/ Senior Executives/ CxOs | GVPs/ EVPs/ SVPs/ VPs/ AVPs | HODs | Directors | Senior Managers/ Managers | Business Executives
Mid to Senior Level Government Officials, Civil/ Public Servants & Officers
*Terms & Conditions
The Star Media Group's StarBiz Summit is a business event, please note that prior registration (with business contact info) is required.
For technology/ digital vendors & service/ solution providers, and any registrants in a Sales related job function, please contact us at events@thestar.com.my for sponsorship or, speaking opportunities.
For collaboration, speaking and sponsorship inquiries, contact us at events@thestar.com.my