#startathon - Experience The Smart Nation (April 2015)

Saturday, 4 April 2015 at 09:00

-

Sunday, 5 April 2015 at 15:00 (Singapore Standard Time Singapore Time)
Event Details
#startathon is an intense innovation experience designed for entrepreneurs, designers, makers, scientists and coders to rapidly ideate, prototype and validate business ideas.
Unlike traditional hackathons, #startathons are big on learning. Expect to attend hands-on workshops (during the event itself!) on topics such as Futures Thinking, Internet of Things, App Development, Digital Fabrication, Business and even Project Management. Learn how to study market trends, develop solid value propositions and prototype solutions. You'll also be having actual technology practioners working side by side with your team to bring your prototypes to reality!
EXPERIENCE THE SMART NATION
This April at #startathon, the focus will be on developing smart nation experiences. What does that mean? Well, we are inviting teams to imagine what the home environment, the transportation system and the healthcare sector will look like in the Smart Singapore of the future!
As a departure from the traditional demo, all teams will have the opportunity to develop experience booths to illustrate their solution prototypes.
The registration deadline is 31 March 2015!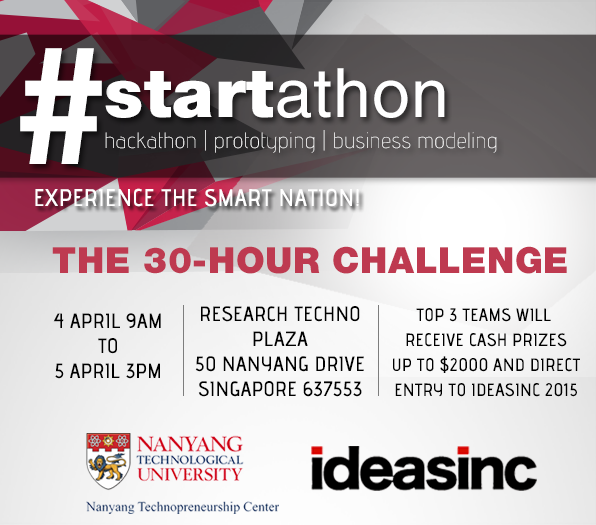 FAQs
 What are the prizes?
The first prize is $2000, followed by the second prize at $1000 and the third at $500. That being said, we hope that is it the learning experience and not the prizes that is the biggest attraction! 
 What is the duration of the event?
The event will open doors on 4 April, 9am. It will continue for the next 30 hours until 5 April, 3pm. Yes, you are required to stay overnight with us! Vanishing acts may result in disqualification. (Except for emergencies)
 What do I need to bring?
Yourself! That is the most important. A survival kit list will be provided to everyone who registered closer to the event date. You may also wish to bring additional materials, tools or equipment to support you in your prototyping needs.
What technologies will we be available for use?
All teams will have access to electronics prototyping kits which include development boards such as Arduino, Bluno, Spark Core, ESP8266  as well as tools and materials for digital fabrication (i.e. 3D Printers, Laser Cutters). All electronics kits will also come with a basic sensor package. To purchase additional sensors, we will be organizing a purchasing trip to Sim Lim Tower on the first day of #startathon 2015. You are also welcome to bring your own materials, sensors and tools to the event.
What masterclasses will be held during #startathon?
We will be having masterclasses on sensors & actuators, andriod app development, design for 3D printing, wireless communications, experience development, fabrication methods and business value proposition design.
Tell me more about the experience booth presentation format.
Every team will be given a 2 metre by 2 metre floor space to create their experience booth. An experience booth should ideally allow the booth visitor to experience your smart home/health/transport concept in a tangible manner. Let your ideas run wild!
Do I need to have a team already? Can I register as an individual?
Participants often sign up for #startathon as a team but if you're signing up as an individual, don't fret! We will have a team formation session where you can meet other like-minded individuals and form teams for the weekend with them. The minimum size for a team is 3 persons and the maximum is 5 persons.
Is there an information session for registered participants?
Yes, the information session will be held on 1 April 2015, Wednesday, 7pm at the Prototyping Lab@National Design Centre. This information session is only open to registered #startathon participants. We will go through the challenge topics in detail, introduce the available resources and share some tips to improve your experience at #startathon!
Where can I contact the organiser with any questions?
You can direct your questions via email to ideasinc@ntu.edu.sg
When & Where

Nanyang Technological University
Research Techno Plaza
50 Nanyang Drive
Singapore 639798
Singapore

Saturday, 4 April 2015 at 09:00

-

Sunday, 5 April 2015 at 15:00 (Singapore Standard Time Singapore Time)
Add to my calendar
Organiser
Started in 2009, ideasinc evolved from a business plan competition for Nanyang Technological University (NTU) students, to a start-up accelerator program which is open to every youth in Singapore. ideasinc strives to be a major partner in the nation's effort to promote and develop an entrepreneurial environment to bring about significant economic and social development in Singapore through home-grown enterprises.