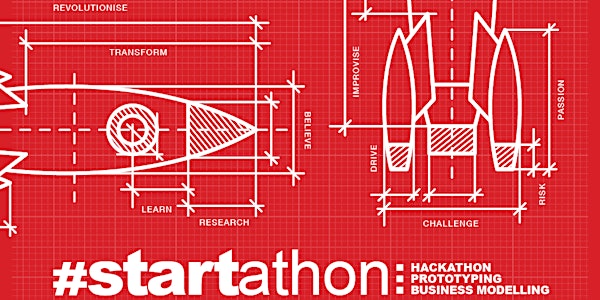 #startingUP 2016 - #startathon [22-23 October 2016]
When and where
Location
Meeting Point JTC Launchpad 73B Ayer Rajah Crescent Singapore 139957 Singapore
Description
#startathon is a 30-hour intense innovation experience designed for entrepreneurs, designers, makers, scientists and coders to rapidly ideate, prototype and validate business ideas.
Unlike traditional hackathons, #startathon emphasises learning and actualising. Several masterclasses are held during the event, on topics such as Internet of Things, Mobile App Development, Digital Fabrication, and Business Modelling. You will also be creating a prototype of your idea with the latest tools in open source hardware (Arduino, Raspberry Pi, Particle Photon) and IoT development boards. There will also be equipment, tools and materials for traditional and digital fabrication, such as 3D printers, laser cutters, and many more. Expect actual technology practitioners working side by side with your team to bring your prototypes to reality (not just 2 hour "mentorship" sessions)!
*Workshop topics subjected to changes.
Registration starts at 8.30am!
FAQs
What are the prizes?
The first prize is S$3000 cash, followed by the second prize at S$2000 cash and the third at S$1000 cash. While the cash prizes may be attractive, we hope that is it the learning experience and not the prizes that is the biggest attraction!
Do I need to have an idea ready before the event?
Nope, that is not necessary. During the start of the event, we will release a few challenge statements for your team to choose from. Your team will then focus on one of the challenge statement to innovate and create. This is in effort to ensure fairness and that all final products are created during the event.
What is the duration of the event? Do I have to stay overnight?
The event open registration on Saturday, 22 October at 9am. It will continue for the next 30 hours until Sunday, 23 October at 3pm. Teams are encouraged to stay throughout the event in order to tap on the resources provided by our Consultants and to allow sufficient time to complete your project.
What do I need to bring?
Yourself! That is the most important. A survival kit list will be provided to everyone who registered closer to the event date. Some items to bring will be laptop and its charger, power bank for your mobile phone, water bottle, jacket, sleeping bag (maybe?), and writing materials. Please wear covered shoes to protect your feet and toes from dropping materials, equipments, and even hot glue! (NASTY)
What resources are available for teams to use?
All teams will have access to electronics prototyping kits which include development boards ( A choice of either the Arduino or the Particle Core/Photon), a basic sensor package (Temperature. Light, Distance, Heart Beat, Pressure) and a basic actuator package (Micro Servos, LEDs, Switches, Buzzer). You will also be able to loan additional electronic components from an on-site pop-up store. You are welcome to bring your own materials, sensors and tools to the event.
#startathons are the only hackathons to have pop-up makerspace. There will be digital fabrication equipment (3D Printers, Laser Cutter), power tools (Dremel, Drill, Bandsaw, Sewing Machines etc), materials (Cardboard, Plywood, Polymorph) and design software made available.
Perhaps the most important resource will be the Consultants. These are experienced professionals in the area of hardware electronics, software, fabrication and entrepreneurship who will be assisting teams throughout the duration of the hackathon (not just "mentoring" for two hours). We have 12 of them this year. Many past participants have credited their fantastic learning experience at #startathon to our awesome Consultants.
What masterclasses will be held during #startathon?
We will having masterclasses on Connecting Things to the Internet, Working with Sensors & Actuators, Android App Development, Fast & Furious Prototyping, IoT and Building Great Business Models.
Must my idea me original? Can I just re-submit whatever I had done before?
Our intention is for teams to develop their ideas on-site during #startathon itself. Teams may come up with prior ideas but most of the execution needs to be done during the event itself. How will we know this? Well, our consultants who will be with the teams throughout the day will be able to tell and if we become aware of such incidents, the teams involved may receive lower scores during judging.
What do you mean by the Experiential Booth presentation format?
Every team will be given a 1 metre by 1 metre floor space to create their experience booth. An experience booth should ideally allow a visitor to the booth to experience your smart nation concept in a tangible manner. The concept can either be a product or a service. Let your ideas run wild! You can see past examples of experience booths in this photo album.
Do I need to have a team already? Can I register as an individual?
Participants often sign up for #startathon as a team but if you're signing up as an individual, don't fret! We will have a team formation session right in the beginning where you can meet other like-minded individuals and form teams for the weekend with them. The minimum size for a team is 3 persons and the maximum is 5 persons. Every team must have at least 1 Coder, 1 Dealer, and 1 Maker.
Where can I contact the organiser with other questions?
You can direct your questions via email to ideasinc@ntu.edu.sg. Please expect a three working days response time.