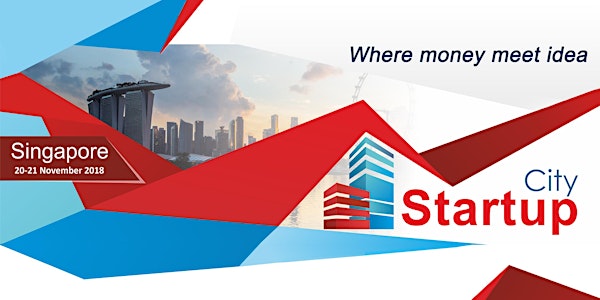 Startup City Conference & Awards Singapore 2018
By Russian Asian Business Union
Date and time
Fri, 3 May 2019 10:00 - 18:00 +08
Location
Marina Bay Financial Centre (tbc) Straits View Singapore, Singapore 018984 Singapore
Description
Singapore hosts an international startup event Startup City Conference & Awards on November 20-21, 2018.
Projects from all over the world will compete for the investments of Asian and international funds. Everyone with work projects or with just an idea can participate.
Grants and investments varying from $5 000 to $300 000 000.
The participation does not require any entry fee. The representatives of three best projects will get an opportunity to participate in Singapore conference for free. The most popular projects will be included in the shortlist for investors.
Project areas - Blockchain, FinTech, Smart city, Medtech innovations, Sustainability, Industry 4.0, Science, AI, Digital, Global project, Idea.
Within 2 days, experts and speakers from all over the world will perform for you in the main conference hall. You will discuss the problems, ideas and trends of business and investment. You can participate in workshops, establish new business contacts, get a lot of useful information and possibly find customers or partners from Singapore and other countries of Southeast Asia.
Confirmed speakers:
Dr Abhijit Shanbhag, President & CEO, Graymatics-SG Pte Ltd
Jon Carlo Alivio, Senior Urban Planner, Pomeroy Studio
Tatiana Sheremetieva, CEO, Russian Asian Business Union, BBC World News Expert
Olzhas Zhiyenkulov, CEO, Paladigm Capital
Vadim Shpak, Managing Director, Vickers
Jamie Camidge, COfounder, EmpatKali
Dr Jason Pomeroy, Founding Principal, Pomeroy Stidio
Rob Khoo, SolarPVExchange P/L (SGP) & Vice President, Marketing & Communications, Sunseap Group P/L (SGP)
Dr Alex Lin, C

ofounder, ICOra Asia

Michele Tucci, Head of Product Development and Data Partnerships, CredoLab
Robin Tan, CEO, Cloudzen
Michael Yiin, Startup analyst, Padang & Co
Anthony Chow, CEO and co-founder, igloohome
Rob Hulme, Head of Asia, Beanstalk AgTech
Andrey Shipitkov, Director, Windows Enterprise Sales (Asia),

Microsoft

Matt Holmes,

Founder/CEO, Handshakin
Mark Thomas, Managing Director, Serviceworks Group Ltd.
Vidit Agrawal, COO, "Carro Singapore"

| ex-Uber | ex-UBS

Wincy Chan, IoT Ecosystem Lead (Asia), Microsoft
Kotaro Takahashi, Head of Sales, Uzabase Asia Pacific Pte Ltd

Navin Danapal, SEA Director MOX, SOSV
Chris Tran, Executive Director, North Ridge Partners, Financial Advisor to South East Asia's Technology Enterpreneurs
John Sharp, Managing partner, Hatcher +
Leanne Robers, Entrepreneur, advisor. Head of Singapore and Head of Global Partnerships for She Loves Tech
Leesa Soulodre, Entrepreneur in Residence. Managing Partner. Innovation Advisor. Digital Director
Moreover, all conference visitors will be able to observe the startup battle on the stage of the main hall. Projects will compete for " The Best Startup of the Year" title. You will be able to participate in this interesting event, support the project you like and select the winner along with the jury.
The second day of the conference will end with gala dinner, the announcement of the best projects chosen by the investors and the rewarding of the winners of "The Best Startup of the Year". You will have the opportunity to communicate with other startups, investors, speakers and guests in an informal setting.
For startup competition, please, apply via link >