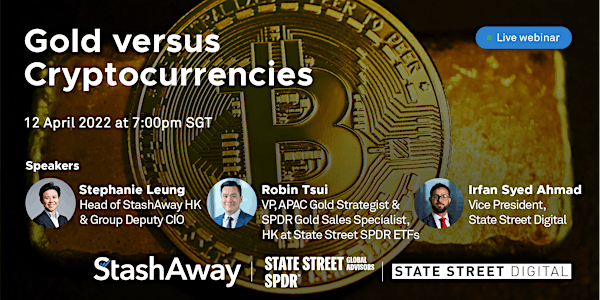 State Street x StashAway: Gold versus Cryptocurrencies
Cryptocurrency has increasingly been compared to gold as an asset class. But, can these asset classes be compared fairly?
About this event
Event Description
Join us for a discussion about Gold and Cryptocurrencies to get insights on why gold is essential in an investment portfolio, adoption trends, access and the evolution of products in the digital assets space.
The link to the webinar will be sent an hour before the start so do check your email inbox.
Speakers:
Mr Robin Tsui (CAIA, CA ANZ, HKICPA), APAC Gold Strategist and SPDR Gold Sales Specialist for Hong Kong at State Street SPDR ETFs of State Street Global Advisors
Prior to joining State Street Global Advisors, Robin held the position of Manager, Investment Product & Research at the World Gold Council, the market development organization of the gold industry. Before joining the World Gold Council, Robin was the Associate Director and Metals and Mining Equity Research Analyst at Bank of China International (BOCI), covering precious and base metals mining companies. Prior to joining BOCI, Robin was the Metals & Mining Equity Research Analyst at Haitong International Securities Group. Robin began his career at EY in Melbourne, Australia.
Robin holds the Chartered Alternative Investment Analyst designation (CAIA) and is both a Chartered Accountant in Australia & New Zealand (CA ANZ) and a Certified Public Accountant in Hong Kong (HKICPA).
Irfan Syed Ahmad, Vice President, State Street Digital
Irfan Ahmad is the product lead for State Street Digital in APAC, State Street's newest division focused on digital assets and technologies, encompassing the setup of a new integrated business and operating model to support clients' entire digital investment cycle from pre-trade, trade, and post-trade as well as other initiatives designed to enhance the client experience.
Irfan joined State Street in EMEA in December 2014, where he worked in the company's Business Architecture function. Since then, he has worked in strategy, regulatory product development and sales in London and Hong Kong. He is now based in Singapore and leads efforts relating to digital assets in the region.
Prior to joining State Street, he worked across Fixed Income, Currencies and Commodities (FICC) technology at Barclays Investment Bank, where he was responsible for their 'Run the Bank' project portfolio, service management and business continuity management in EMEA. He later joined the Algorithmic Electronic Trading Technology and Trade Processing Engine team, where he oversaw risk and control practices within EMEA.
Irfan holds a Bachelor of Arts with Honors in economics and economic history from the University of Manchester.
Speaker & Moderator:
Stephanie Leung, Head of StashAway HK and Group Deputy CIO
Stephanie has more than 17 years of experience in managing multi-asset portfolios globally for Goldman Sachs as well as for institutional investors and family offices. Her expertise in global macro and quantitative investing has enabled her to effectively manage multi-billion portfolios for her clients. Prior to finance, she began her career at McKinsey & Co. advising companies in the Asia Pacific region.
Stephanie earned her MS in Computer Science (Artificial Intelligence) from Stanford University and BS in Computer Engineering from the University of Michigan.