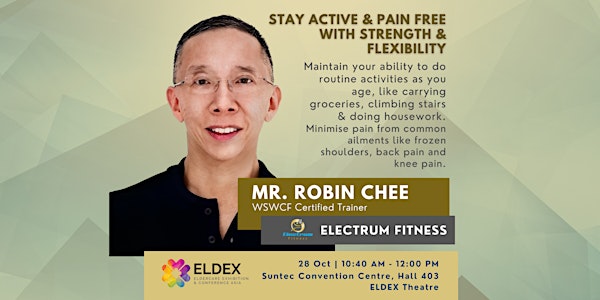 Stay Active & Painfree With Strength & Flexibility
ELDEX Asia Workshop Series: Stay Active & Painfree With Strength & Flexibility by Mr Robin Chee WSWCF Certified Trainer, Electrum Fitness.
When and where
Location
Suntec Singapore Convention & Exhibition Centre, Hall 403, ELDEX Theatre 1 Raffles Boulevard Singapore, 039593 Singapore
About this event
Synopsis: Maintain your ability to do routine activities as you age, like carrying groceries, climbing stairs and doing housework. Minimise pain from common ailments, such as frozen shoulders, back pain and knee pain.
About the speaker: Robin started Electrum Fitness as a non-profit, diverse community of health enthusiasts ranging from 20 to 80 years old, to share his knowledge and inspire them to work on their health and fitness.
Robin suffered severe back pain from scoliosis for many decades and sought relief through various exercises and physical therapy. At 61, his pain is well managed with strength and flexibility far beyond what he had in his younger days.
Robin is a World Calisthenics Federation (WSWCF) certified trainer and a Hardstyle Kettlebell certified trainer, with years of personal training from top coaches in Adult Gymnastics, Yoga and Pilates.  As Singapore's sole representatives (with his wife, Pele) to the World Professional Ballroom Dance Championships from 2011 to 2013, he has a keen eye for detail and precision in exercise.
Robin advocates that anyone can benefit from doing exercises when scaled appropriately. With an emphasis on quality over quantity, he is highly respected and his advice much sought-after by calisthenic enthusiasts on social media.
Admission is free. All are welcomed to attend this workshop.
Pre-register at https://fireworksvirtual.com/sg-eldex-reg/ to get your pass to visit ELDEX Asia.