Description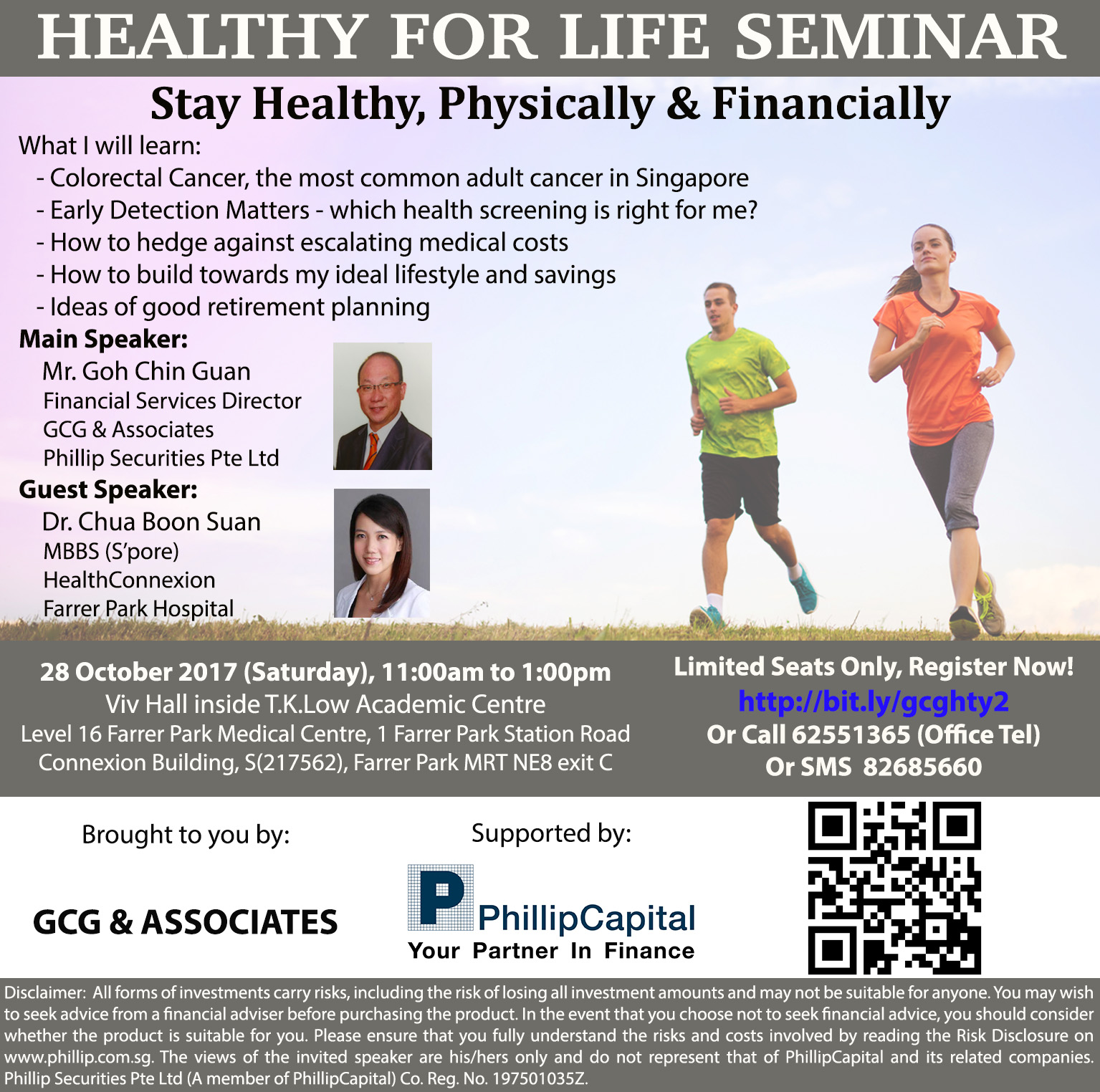 Date: 28 October 2017 (Saturday)
Time: 11.00am – 1.00pm (Registration will start at 10.30am)
Venue: Level 16, Viv Hall inside T.K.Low Academic Centre
Farrer Park Medical Centre
1 Farrer Park Station Road, Connexion Building
Directions:
Farrer Park Medical Centre above Farrer Park MRT (Exit C)
Car Parking is available at Connexion Building : $2.00 for 1st hr, $1.00 for next subsequent 30min from 7am to 5.59pm
FACT: One in four men and one in five women here are likely to get cancer by the time they are 75 years old. Lung cancer kills the most; most common for men is colorectal; for women, breast.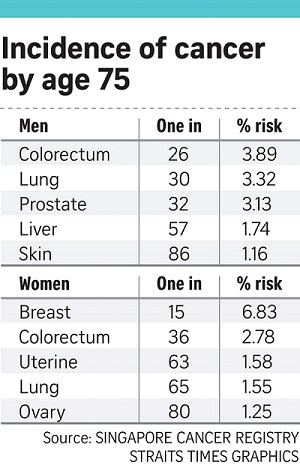 In this talk, we will explain: What symptoms related to colorectal cancer should I look out for? How do I reduce my chance of developing colorectal cancer? What are the screening tests available and how accurate are they?When should I see a doctor to screen for colorectal cancer?
Join us as our speakers from Farrer Park Hospital & Phillip Securities Pte Ltd's First Financial Services Director, Mr Goh Chin Guan will share their views on preventive measure and managing risk.
Main Speaker:
Mr Goh Chin Guan is the First Financial Services Director of Phillip Securities Pte Ltd, With over 28 years of experience in the Financial Services industry, His accolades include MDRT (Million Dollar Round Table) Life Membership and achieving annual qualification since year 1999. He is also on Honour Roll with MDRT and Chin Guan holds a Bachelor of Science degree majoring in Economics.
Having read Economics, one learns how to combine theoretical concepts with practice and real life. You have the solutions embodied in various financial products but then you have to apply the appropriate ones to meet the financial needs of clients then; review and adjust them along the way as they move on to the different stages of life. You learn that life is about putting practice into effect
Guest Speaker:
Dr Chua graduated from the National University of Singapore in 2001.Upon graduation, she has worked in various major restructured hospitals in Singapore, including the Emergency Department of Tan Tock Seng Hospital, General Medicine and General Surgery Departments of Singapore General Hospital, Obstetrics and
Gynaecology Department of KK Women's and Children's Hospital. She was part of the SARS taskforce in TTSH and tended to ill patients with suspected SARS during the outbreak. Following these rotations, she spent the large part of her medical career in primary care in NHG polyclinics. For the last seven years, she has been seeing her patients in the health screening centres of National University Hospital Singapore, Tan Tock Seng Hospital, Mount Alvernia, and Vida Medical. From her 15 years of medical practice, she strongly believes the
importance of "Prevention is better than cure." and patients should understand the potential health issues and identify them before they become symptomatic and difficult to treat.She believes that the best doctor is actually the patient himself and educating her patients to be a "good doctor" is what she hopes to achieve. She also takes interest in the management of chronic diseases such as diabetes, high blood pressure and high
cholesterol.

Dr Chua is also active in community outreach, and readily speaks on disease prevention to the general public as well as corporations. She has been featured in several national print media including Lianhe Wanbao and Health No. 1 magazine.
IMPORTANT NOTES FOR SEMINARS
Please note that under the Singapore Personal Data Protection Act (PDPA) 2012, Phillip Capital respect the privacy of all our customers and visitors, and are committed to safeguarding the personal information you provided to us. For the event registrations, you will be requested to provide your personal particulars, which include but are not limited to the following:
a) Full Name
b) Contact details, including telephone number/s and/ or email addresses
Please note that Phillip Capital Ltd will send out "Email Confirmation", Short Message Service (SMS), events / seminars via email to all registrants for all Phillip Capital events. All personal data held by Phillip Capital will be kept confidential, will not use and disclose to third parties.