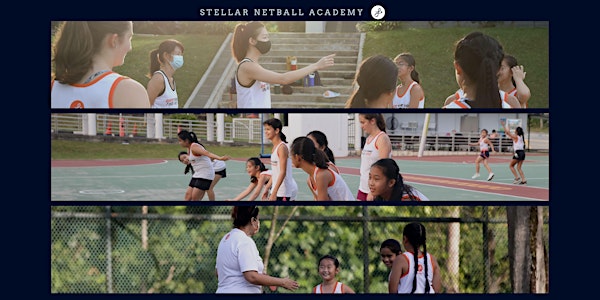 Stellar Netball Holiday Camp 2021
Stellar Netball Camps is back! Packed with non-stop action, new friendships & creative court crafts. Spots are limited so sign up now!
When and where
Location
Kampung Siglap Lifeskills Training & Retreat Centre 10 La Salle Street Singapore, 456933 Singapore
About this event
The Stellar Netball Camps are all about the game you love, having fun, making new friends, and enhancing your skills so you are ready to sparkle!
We believe in developing not just a great athlete, but a great person. As the Greek philosopher Aristotle's saying goes, "The whole is greater than the sum of its parts." We apply an integrated and holistic approach to enhance more than just your physical and on-court skills. We also focus on the social, emotional and psychological aspect of your game and how these may transfer into your everyday life.
Our camps provide a safe learning space for all budding netballers to acquire new skills and refine their knowledge through creative and engaging activities. Players will also be able to build their character, confidence and acquire other valuable life skills to raise their game holistically!
Get a chance to learn, interact and have a fun-filled day at our camps with some of the current and former Singapore national players and coaches.
The camp is led, coached and supported by some of the biggest names of Singapore Netball:
Charmaine Soh (Camp Advisor, Singapore Netball Captain)
Lim Han Ee (Sport Psychologist, Singapore Netball Sports Psychologist)
Cheyenne Rae Howard (S&C Coach of Stellar Netball Academy & Singapore National Netball player)
The coaching team will include:
Joanne Ong (Head Coach of one of the Top Secondary Schools in Singapore)
Coach Natasha (Coach of Stellar Netball Academy)
Rose Begum (Coach of one of the Top Primary Schools in Singapore)
Coaching line-up subject to changes. All our other instructors facilitating the camp have a wealth of coaching and playing experience as well.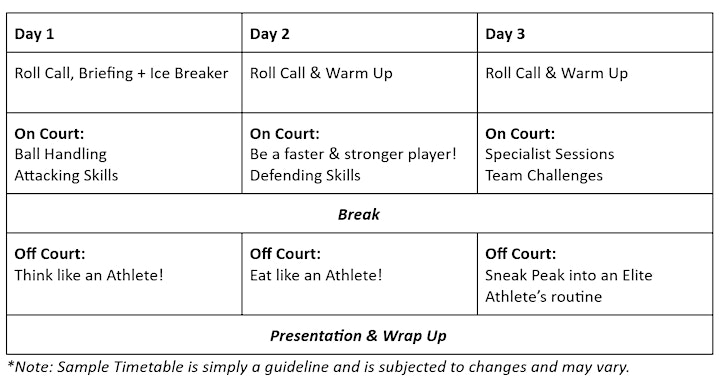 FAQs
GENERAL
What time should I reach?
Registration begins 20 minutes prior to the start of the session, so do get to the site early to ensure we can start on time.
Who is this suitable for?
Our programs are designed for all levels – beginner, intermediate and advanced. Check our full event listing for more information on available camp dates.
What is the duration of the camp?
Each camp runs for 3 days from 8.30am-12.30pm. Applicable for 7 - 18 years old.
Each camp ticket entitles one child to the following camp from 13-15 Dec 2021
Is there any age restriction for the camp?
This camp is suitable for all aged 7 - 18 years (as of 31 Dec 2021). Check our full event listing for more information on available sessions.
CAMP
How will participants be grouped?
Participants will be split via age groups. Due to the COVID-19 situation and government directives, all participants will be strictly in groups of 2.
I can't make it for the full camp. Can I still be a part of the camp?
Yes, we can make arrangements for that. Drop us a note at  and we will assist you with it.
Will meals be provided during the camp?
No, meals will not be provided at the camp. However, we will have snacks available for all participants to recharge! You may also choose to pack snacks or bites for your own consumption. If you have any dietary requirements or food allergies, just let us know in the registration form and we will take careful note of it.
What do I wear and bring to the camp?
Participants are required to wear our Stellar Netball t-shirt, with their own training bottom and sport shoes. All campers will receive their t-shirts on the first day of the camp. Please bring along your water bottle, towel and change of clothes for the end of the day. Refrain from bringing any valuables to the camp.
What is the camp capacity?
Due to the the prevailing COVID-19 situation and government directives, we are limiting to 24 pax per camp.
PAYMENT
Can I transfer my ticket to another camper?
Each issued ticket is tagged to the registered participant and is non-transferable.
Do you offer group discounts?
Group signups are available. Drop us a message at to find out more!
What are the payment modes accepted?
Due to the COVID-19 situation, payment is strictly contactless and through PayPal.
How can I contact the organizer for other questions?
Email your questions to us at info@stellarnetball.io and we will get back to you as soon as we can. Alternatively, you can drop us a message at our Facebook page. 
What's the refund policy?
Refund will be not be provided. However, it is transferable to a subsequent camp (subject to availability). Participants who are unable to attend the camp due to medical reasons, certified by a doctor, can drop us a note. Contact us at info@stellarnetball.io and we will get back to you as soon as we can!