Event Information
Location
Straits Enclave
318A Joo Chiat Road
Singapore, 427569
Singapore
Still Life Art Jamming - Learn the Art of Gouache Painting Peranakan Style over Peranakan kuehs (cakes) and tea
About this event
Students will (1) learn more about the Peranakan Chinese culture, (2) choose any antique Peranakan subject in the private museum for the draw, (3) learn the art and techniques of Gouache painting, (4) enjoy afternoon tea, coffee and Pernakan Kuehs (cakes), (5) get dressed in one of our colourful Peranakan Kebayas, and (6) experience the nostalgic ambience of a Peranakan Chinese heritage home, and (7) get to take home your own artwork.
 @ STRAITS ENCLAVE.Once you step into the Straits Enclave, it is like taking a step back in time into a different time dimension – 100 years back into a 1920s Peranakan home when these architecturally stunning shophouses were constructed in Joo Chiat. Guests are welcomed by a captivating ambience, followed by a feast for their eyes where they will be tickled with stories behind them. The place provides fascinating insights into the development of this unique culture and heritage that infuses Colonial, Chinese and Malay influences into their living spaces, furniture, deco, art, tapestry, porcelain wares, dressing, and more. 
Led by local artist Sook Liang.  She has been creating art for more than 20 years. She had spent lots of time drawing and painting using different mediums and tools, explored new methods to improve art effects and skills, or simply having fun time with her art. She loves teaching art and she is now an art teacher teaching at Community Centres, ArtFaculty, schools and private sessions. She has the experience in breaking down the process of art making and she is able to share creative art techniques to individuals so that students can learn and perform effectively. 
Learn the Art of Gouache Painting. The term gouache, derived from the Italian guazzo, refers to paintings using this opaque method. "Guazzo", Italian for "mud", was originally a term applied to the early 16th-century practice of applying oil paint over a tempera base, which could give a matted effect. Later in the 18th century in France, the term gouache was applied to opaque watermedia. Gouache was typically made by mixing watercolours based on gum arabic with an opaque white pigment.
     Time    -  2 pm to 6 pm
     Venue  -  Straits Enclave, 318A Joo Chiat Road, Singapore 427569
See photos and check out Straits Enclave at: https://www.facebook.com/StraitsEnclave/
Workshop Spoken in English
Painting Materials included, PLUS freeflow of coffee and tea, & enjoy local cake delights
Guests can stay on after workshop to perfect their masterpiece or just gossip over tea with new friends. Afterall, (one of) Straits Enclave's main purpose is to enrich lives, knowledge and memories.
There is so much to experience, learn, see, taste and create! There will never be a dull moment at the Straits Enclave Peranakan Chinese Heritage house!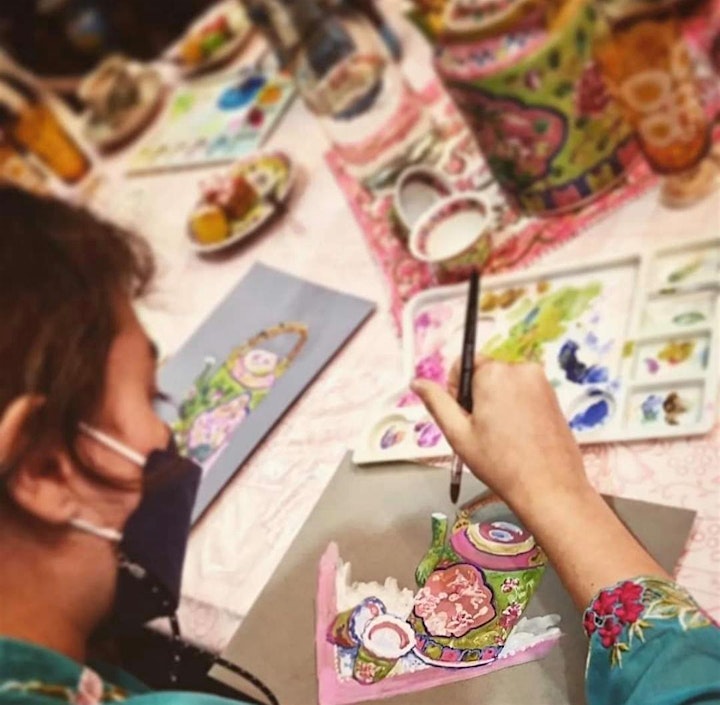 Date and time
Location
Straits Enclave
318A Joo Chiat Road
Singapore, 427569
Singapore