Stock Market Best Kept Secrets: The Art of Precision Timing

Monday, May 16, 2016 from 7:00 PM to 9:00 PM (Singapore Standard Time Singapore Time)
Event Details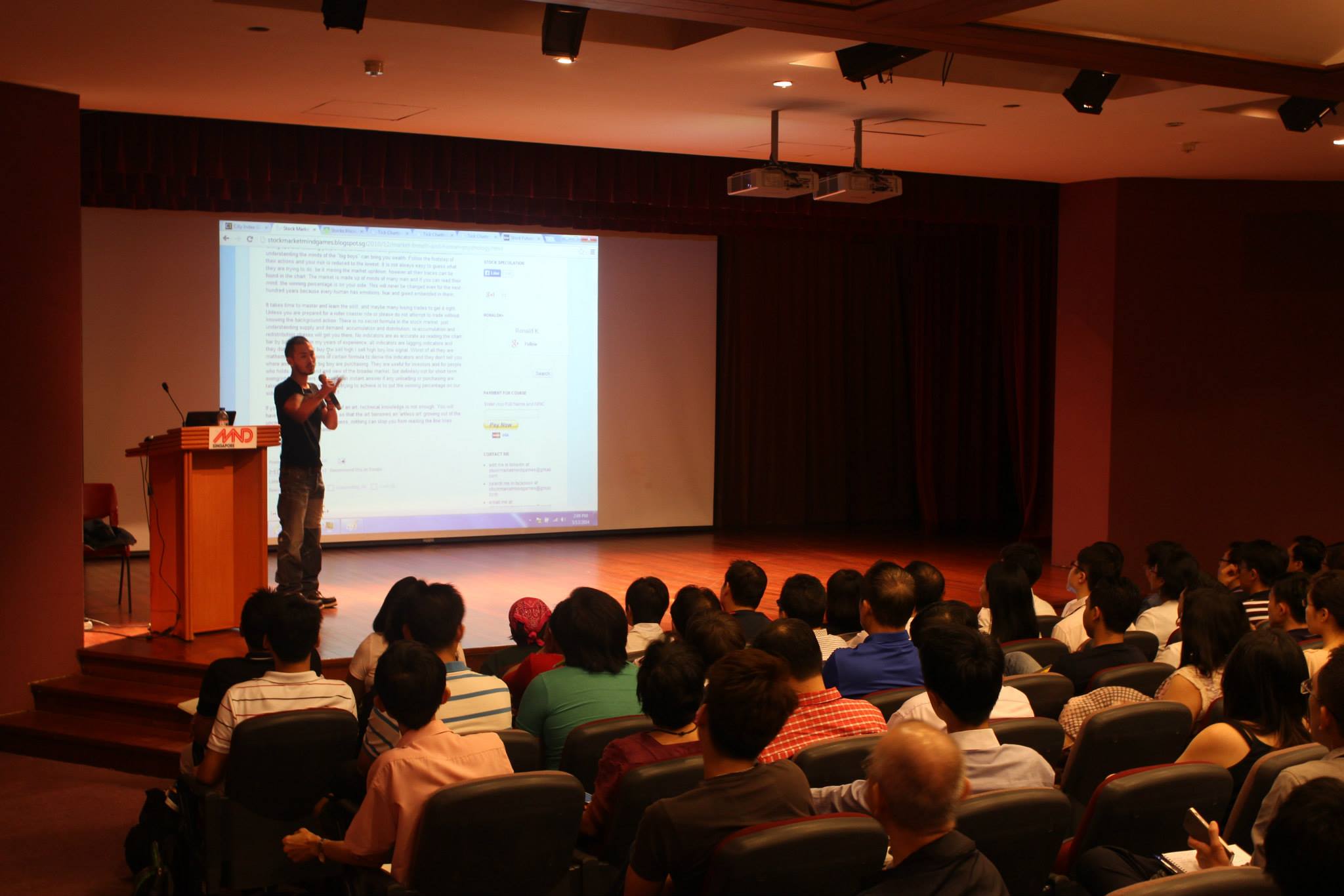 How I Made $100,000 In NOL in 5 Contra Days
Hello everyone, my name is Ronald K and you have probably seen or heard about me before in Sunday Times, my blog or from my seminars.
Now, I want to share a little story with you of how I made $100,000 in 5 Contra Days in the year of 2015 and achieved the amazing yet unbelievable record WITHOUT using any Technical Analysis or Fundamental Analysis.
The stock market is filled with hungry sharks and if you are a retail investor, chances are your moves will always be predicted easily.
1. Buying at Hidden Buying when No One is Observing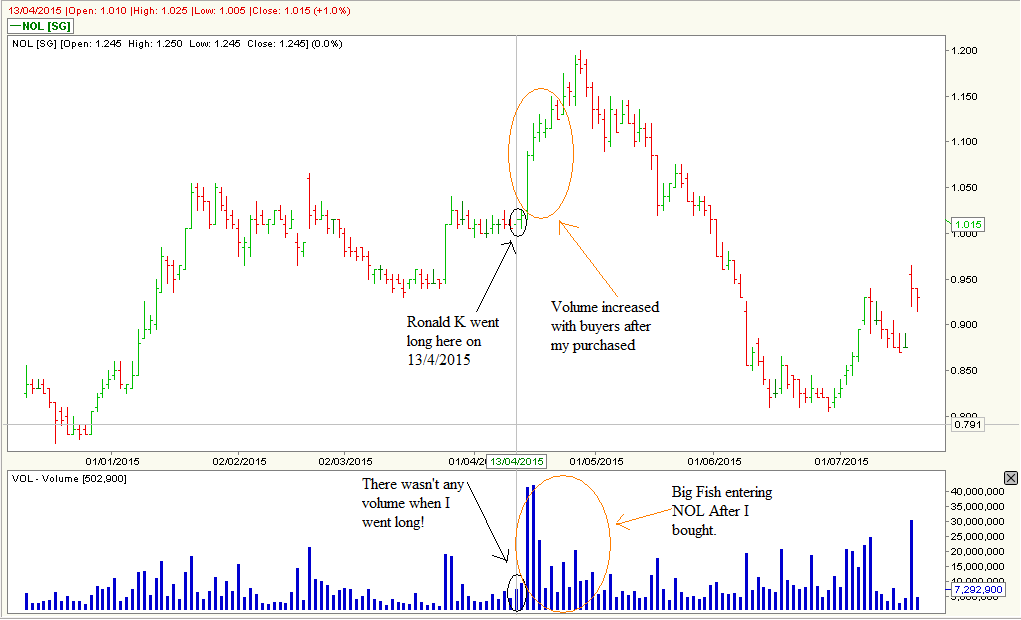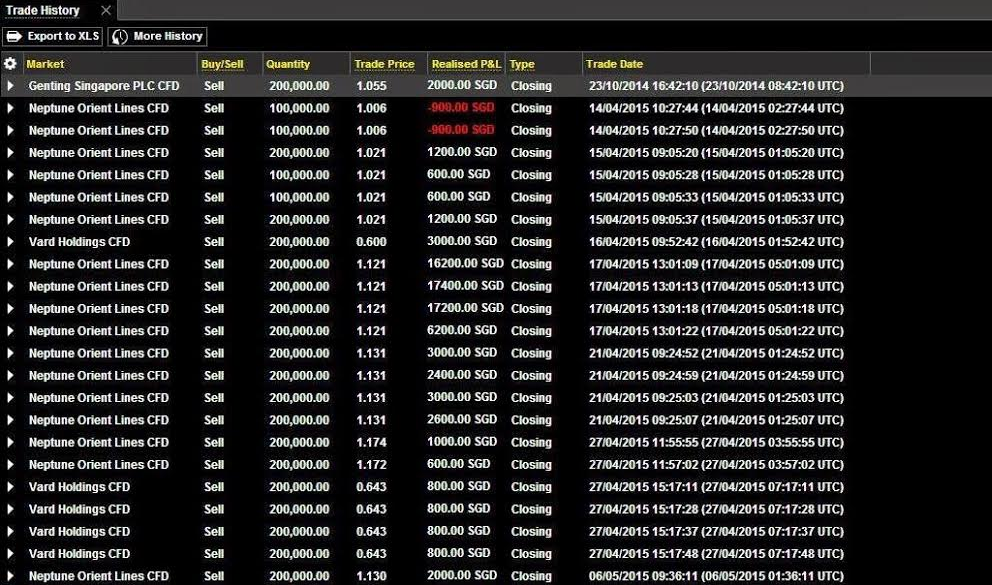 To achieve consistent profits out of the Singapore Stock Market, one must buy at the Hidden Buying before the breakout and sell at the breakout when the Big Fish conducts their obvious buying and that's what exactly happened in this NOL trade as attached! This is the same Holy Grail strategy that I will be sharing for FREE in the upcoming workshop.
2. Look For Stocks in Top 30 Volume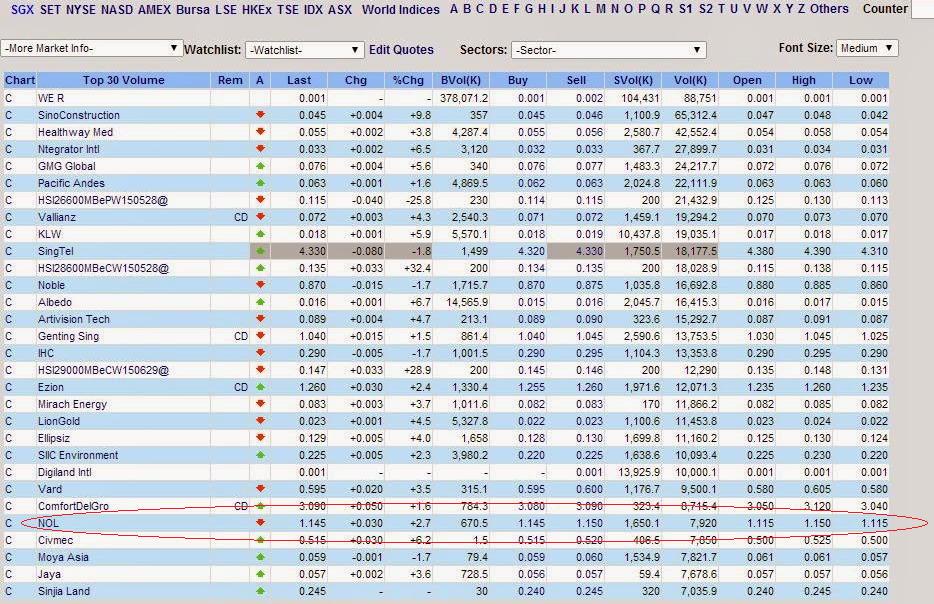 In normal Technical Analysis, we usually buy on high volume, buy on breakout, use the Moving Averages or buy when there is a trend. If I need to sum up the whole game in the Singapore Stock Market, I will tell you that there is no trends.
It's only big fish eat small fish and our goal is NOT to buy together with the big fish, but rather time your entry BEFORE the big fish and when the big fish starts biting and eating, look to sell to them since they have the financial muscle to push prices higher. If you want to know how to do it, register below.
3. Sell at Hidden Selling when Everyone is Chasing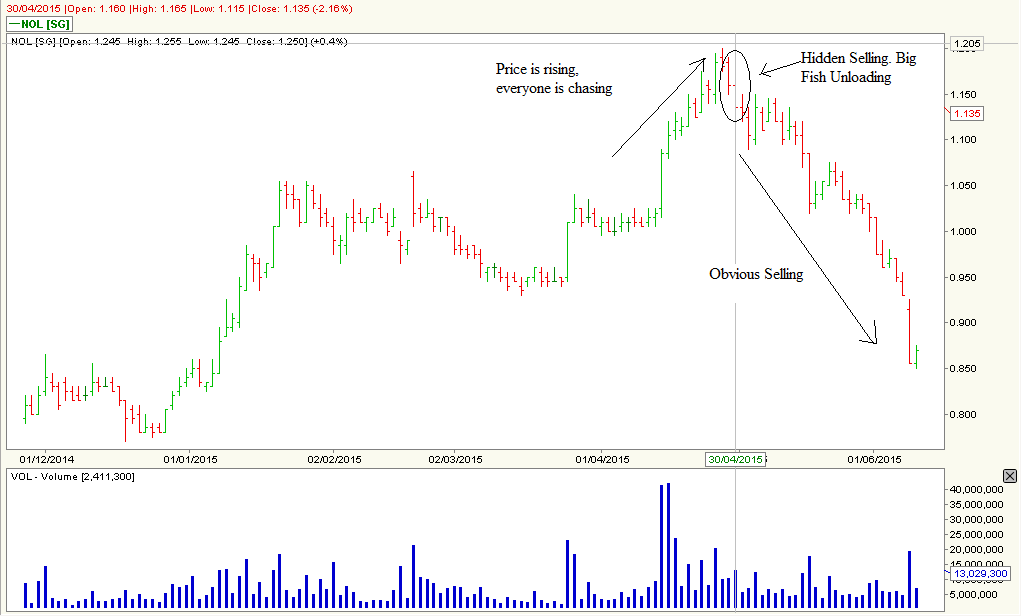 After all that hidden buying converted to the obvious frenzy buying by the Big Fish, I managed to spot some hidden selling near the peak and off loaded all my shares in NOL. By April 21st, 2015, I made the amazing $100,000 in NOL in 5 Contra Days. Hidden Selling is a never heard before strategy used by the Big Fish to sell when everyone is mad buying, mad chasing the market when the stock was hot. 

At this point of time, I knew the scripts for NOL was in the hands of some big sellers because the Top 30 Volume revealed that NOL was heavily chased and there was a huge open short position in the market. As seen and predicted in my forward prescient video below, we shorted big time in NOL and soon after the stock collapsed all the way from 1.2 to a low of 0.805. Not only did I made my first round on the long side, but also short selling on the short side which made another handsome some of profits.

Now, I hope you enjoy my NOL story and trades. To help and show fellow traders LIVE of my superb strategy, I will be conducting a workshop for everyone to see and hear from me. I urge all of you to register asap as seats will be taken up really fast. 

This workshop is suitable for beginners, intermediary traders to experienced traders/investors. Since hidden buying/selling is an abstract subject that cannot be found in books or elsewhere, there is no need to read or prepare before the workshop. Register now asap!
Workshop Outline
1) Understanding Singapore stock market dynamics

2) The inner workings of the Big Boys

3) Psychology and reasons on why the public always get slaughtered and lose out

4) How to time your entry as close as possible to the Big Boys.

5) How to achieve $500 - $1000 a week using stock rotation
About Ronald K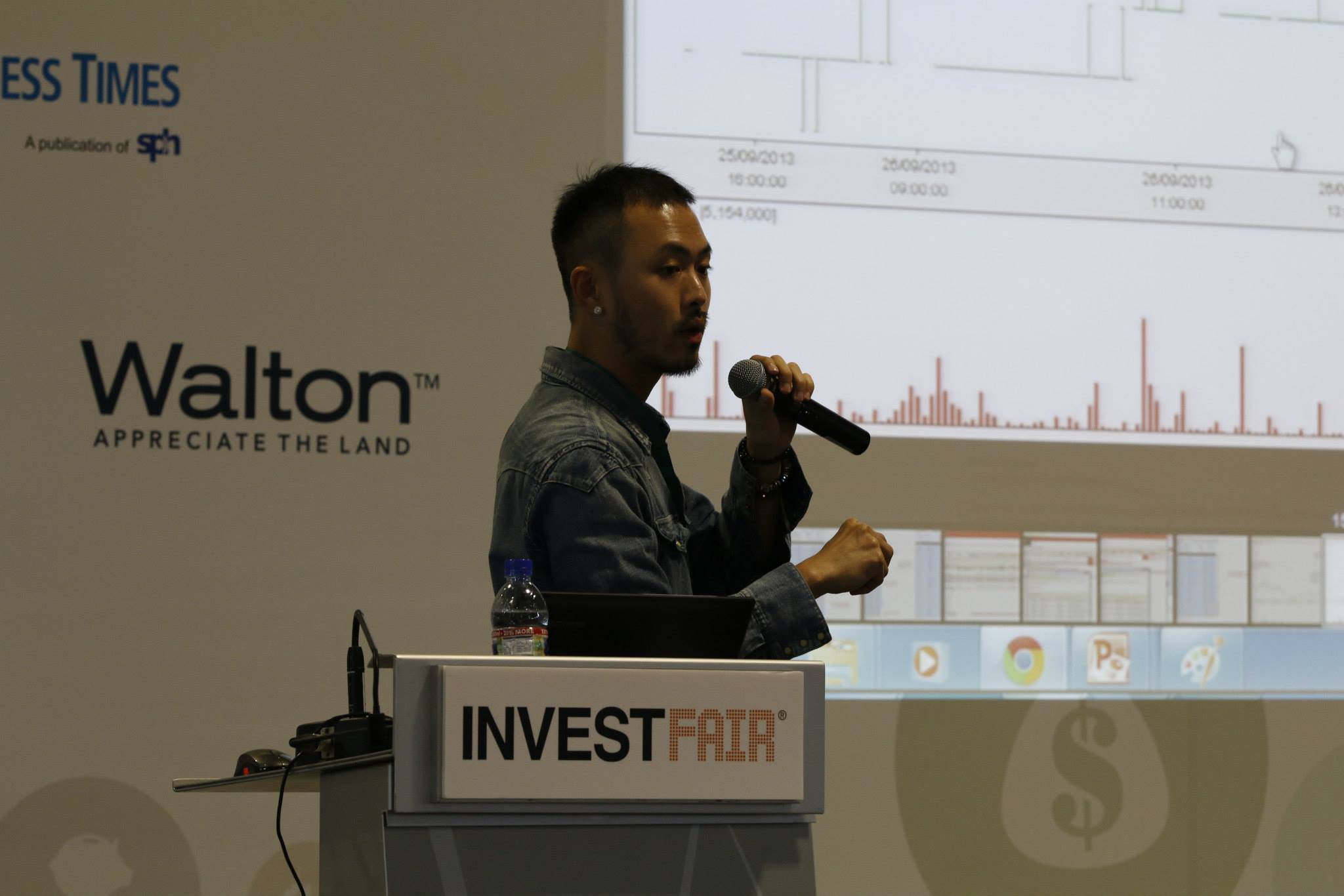 Stock market speculator who performs adroit speculation and profit consistently from the market. Discovered the science and art behind stock speculation with precise timing and execution.
Disclaimer!
What I am about to teach you is a completely unique method of trading that the Big Boys don't want you to know.
If your trading strategy is rooted in Technical Analysis OR Fundamental Analysis, please come with an open mind.
Do register early as I don't like to hold big gatherings.
All of my trading records/ student testimonials can be found on my blog here.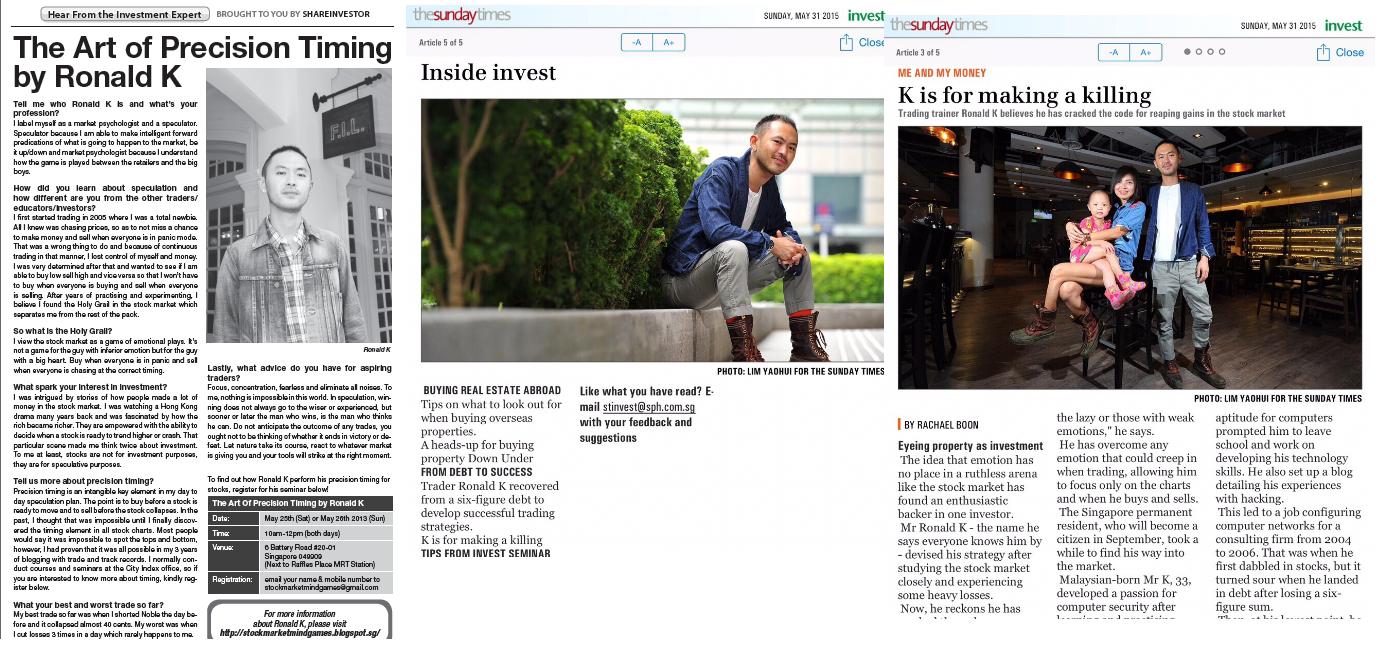 When & Where

Grand Building
17 Phillip Street, #08-00 S(048695)
Singapore, 048695
Singapore

Monday, May 16, 2016 from 7:00 PM to 9:00 PM (Singapore Standard Time Singapore Time)
Add to my calendar
Organizer
CyberQuote Pte Ltd
With more than 16 years' track record in the financial industry, CyberQuote ("CQ") has built a reputable name among financial players as a quality training institution. CQ specialises in financial and trading education for both professionals and novices, delivering knowledge through theory and practical teaching by experienced practitioners.
Through leading edge financial seminars and courses, CyberQuote is able to maximise your success and meet your immediate investment and trading needs.