Description
Was 2016 a good year for you? Did you managed to pick the Biggest Winner in stock markets in 2016? There are many mistakes a retail investor makes when selecting stocks. One of them is not doing enough preparatory work before putting their money on the stock.
Dont sweat about 2016, it's all over, let's make 2017 a good year for yourself. To prepare all our clients for this challenging market, we have done our work to identify where are the possible Opportunities to be taken and Risks to avoid.
Grasping the Market timing is also an important component in trading stocks. In this seminar, we will share with you how you can better manage your position. We will also share with you more about Singapore market outlook.
Will the bank sector benefits from the rising interest rate?
Will the 10 year cycle of the Bear market happen this year? ( like in 1997, 2007, 2017?)
Will STI move above 3000 points?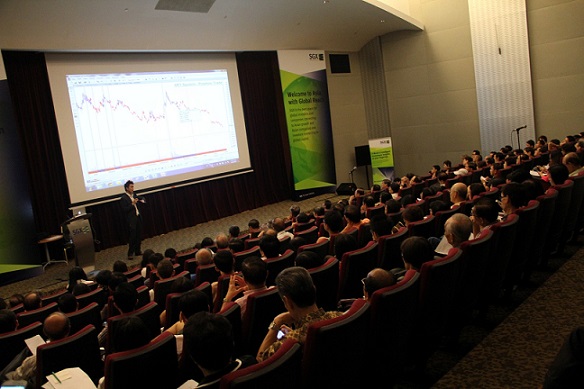 You shall learn:
5 steps to picking Big Winner stocks

Why most people pick the wrong stocks and how you can do it differently

Money management rules to follow

Which sector to look at and which sector to avoid

Market outlook and individual Singapore stocks analysis using Technical Analysis
Event Details:
Date: 7th January 2017 (Saturday)
Time: 10am to 1pm
Venue: SGX Auditorium, Level 2, SGX Centre 1, 2 Shenton Way Singapore 068804
2017 Stock Market Outlook & Opportunities will be conducted by Andy Yew, an experienced award winning Remisier and trader. He will share his Systematic method on how to select high probability winning stock. Come find out what is the Sector and stock you should be looking at in 2017 and what's not!
Speaker Profile:
Mr. Andy Yew
Award Winning Remisier in Phillip Securities
- Top 10 CFD Trading Rep in 2013,2014,2015
- Best Performing Trading Rep CFD Malaysia Market
- Top Securities Wrap account Trading Rep 2015
- Top CFD Specialist
As a graduate from the Royal Melbourne Institute of Technology University with a Bachelor in Business (Economic and Finance) Andy Yew 游俊昌 began pursuing his dream of being one of the country's leading traders early on in 2005. Through setbacks and a broad learning curve, Andy realized the importance of proper coaching and instruction. It was this realization and his eventual success in the market that led him to found his own unique stock trading system.
In 2010, Andy became a remisier at Phillip Securities and was awarded "Top Newcomer 2010″ by Phillip CFD. The very next year, Andy began coaching others to become well versed in the stock market and conducted well over 100 seminars. His passion for trading shows in everything he does and the investors he shares his knowledge with.
Andy has received many accolades from PhillipCapital including Top CFD Specialist 2012, Top 10 CFD Award 2013 & Top CFD Specialist 2013 as well as the Best Performance Award 2014. His speaking engagements include 938 Live and an interview by Michelle Martin where he shared his personal view on the market in general and an array of selected stocks. Just this year, Andy's performance and hard work paid its own share of dividends when he was interviewed by Singapore TV Channel 8's MoneyWeek.
Andy Yew and his team of experienced stock brokers provide Singapore investors with the tools they need to invest effectively. Why do it alone when you can have the full backing of Andy Yew coaching you and teaching you the methods that will save you the time and hassle of venturing into today's competitive markets alone.