Description
1956年创办的华义中学(前华义政府华文中学)是新加坡最早的公立华校之一,在1957年迁到玛格烈通道的校园,培养了不少在体育和文化方面有杰出表现的校友。

华义校友蔡忆仁将在分享会上谈谈当年在女皇镇求学的校园生活,同时带来一些和女皇镇相关的新谣歌曲。

Established on 14 October 1956, Hua Yi Secondary School (Formerly known as Hua Yi Government Chinese Middle School) was one of the first government-aided Chinese schools in Singapore. The school moved to Margaret Drive in December 1957 and was known for producing students who excelled academically and in sports and arts.
Hear former student Cai Yiren recollect his memories of Hua Yi Secondary School and serenade a repertoire of Xinyao songs which define Queenstown and the school.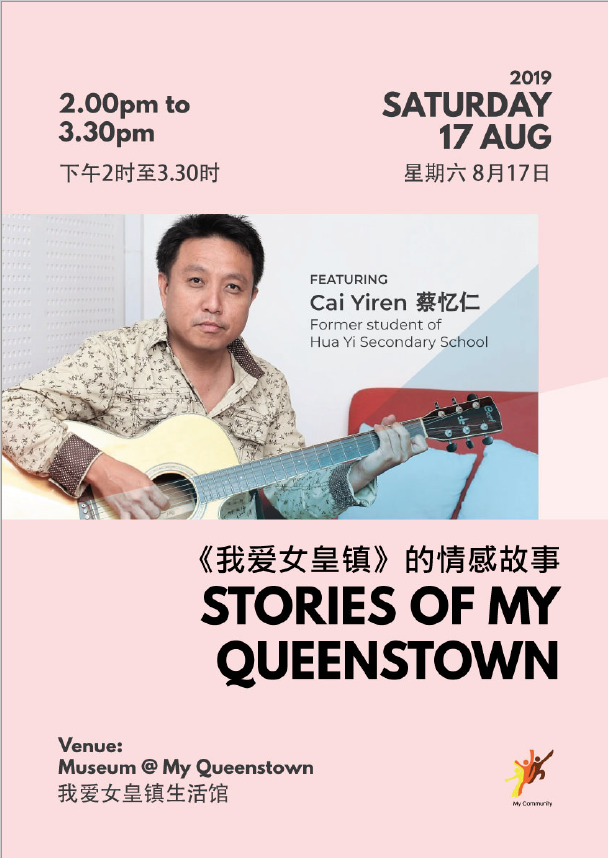 Duration & Meeting Place
Approximate Duration: 1.5 hours (2pm to 3.30pm)
Saturday, 17 August 2019 星期六,8月17日
Language: Mandarin 语言:华语
Venue: Museum @ My Queenstown (Block 46-3 Commonwealth Drive 01-388 Singapore 140463)