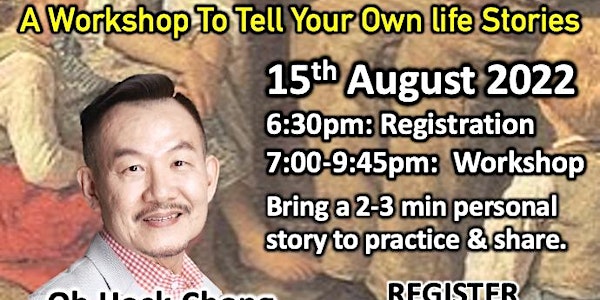 Storytelling to Inspire Change
Award-winning and veteran speaker coach, Mr Oh Hock Chong, shares his golden Storytelling nuggets in this rare workshop opportunity!
When and where
Location
Sheraton Towers Singapore 39 Scotts Road Singapore, 228230 Singapore
About this event
*"STORYTELLING TO INSPIRE CHANGE" - A Workshop To Tell Your Own Life Stories
*Monday, August 15th, 2022*
*6:30pm: Registration & Dinner*
*7:00pm: The Storytelling Begins*
*The Sheraton Towers Hotel, 39, Scotts Road (228230)*
*Registration url: shorturl.at/dnuY7*
*Synopsis:-*
In all public speaking, your audience wants not only to hear you speak but also be entertained. Your audience, generally, are bored and annoyed with long & uninspiring preaching of the unexciting facts of your lives. How then can you capture their attention, engage them emotionally in your speeches, and inspire them with your stories? ...Yes! STORYTELLING.
*Key Takeaways:-* In this workshop, you will learn how to capture your audience with your storytelling skills, move them with your stories, and inspire them to change. Your key takeaways are:
▪️ *The fundamentals of good storytelling.*
▪️ *The structure of storytelling "CAR".*
▪️ *4 C's of storytelling: Condition, Characters, Care About, Conflicts*
▪️ *How to make your storytelling more powerful.*
▪️ *Deliver an engaging & memorable personal life story.*
*Speaker & Facilitator: Oh Hock-Chong*
Hock-Chong is a corporate trainer & coach with over 30 years of sales & marketing coaching experiences at global companies like SIA, SAP, IBM, Microsoft, Google, & Autodesk, etc. He is an award winning speaker at the Toastmasters & also a veteran speaker coach. He travels extensively across Asia-Pacific to train & coach senior sales executives in business presentations & develop sales strategies. A fluent bilingual speaker & trainer, Hock-Chong has developed a strong network of students in China & North Asia in the last 20 years.
Due to the intensive practice in this workshop, we need to keep the *maximum number of participants at 100 pax*.
*Registration Closing Date: August 10th, 2022*
(only successful registrants will be notified via email)
Registration url: shorturl.at/dnuY7
A registration fee of $20 (includes buffet dinner) is payable at the door.