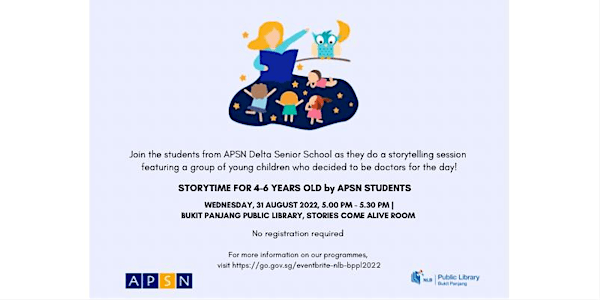 Storytime for 4-6 years old by APSN students
Storytime for 4-6 years old by APSN Students, Bukit Panjang Public Library, Stories Come Alive Room
When and where
Location
Bukit Panjang Public Library - Programme Zone 1 Jelebu Road Bukit Panjang Plaza #04-04 & 16/17 Singapore, 677743 Singapore
About this event
​​Join the students from APSN Delta Senior School as they do a storytelling session featuring a group of young children who decided to be doctors for the day. Little do they know that their first patient is the most important patient of them all—Mr. World. 
Learn about the many difficulties our world is experiencing and ways in which we can help take care of them in our own simple ways.
This programme is intended for children 4-6 years old.
Please note the following:
•Parents are encouraged to accompany their child during Storytime for 4-6 years old.
•Children below 6 years old are strongly encouraged to wear face masks or face shields.
•NLB reserves the right to deny entry to participants who do not abide by the ground rules.
•In the event that this programme is cancelled due to unforeseen circumstances, the information will be shared through communications (e.g., posters and announcements) at the libraries affected. We apologise for the inconvenience.