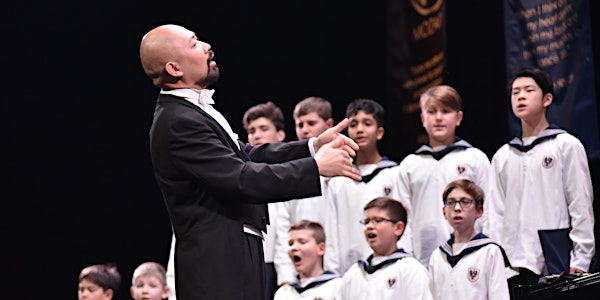 Study with the Vienna Boys Choir (SVBC) 2019: Workshops for Music Teachers and Conductors
When and where
Location
1 North Bridge Road, #07-05 Singapore 179094 Singapore
Description
The Vienna Boys Choir will share its rich history of choral background with Singapore's young and vibrant choirs and musicians. In addition to thrilling audiences with their angelic voices, the over 500-year old choir will enliven the choral and music scene in Singapore with masterclasses for choirs, conductors and music teachers, and workshops that address a variety of topics in choral singing.
It gives me great pleasure to invite you to be part of a training that will be conducted by Jimmy Chiang, conductor of the Vienna Boys Choir on the above date.
In this exclusive workshop, Maestro CHIANG will conduct a open discussion with conductors and teachers on Music Education, conducting and to answer your questions. This workshop will be tailored according to the background of participants present. CHIANG's personal motto is about living a complete well rounded musician life and to manage choral and orchestral as well as opera conducting as one.

We are confident that this training will provide rare insights into the joy of singing which is sure to encourage music-making in our classrooms. Indeed, we are optimistic that this inter-cultural exchange will help us increase the standard of music education here in Singapore. This is a golden opportunity not to be missed!

About Jimmy CHIANG, conductor
The Hong Kong born conductor and pianist has started his musical career already at the age of 13 with his first public appearance as concert pianist. Born to a musical family, Chiang began piano lessons when he was four. He also studied violoncello and composition. He received the Fellows Diploma from the Trinity College of Music in London at the age of 16, graduated with the Bachelor of Music Degree at Baylor University (USA), finished his education with "Magister Artium" at the University of Music and Performing Arts Vienna. His major breakthrough as a conductor came with the winning of the renowned "Lovro von Matacic" international competition for Young Conductors in Zagreb in 2007. His versatility as a well-rounded musician has been proven by his convincing interpretation of a wide-ranging operatic, symphonic, choral, solo piano, chamber music and song recital repertoires, whether in opera pits or on concert stages.
While serving as principal conductor of the Hong Kong Pan Asia Symphony since 2008, he has worked as assistant music director of the Wagner's "Ring" cycle at Theater Lübeck from 2007 to 2009, as well as Kapellmeister at Theater Freiburg, where he led from 2009 to 2011 numerous premiere productions. In September 2013, Chiang took on the position as choirmaster of the Vienna Boys' Choir."
In addition, he has appeared as guest conductor with the Komischen Oper Berlin, Orquesta Sinfonica de Castilla y Leon, Zagreb Philharmonic, Hong Kong Philharmonic, etc., likewise at festivals such as Eutin Opera Festival (Germany), FACYL (Spain), Macau International Music Festival, and the Rohm Music Festival in Kyoto, Japan, where he was chosen by invitation to study and work side by side with Maestro Seiji Ozawa in summer 2004.
All participation comes with a limited edition Song Book of choral music from the Vienna Boys Choir.
Do feel free to email us at ops@chorusart.co for registration and enquiries.
Register here http://bit.ly/studyVBC2019