Description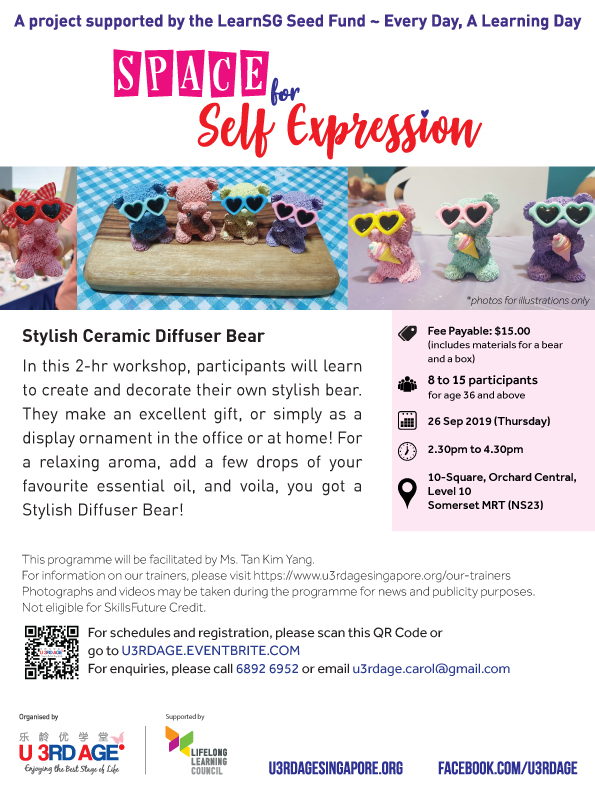 Stylish Ceramic Diffuser Bear
In this 2-hr workshop, participants will learn to create and decorate their own stylish bear. They make an excellent gift, or simply as a display ornament in the office or at home! For a relaxing aroma, add a few drops of your favourite essential oil, and voila, you got a Stylish Diffuser Bear!
Fee payable: $15.00 per participant (includes materials for a bear and a box)
Dates: 26 Sep 2019 (Thu)
Time : 2.30pm to 4.30pm
Venue: 10 Square @ Orchard Central Level 10
The class will start with a minimum of 8 participants

This programme will be facilitated by Ms. Tan Kim Yang.
For information on our trainers, please visit https://www.u3rdagesingapore.org/our-trainers

Photographs and videos may be taken during the programme for news and publicity purposes.
A project supported by the LearnSG Seed Fund ~ Every Day, A Learning Day
Not eligible for SkillsFuture Credit.
For schedules and registration ~ U3RDAGE.EVENTBRITE.COM
For enquiries, please call 6892 6952 or email u3rdage.carol@gmail.com
-----------------------------
Please take note
Are there ID requirements or an age limit to enter the event?
Age 36 and above (adults and seniors are welcome)
This event listing only indicates the starting date of the workshop.
Please note that this is a 1-session workshop, no replacement classes.
In registering for this activity, you consent to the collection and processing of your personal information for U 3rd Age Pte Ltd mailing list, in accordance with the Personal Data Protection Act (2012).
You may choose to unsubscribe at any point by sending an email to u3rdage.carol@gmail.com