Submission in Love: Selections from the Hikam

Saturday, 18 March 2017 from 10:00 to 16:00 (Singapore Standard Time Singapore Time)
Event Details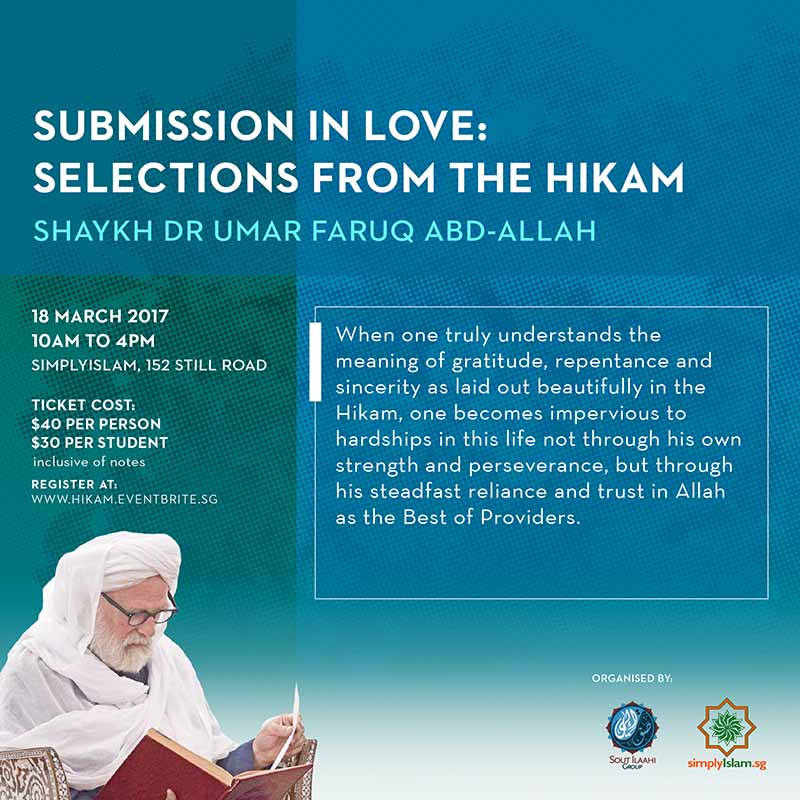 Submission in Love: Selections from the Hikam
He who seeks to know Allah recognizes that suffering and struggle are part of the Sunnah. To this end, he strives to take every hardship, calamity, betrayal, humiliation, and heartache that befalls him as a means of spiritual purification, hoping to one day be counted amongst those who submit to Allah.
Yet amongst all the difficulties that trouble the seeker of Allah, none poses a bigger threat to his attainment of True Knowledge than his own nafs. Regardless of the quantity of his deeds and his status within his own circles, in reality, he who still sees himself as separate from the universe remains chained to his own nafs.
When one truly understands the meaning of gratitude, repentance and sincerity as laid out beautifully in the Hikam, one becomes impervious to hardships and suffering in this life not through his own strength and perseverance, but through his steadfast reliance and trust in Allah as the Best of Providers.
Join us for this upcoming workshop by Shaykh Dr Umar Faruq Abdullah (USA) on selected aphorisms from Shaykh Ibn Ata'illah as Sakandari's al Hikam, and arm yourselves with the Light of true knowledge.
The Book of Wisdom (Kitab al-hikam) is a masterpiece of Islamic spiritual literature by the renowned Sufi saint and sage of the 13th century AD, Ahmed Ibn Ata Allah Al-Iskandari (d. 1309). As Ibn Abbad says, "It is small in size, great in knowledge, with clear statements, and supreme beautiful meanings."
The Hikam consists of great spiritual wisdom and in this workshop, Dr Umar Faruq Abdullah will select several wisdoms to share and expand on.
_____
Dr Umar Faruq's schedule:
Friday, 17 March 2017 Lecture: Is there a place for Culture in Islam? Details: http://cultureinislam.eventbrite.sg
Saturday, 18 March 2017 Workshop: Submission in Love: Selections from the Hikam
Details: http://hikam.eventbrite.sg
Saturday, 18 March 2017 Lecture: Embracing Destiny: Finding Hidden Wisdom in Trials
Details: http://embracingdestiny.eventbrite.sg
Sunday, 19 March 2017 Spiritual Jamming + Short Talk on Prophet Muhammad sallallahu alaihi wasallam. 10am to 1pm @ SimplyIslam, 152 Still Road. Free admission!
When & Where

SimplyIslam.sg
152 Still Rd
423991
Singapore

Saturday, 18 March 2017 from 10:00 to 16:00 (Singapore Standard Time Singapore Time)
Add to my calendar