Description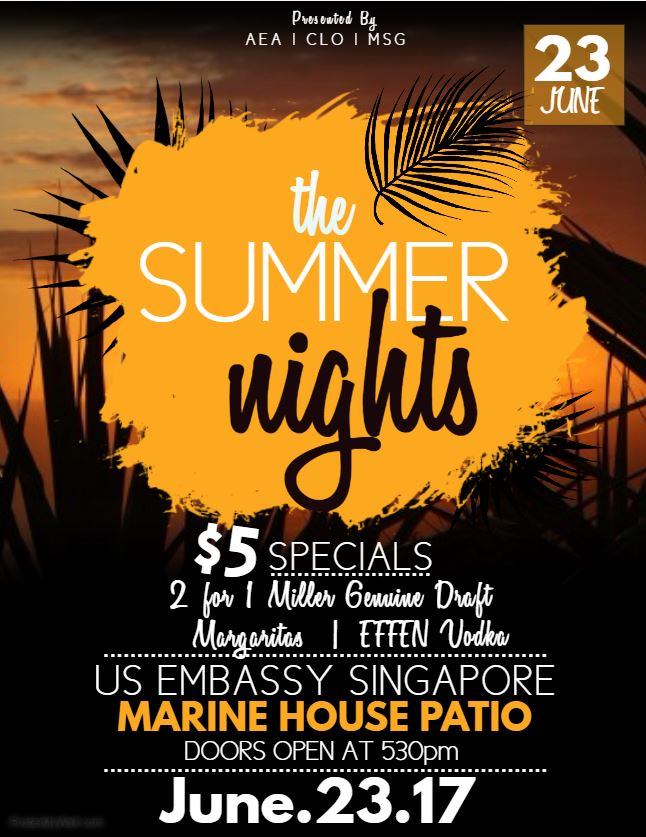 Summer Nights Party @ US Embassy Singapore!
---
Hosted by The CLO, AEA and MSG!
Drinks provided by The Marines!
All Embassy Staff, friends and family are invited to join in the celebration! 18+
Time:
Friday, June 23rd at 5:30 pm
Where:
MSG Patio, U.S. Embassy Singapore, 27 Napier Road 258508
Drinks and Food Available for Purchase!
$5 Drink Specials!
2 for 1 Miller Genuine Draft | Margaritas | EFFEN Vodka
Beer: $5
Wine: $5
Shots: $5
Cocktails: $8
Dress Code: Casual
Important Info:
-Must provide any Government ID upon arrival. No exceptions.
-CASH ONLY BAR.
-There is NO PARKING near the Embassy so please plan ahead.
SingaporeMWR@state.gov