Meditation basics and 2-3 meditation different techniques will be covered in each session (techniques to be rotated every week).
About this event
Meditation basics and 2-3 meditation different techniques will be covered in each session. This series is designed for beginners and intermediate meditators alike to get an hour's worth of quiet and re-centering on the self with different methods. Learn the reasons for the meditation pose, as well as common meditation problems (and solutions). On request we can cover alternatives such as walking meditation and simple tai chi.
Benefits
Learning different methods to stabilise one's mental state
Developing greater focus, self-awareness, and psychological health
Helps one develop self-calming abilities and regulation of the nervous system
Reduces the physical and emotional effects of stress
Helps one develop more mental clarity and confidence
About the Facilitator
Janet is the artist and creator behind the Self-Love Oracle, a 44-card deck and book set for healing and self-empowerment that features her fantasy, spiritual, and mythological paintings. Drawing since childhood and holding a B.A. in Journalism, Janet is currently studying Counseling Psychology while offering readings in Tarot and astrology. After her experiences with motherhood, divorce, Tibetan Buddhism, healing, and the supernatural, she encourages others to heal through radical self-acceptance and creative expression. She has studied Reiki, Biogeometry, Light Language healing, Alpha Alignment, and under Drunvalo Melchizedek's program, Awakening the Illuminated Heart.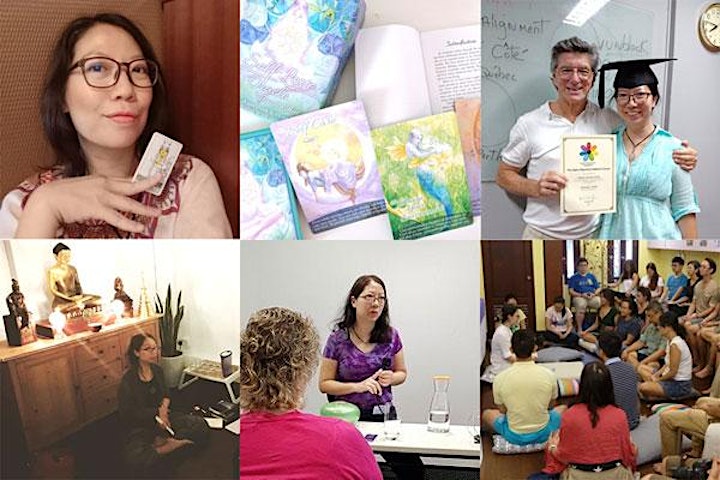 Organizer of Sunday Morning Meditation
SoundBath | Therapy | Meditation | Workshop
The Singing Bowl Gallery is a place for better mental peace and personal wellbeing. Our dedicated team is on a mission to bring more inner-peace, balance and wellness to you through the use of the singing bowls and meditation sessions. The singing bowl is a simple device that brings us to a relaxed and balanced state of being. The process is easy, effective, and enjoyable and does not involve any religious beliefs.