About this Event
• Gain insights from industry experts on the importance of a healthy diet and lifestyle to support your total well-being
• Understand the Philosophy of Regeneration to promote balance and optimal health
• All-day Yoga & Zumba sessions
• All-day experience booths featuring plant-based health & wellness products
Free admission!
Register online by November 29, 6 pm to receive a limited edition Sunrider Bamboo Charcoal Toothbrush*!
Terms & Conditions:
Only pre-registered guest who attended the event are allowed to redeem for the Sunrider Bamboo Charcoal Toothbrush on the event day.
Children under the age of 12 years old does not require a ticket and will not be entitled to the Sunrider Bamboo Charcoal Toothbrush.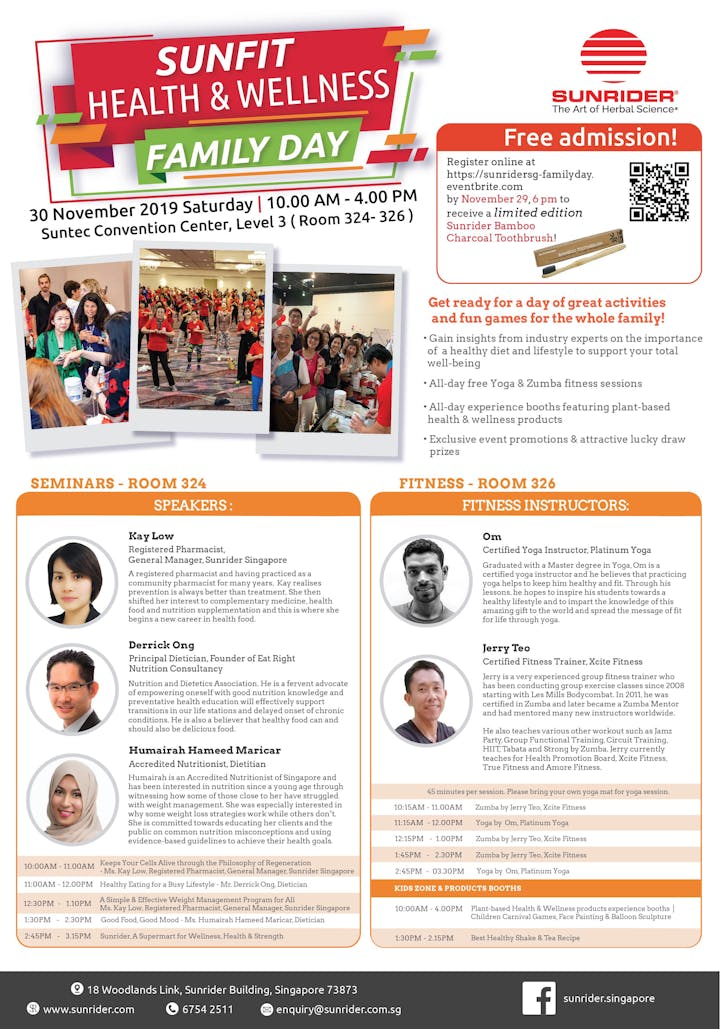 About the Speakers
Kay Low, Registered Pharmacist, General Manager, Sunrider Singapore
A registered pharmacist and having practiced as a community pharmacist for many years, Kay realises prevention is always better than treatment. She then shifted her interest to complementary medicine especially in the area of health food and nutrition supplementation and this is where she begins a new career in health food marketing, development and education.
To Kay, food is the best medicine for our human body, and with proper usage of alternative medicine such as traditional Chinese herbs, she believes it will help the human body to regain and restore our health.
Derrick Ong, Principal Dietician, Founder of Eat Right Nutrition Consultancy
Derrick is an Accredited Practicing Dietitian with the Dietitian Association of Australia, an Accredited Dietician of Singapore and committee member of the Singapore Nutrition and Dietetics Association. He is a fervent advocate of empowering oneself with good nutrition knowledge and preventative health education will effectively support transitions in our life stations such as pregnancy and breastfeeding, travelling on the job, menopause, anti-aging and delayed onset of chronic conditions such as diabetes, irritable bowel syndrome and obesity. He is also a believer that healthy food can and should also be delicious food.
Humairah Hameed Marcar, Accredited Nutritionist, Dietitian
Humairah is an Accredited Nutritionist of Singapore and has been interested in nutrition since a young age through witnessing how some of those close to her have struggled with weight management. She was especially interested in why some weight loss strategies work while others don't. She is committed towards educating her clients and the public on common nutrition misconceptions and using evidence-based guidelines to achieve their health goals. Ms Humariah also has a nutrition blog where she share her love for fuss-free healthy recipes, with a focus on making nutrition food choices and healthy eating fun for all.
Om, Certified Yoga Instructor, Platinum Yoga
Graduated with a Master degree in Yoga, Om is a certified yoga instructor and he believes that practicing yoga helps to keep him healthy and fit. His inspirations came from his teachers from Ashtanga School in India and all of his students. Through his lessons, he hopes to inspire his students towards a healthy lifestyle and to impart the knowledge of this amazing gift to the world and spread the message of fit for life through yoga.
Jerry Teo, Certified Zumba Instructor, Xcite Fitness
Jerry is a very experienced group fitness trainer who has been conducting group exercise classes since 2008 starting with Les Mills Bodycombat. In 2011, he was certified in Zumba and later became a Zumba Mentor and had mentored many new instructors worldwide.
He also teaches various other workout such as Jamz Party, Group Functional Training, Circuit Training, HIIT, Tabata and Strong by Zumba. Jerry currently teaches for Health Promotion Board, Xcite Fitness, True Fitness and Amore Fitness.