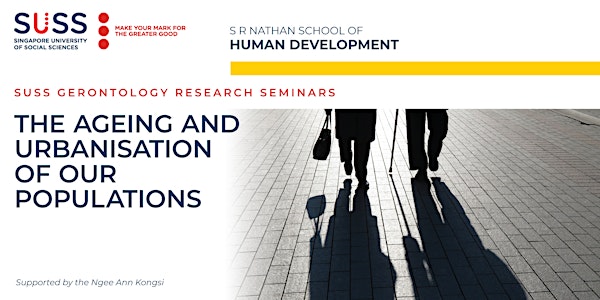 SUSS Gerontology Research Seminars
The Ageing and Urbanisation of Our Populations by Dr George Leeson
By SUSS Gerontology Programme-NSHD
About this event
The world is ageing – both at an individual and population level – and this ageing produces challenges and opportunities for governments and citizens across the globe. This age-structural change is fundamentally changing the world in which we live.
But the world is also becoming increasingly urbanised with more and more people living in urban settings. In 1950, 70 per cent of people globally lived in rural settlements and just 30 per cent in urban settlements. By 2014, 54 per cent of the world's population lived in urban settings and the urban population of the world is expected to continue to grow, so that by 2050, 66 per cent of the world's almost 10 billion inhabitants will be urban dwellers.
At an individual level, life expectancies at birth have increased from 47 years in the mid-20th century to 70 years today, and are expected to rise to 78 years by the mid-21st century. At the population level, the proportion of the world's population aged 60 years and over has increased from 200 million and 8 per cent of the total population in the mid-20th century to almost 1 billion and 11 per cent, and by 2050, it is expected to reach 22 per cent, equating to 2.1 billion people. The challenge of this increasing longevity has long been an issue of demographic interest, and no less so in more recent years. Clearly, the scale of global ageing at both the individual and population level across is unprecedented and unlikely to cease in the immediate decades of the 21st century, but this is a story of success as more and more people live long, relatively healthy lives.
This presents challenges to individuals, families, and society as a whole, not least because many of these societies rely heavily on the family in respect of support for older people, while this traditional structures may be under pressure as the modern family changes. The nuclear family is shrinking dramatically and the role of the family is changing likewise.
The question is whether population ageing a particularly good or a particularly bad development. Causes for concern are linked to the ability of societal infrastructures to accommodate changes in age structures, in this instance the transition from a predominantly young world to a predominantly old world. Clearly, our definitions of old age and older people in a world where we are living longer and relatively healthy lives (for longer) need revisiting.
George's current research includes the demographic inequalities of global ageing, the changing populations of Europe and Latin America, migration and migrants in Europe, causes and consequences of depopulation in Central and Eastern Europe, and future prospects for longevity.
Speaker: Professor George W Leeson
Professorial Fellow, Oxford Institute of Population Ageing
Senior Research Fellow & Dean of Degrees, Kellogg College & Oxford Martin School, University of Oxford
Moderator: Dr Caro Ma
Head of Gerontology Programme - SUSS, Singapore