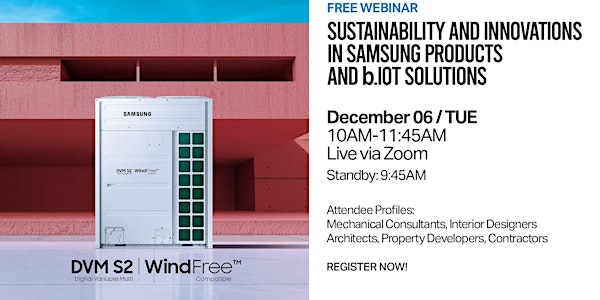 SUSTAINABILITY AND INNOVATIONS IN SAMSUNG PRODUCTS AND b.IOT SOLUTIONS
Sustainability and Innovations in Samsung Products and b.IOT Solutions
Date and time
Starts on Monday, December 5, 2022 · 6pm PST
About this event
Join us for another BCI Webinar Series featuring Samsung: Sustainability and Innovations
Date: 06 December / Tuesday
Event Proper: 10AM-11:45AM only
Standby Time: 9:45AM
Presentations:
Samsung new DVM S2
Samsung b.IOT Solutions
Multi Device Experience and Indoor Hygiene Solutions
Attendee Profiles:
Mechanical Consultants
Architects
Interior Designers
Property Developers
Project Contractors
Register Now, and receive the meeting link before the webinar date.
Certificate of attendance will be provided upon request.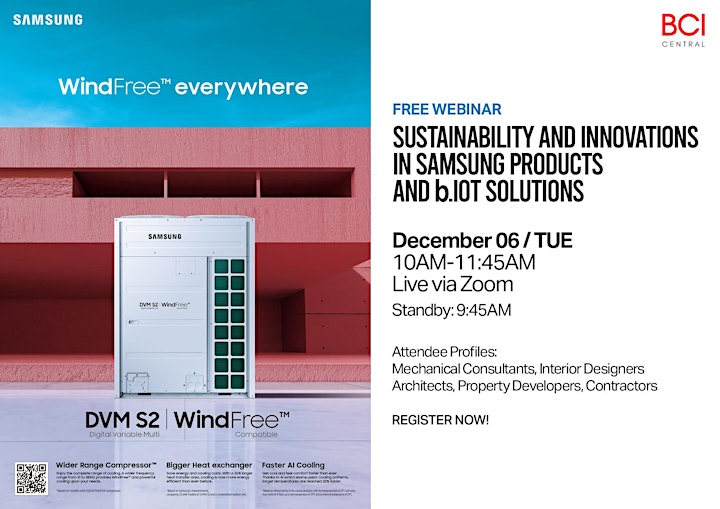 About the organizer
BCI Central is a member of the BCI Media Group, the leading group of the construction information services in the Asia Pacific region. Every year BCI group researches well over 200,000 building and construction projects in all stages of development from early concept design to construction. BCI bridges a critical information gap in the construction market. For building material suppliers, contractors, and subcontractors, BCI is the indispensable source of project leads and market intelligence. Meanwhile, for developers and architects, BCI is a liaison to new resources of products and services available in the market.
BCI Central can help you deliver a highly successful event with the right profile of attendees. No other service in Asia enjoys BCI's pre-eminent reputation for providing actionable information, increased sales efficiency and opportunity to connect brands and people effectively.
Brand and Community Division have dedicated and experienced events team to help you create the best experience for your target participants.