A new study shows a shift in Singapore consumers mindsets for sustainability. Find out how addressing this demand can drive business growth.
About this Event
With the launch of Singapore's Green Plan in 2021, sustainability is a priority national issue. But are Singapore consumers' mindset towards sustainability also changing? What else is needed from businesses, consumers and the government to accelerate progress towards a more sustainable Singapore?
Accenture and WWF-Singapore have been working together on this important topic, by conducting a business and consumer survey on sustainability sentiments in Singapore. The study Sustainability in Singapore - Consumer and Business Opportunities uncovers Singapore consumers' mindsets, behaviours and factors driving purchase decisions; and their expectations from businesses, governments and from themselves with regards to sustainability. The study also explores businesses' current and planned sustainability practices and opportunities to do more. And lastly, the study identifies key actions for businesses, consumers and government that will drive a greater impact on the state of sustainability.
Join Accenture and WWF-Singapore in the virtual launch event to learn more about the report findings, and engage in thought-provoking discussions with business leaders.
Agenda
Opening remarks by Mr R. Raghunathan, Chief Executive Officer, WWF-Singapore and Mr Divyesh Vithlani, Senior Managing Director, Market Unit Lead - Southeast Asia, Accenture
Welcome note by Mr Luke Goh, Chief Executive Officer, National Environment Agency
Key findings of the report by Mrs Sonia Gupta, Managing Director - Growth & Innovation, Growth Markets, Accenture
Panel discussion and Q&A with Singapore-based business leaders, moderated by Mrs Stefanie Beitien, Head of Market Transformation, WWF-Singapore
Panel speakers:
Mr Andrew Buay, Vice President, Group Sustainability Singtel and Optus
Ms Marika Lindstrom, Vice President, Global Procurement – Packaging, Unilever
Ms Angela Sim, CEO & Co-founder, Cloversoft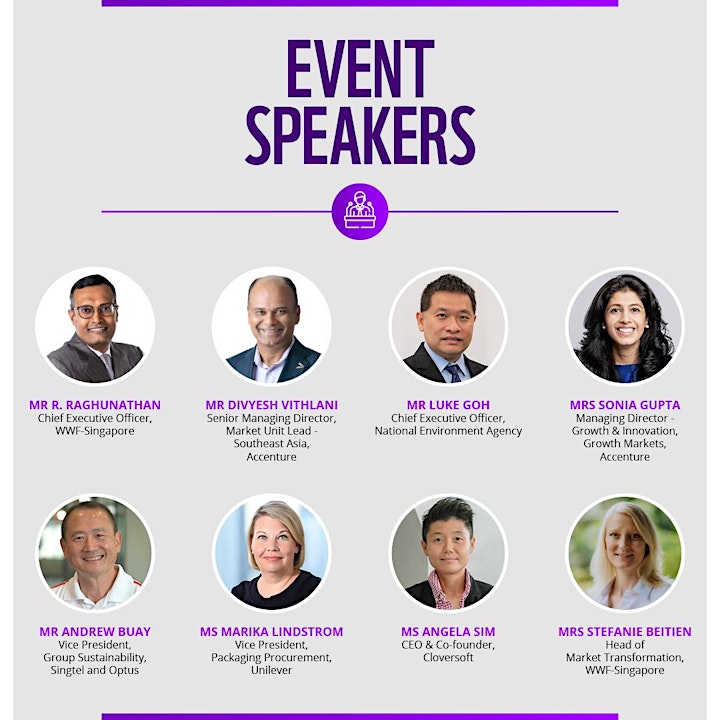 Disclaimer: By registering for this event, you agree to WWF-Singapore's Privacy Policy. Please note that this event will be recorded for sharing purposes.