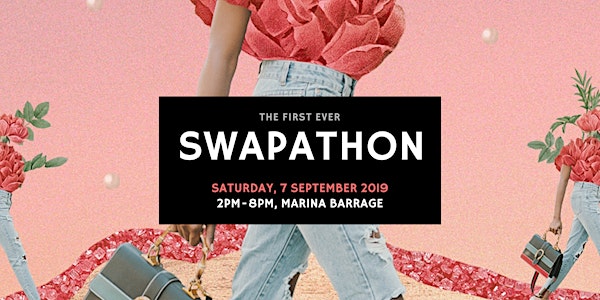 Swapathon 2019 - Singapore's First Sustainable Fashion Marathon!
Singapore's First Sustainable Fashion Marathon!
When and where
Location
Marina Barrage MARINA GARDENS DRIVE 0, 018951 Singapore
About this event
[PLEASE NOTE THAT REGISTERING FOR THE EVENT DOES NOT EQUATE TO A TICKET. YOU'RE REQUIRED TO COMPLETE YOUR PURCHASE ON OUR WEBSITE - WWW.SWAPAHOLICEVENTS.COM]
SWAP PARTY WITH A TWIST!
Come 7th September 2019, witness the first ever sustainable fashion marathon at Marina Barrage. Get introduced to the concept of swapping and learn about the various ways we can live a more sustainable life without compromising on our fashion choices!
Swapathon is in conjunction with Marina Barrage and PUB to promote resource preservation. Swappers can anticipate a day of non-stop swap action, upcycling workshops and sustainable village with groovy tunes and yummy treats.
View our event promotional video here: https://youtu.be/7DCHi-0zctA
Event Details:
Date: 7th September 2019
Time: 2 - 8pm
Venue: Marina Barrage
Sign up Fees: $25 flat fee
Register at: www.swapaholicevents.com
Includes:
Swap 1-10 items
Item PICK UP
Access 6 FREE upcycling workshops.
What can swappers expect?
2pm - 5pm: EARN SWAP POINTS AT THE SUSTAINABLE VILLAGE
Before the Swap Party, browse through the Sustainable Village
~ 5 FREE upcycling workshops
~ 20+ affordable green vendor booths
~ FREE Beauty/ Book/ Plant Swap
~ Treat yourself to yum snacks
~ Groove to live music
~ Engaging with workshops and vendor booths will help you earn more SWAPATHON points you can use at the swap!
5pm - 8pm: SWAP TILL YOU DROP
Swap with points you earned from your clothes as well as all the successfully completed SWAPATHON tasks at the Sustainable Village. Our swapalicious influencers' closet includes the fashionable green warriors - CAMIRA ASRORI, BRIE BENFELL & SHERMAINE KHOO.
Swapathon has a unique point system of app - SWAPATHON POINT SYSTEM
~ T-shirts & Shorts - 1 point
~ Tops, Pants & Jeans - 2 points
~ Dresses, Playsuits & Jumpsuits - 3 points
~ Jackets & Outerwear - 4 points
SWAPATHON APP
Access the SWAPATHON APP to view your points, earn points from vendors and check in & out of the Swap Party. Deets will be mailed to you after registration!
Follow our Facebook Event Page (https://www.facebook.com/events/2325644711033919/) for latest updates as we release performance line up and workshop details.
Swappers may also write in to us at hello@swapaholic.com for any enquiries.
**************************************************************
WHAT YOUR EVENT BRITE REGISTRATION INCLUDES
Your registration includes many free upcycling workshops, plant swap, beauty swap, book swap, tour of the Sustainability Academy & live music. It also gives you access to the Sustainable Village where you can avail of offers on many eco+affordable brands!
WHAT YOUR REGISTRATION DOES NOT INCLUDE
With this free registration, you CANNOT participate in the clothing swap, Yoga with Denise, Dialogue with Denise & Art to Tote workshop. If you'd like to participate in any of these, in addition to the above SWAPATHON activities, register at bit.ly/SwapathonProgram.