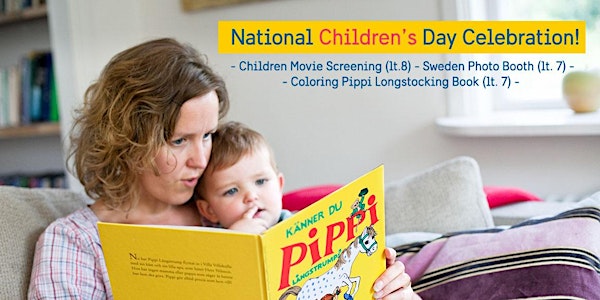 Swedish Movie Screening for Children and Family
By Embassy of Sweden in Jakarta
Date and time
Sat, 28 Jul 2018 10:00 - 15:00 WIB
Location
National Library Of The Republic Of Indonesia 11 Jalan Medan Merdeka Selatan Senen, Daerah Khusus Ibukota Jakarta 10110 Indonesia
Description
Hej! Dalam rangka memperingati Hari Anak Nasional, Kedutaan Swedia di Jakarta akan mengadakan acara Pemutaran Film dan Kompetisi Mewarnai untuk anak di Perpustakaan Nasional Indonesia. Berikut adalah detail dari acaranya, yuk datang!
Swedish Movie Screening / Pemutaran Film Swedia (Auditorium Lantai 8, dengan pendaftaran)
10:00 - 11:00 Short Films for Children (untuk anak usia 3/5 tahun ke atas, film animasi atau dengan teks terjemahan bahasa Inggris)
11:00 - 13:00 Break
13:00 - 15:00 Tsatsiki, Dad and the Olive War (untuk keluarga, film dalam bahasa Swedia, dengan teks terjemahan bahasa Inggris)
Selama pemutaran film berlangsung, dimohon untuk tidak membawa makanan dan minuman masuk ke dalam teater. Mohon mendaftar lewat eventbrite karena tempat yang terbatas.
Kompetisi Mewarnai untuk Anak (Layanan koleksi anak, Lantai 7)
10:30 - 13:00 Coloring Pippi Longstocking Book Competition
10:00 - 14:00 Berfoto dengan kostum nasional Swedia di Sweden Photo Booth
About the organiser
Welcome to the Eventbrite page of the Embassy of Sweden in Jakarta, Indonesia. Our mission is to represent Sweden in Indonesia, Timor-Leste and at ASEAN as well as to promote Swedish-Indonesian and Swedish-Timor-Leste relations.