Description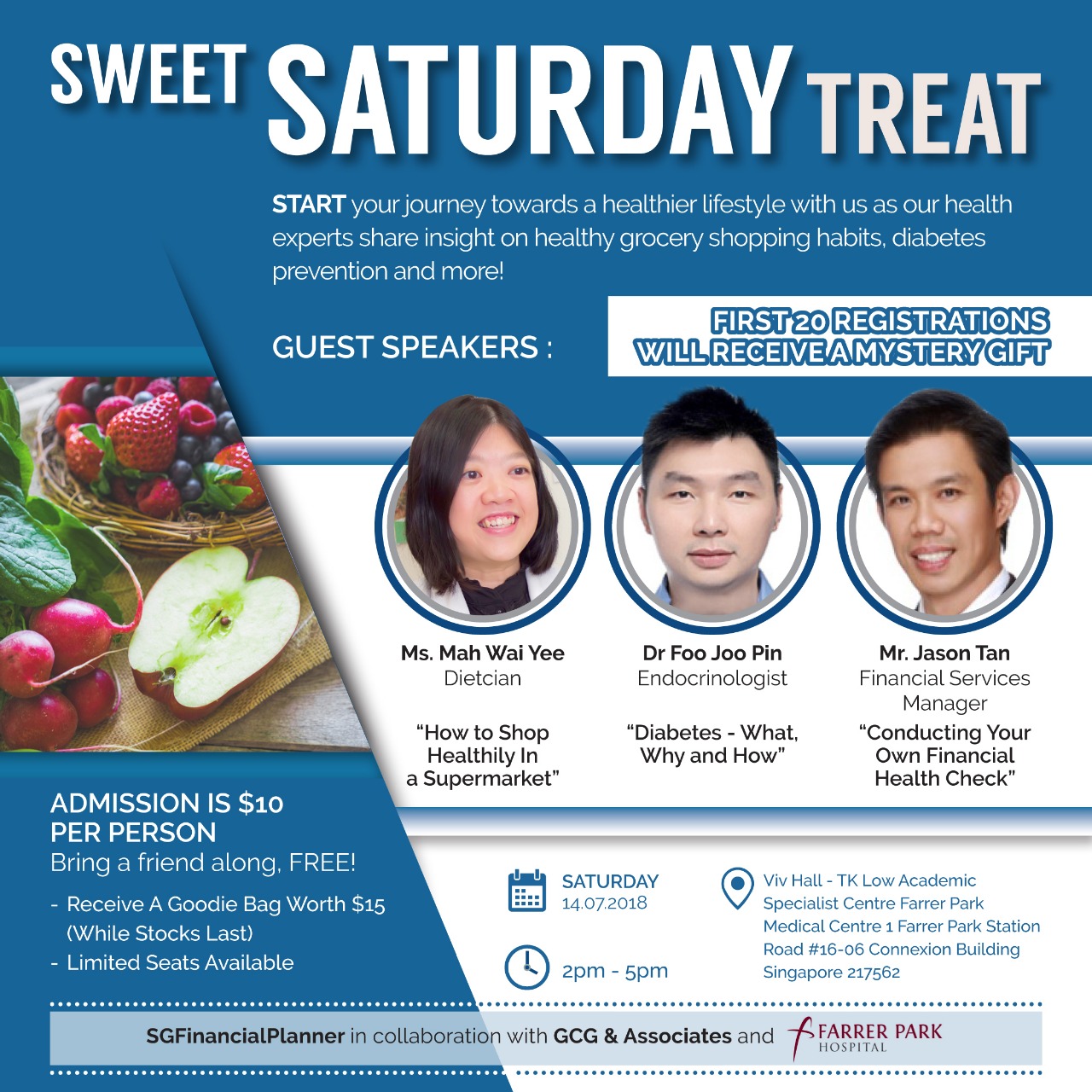 Date: 14th July 2018 (Saturday)
Time: 2.00pm – 5.00pm (Registration will start at 2.00pm)
Venue: Level 16, Viv Hall inside T.K.Low Academic Centre
Farrer Park Medical Centre
1 Farrer Park Station Road, Connexion Building
Directions:
Farrer Park Medical Centre above Farrer Park MRT (Exit C)
Car Parking is available at Connexion Building : $2.00 for 1st hr, $1.00 for next subsequent 30min from 7am to 5.59pm
In Singapore, diabetes is a serious health concern, with over 400,000 Singaporeans living with the disease. One in three Singaporeans has a lifetime risk of getting diabetes and the number of those with diabetes is projected to reach one million by 2050, if current trends continue.
Singapore has one of the highest incidences of diabetes among developed countries, second only to the United States.
Among adults aged 18 to 69, 11 per cent - or one in nine - is diabetic. In 1998, it was 9 per cent. Among older people, the incidence is even higher.
Today, an estimated 450,000 adults here have diabetes, an illness that is a major risk factor for other serious medical problems such as heart attacks, stroke, blindness, gangrene resulting in amputations, and kidney failure requiring either a transplant or lifelong dialysis.
Type 2 diabetes - which is far more common than Type 1 diabetes and which tends to occur in those over 40 - is a highly preventable disease as lifestyle plays a big role.
Obesity is a major risk factor for diabetes. The rate of obesity here has been rising, from 7 per cent in 2004 to 11 per cent in 2010.
Lack of exercise and a high consumption of sugar and simple carbohydrates such as white rice and bread also increase the risk of getting diabetes.
Come Join Us On this Sweet Saturday to learn from Farrer Park Hospital, Dietcian, Ms Mah Wai Yee, on 'How to Shop Healthily In a Supermarket' ; Endocrinologist, Dr Foo Joo Pin, on 'Diabetes-What, Why and How' and Learn From Our Financial Services Manager, Mr Jason Tan, on 'How to Conduct Your Own Financial Health Check'
IMPORTANT NOTES FOR SEMINARS
Please note that under the Singapore Personal Data Protection Act (PDPA) 2012, Sg Financial Planner respect the privacy of all our customers and visitors, and are committed to safeguarding the personal information you provided to us. For the event registrations, you will be requested to provide your personal particulars, which include but are not limited to the following:
a) Full Name
b) Contact details, including telephone number/s and/ or email addresses
Please note that Sg Financial Planner will send out "Email Confirmation", Short Message Service (SMS), events / seminars via email to all registrants for all Sg Financial Planner events. All personal data held by Sg Financial Planner will be kept confidential, will not use and disclose to third parties