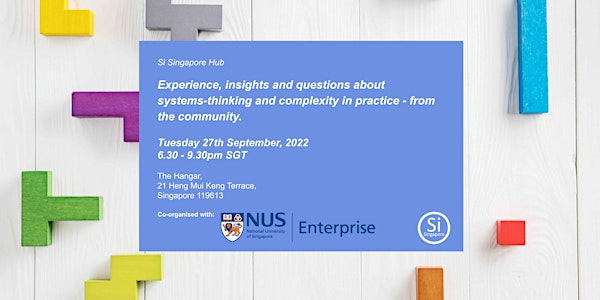 Systems Innovation - experience, insights, questions about systems thinking
An opportunity to get curious - hearing experience, insights and questions from the field of systems thinking and systems innovation.
When and where
Location
The Hangar, NUS Enterprise 21 Heng Mui Keng Terrace Singapore, 119613 Singapore
About this event
Welcome to our next Systems Innovation - Singapore Hub event.
Our event is co-organised by NUS Enterprise who have kindly provided us with use of their space to support our ongoing mission.
INTRODUCTION
With systems thinking slowly finding more prominence in the mainstream here in Singapore - we are interested in the aspects of both theory and practice currently being employed by various organisations and members of the community at large. But there is still a lot to learn and share.
We are looking to build the collective intelligence of the whole.
Some questions or thoughts people may have are:
What is systems innovation?
What does it look like in practice?
Who is currently involved in it?
What is happening in the wider ecosystem?
Is it a legitimate approach to the problems we are currently facing?
How can I apply it to my work/situation?
ABOUT THE SESSION
There are many ways to apply the tools, methods and approaches which for many may seem rather nebulous at times, with each context being different and unique to consider.
Therefore we thought that diving into some examples, questions and other thoughts would be useful and a new format to experiment with! It will be quite flexible and interactive.
We have three highly experienced and interesting speakers.
- Khai Seng Hong, Systems thinker, Founder & Director at Studio Dojo
- Elfarina Zaid, Systemic coach, Co-Founder, Managing Partner at Elf Coaching
- Jair Smits , Systems builder, Managing Director, Witteveen+Bos SEA, , World Cities Summit Young Leader
THE FORMAT
The format for the first part of the evening will be slightly different from having the usual main speaker and audience. We will have 5 slots (each between 5-10min).
a) share what they are currently up to in relation to systems change/systems innovation/systems thinking
b) ask the group/community questions about systems change/systems innovation/systems thinking
c) put out a request or need they have related to systems change/systems innovation/systems thinking
All of the above must be related to systems innovation/systems thinking/systems change/complexity.
***One thing we don't want for this session, is business promotion so we ask for those who want to take one of these slots to be mindful of this.***
Though we want to support all endeavours around this topic, the main purpose and outcomes of this group are learning and development of these ideas towards systemic change. At least for this session.
Being a fairly nascent group we also thought it would be useful to have time to get to know each other in more depth too - with some time and space for more personal conversations and discussions on these topics. Therefore the second part of the session will be connecting either in small group or individually.
TICKET PRICE. - PLEASE NOTE THERE ARE NO REFUNDS. ONLY TRANSFERS.
Ticket price includes a bento meal (choice of four - 2 vegetarian and 2 non-vegetarian options).
Please arrive early to eat your meal before the event.
You may bring a refillable water bottle as there is a refill machine.
If you would like to have one of the slots please drop us a line ahead of time to let us know roughly what you would be using the time for.
CONTACT US VIA THIS PLATFORM TO ASK FURTHER QUESTIONS PLS.