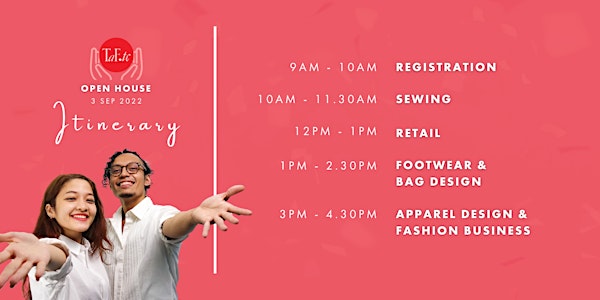 TaF.tc's Fashion Open House
TaF.tc's Fashion Open House: Your Fashion Transformation!
When and where
Location
Central Plaza, Level 5 298 Tiong Bahru Road Central Plaza, Level 5 Singapore, 168730 Singapore
About this event
Venture into the Fashion Industry at TaF.tc's upcoming Fashion Open House! Learn about our various fashion programmes, and how you can pivot into a career in fashion. What's more, learn about potential career pathways, internship programmes and more! Book your tickets today!
Date: 3rd September (Saturday)
Time: 9AM - 6PM (Walk-in time is flexible)
By booking your ticket, you are confirming that you will be physically coming down to our campus.
10 AM: Sewing
Hear from our sewing trainers about the various sewing courses that TaF.tc provides, from Basic Drafting and Sewing to sewing your own Cheongsam! Hear them share their experience about what a sewing course in TaF.tc is like, what it entails, and get a sneak peek of what you'll learn in class. Meet our Programme Advisors after as they share about the government subsidies that you can receive, and the different sewing bundles available exclusively during the Open House.
12 PM: Grow Your Retail Business
Are you an entrepreneur looking to accelerate your online business or digitise your physical retail store? Or perhaps an aspiring mid-career switch looking to pivot into the retail industry?
Join us for our 'Grow Your Retail Business' session and discover how companies have struggled, survived, and thrived in the endemic world as countries around the globe begin to open up. Have your questions answered by our speakers about potential struggles you face in your own retail and how you may go about solving them. And discover TaF.tc's Retail Transformation Programme, and how it can help your business become more resilient and scale to further heights!
1 PM: Footwear & Bag Design
Step into the world of footwear and bag design! Gain insight into the craftsmanship of creating shoes and bags in the fashion industry. Hear from our trainers and Programme Advisors about the various career opportunities and potential industry pathways you can embark on!
3 PM: Apparel Design & Fashion Business
The fashion industry is constantly an exciting and fast-paced field to be in! Our trainers who are veterans in the field will share their insights and experiences in the fashion world. Hear about the latest trends and innovations as the industry continues to adapt in an endemic world! Discover how TaF.tc's fashion diplomas provide training that will help you succeed in a fashion career! Our Senior Business Development Executive, Louise will be sharing on TaF.tc's study abroad opportunities as well!