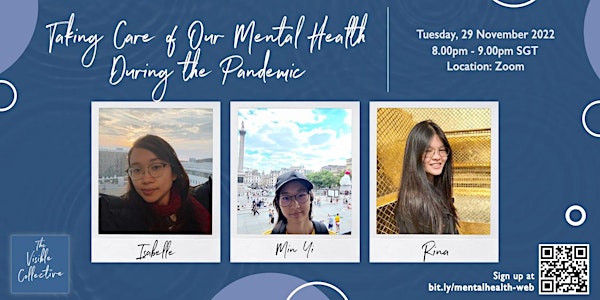 Taking Care of Our Mental Health During the Pandemic
We will discuss on how the pandemic has taken a toll on our mental health & the various ways that we can do to support ourselves.
About this event
In Taking Care of Our Mental Health During the Pandemic, we would be delving into how the pandemic had affected our lives and the various ways that can be used to support ourselves. Our guest speakers are Isabelle, Content Marketing Lead and Min Yi, Progamme Lead of The Visible Collective SG (TVC SG). The webinar will be moderated by Rina, Founder of TVC SG.
Isabelle has a Bachelor of Arts (Media Communications, Creative Writing). Her background is in mass communications, with seven years of work experience in marketing across the education, travel & hospitality sectors. Having volunteered in the areas of youths, disability and inclusion, she also oversees programme publicity and promotions of The Visible Collective SG as Content Marketing Lead.
Min Yi has a Bachelors in Psychology (Honours) and a Master of Science in Psychology of Education. She has work experiences in being a health coach, English Language teacher and research officer. She is one who firmly believes in contributing back to our society. At The Visible Collective SG, she oversees the peer support sessions, The Visible Circles through playing the role of the Programme Lead.
Tickets are complimentary and a zoom link will be sent 1-2 days before the event.