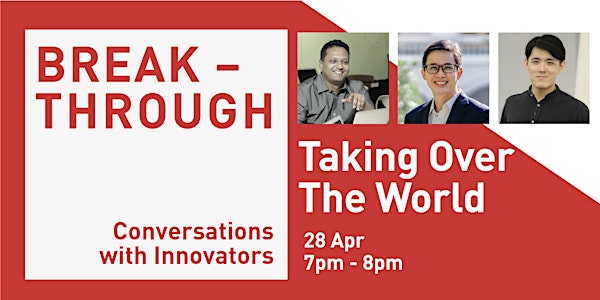 Taking Over The World | Breakthrough
In the next session of Breakthrough, learn tips on how you can bring your business to the international market!
About this event
In today's age of hyperconnectivity, products across the seas are literally a click away and the world is truly your oyster. For businesses, this presents an opportunity to increase their growth by cashing in on the demand from an international market. In the next session of Breakthrough, hear from Hari Sivan (Co-Founder of SOCASH) and Jesher Loi (Director of Branding and Marketing at Ya Kun International) to learn how they took their brands overseas, and learn tips on how you can bring your business to the international market. 
About our speakers
Jesher Loi is the 3rd generation business owner and brand guardian of Ya Kun International. Ya Kun International is a regional brand that serves Singapore's heritage breakfast of kaya toast and local coffee. They are currently in 11 countries with over 131 outlets worldwide. Jesher oversees the branding elements of each outlet and ensures brand consistency throughout its operations. He is also actively involved in the regional expansion strategy as Ya Kun goes beyond Singapore's shores. On the side, Jesher is actively involved in the classical music scene among youth and also strives to use the vehicle of the business for social good.
Hari Sivan and the SOCASH team have created the largest next-gen distribution network blending retail and banking. This platform enables a paradigm shift in Asia by taking banking closer to where customers are to A smartphone based software enables people to withdraw cash (Virtual ATM), open accounts, apply for loans, cash collection (Virtual Branch) from anywhere thus avoiding the needs to increase branch network .A former banker with a resume that boasts stints with the world's leading financial institutions, Hari Sivan now uses his expertise with payment solutions, product development and risk management to build Asia's largest digital distribution network for financial services via FinTech start-up, SOCASH.
About our moderator
Marcus Li is the co-founder and Managing Director of Ruach Consulting, which provides management services with a key focus on incubating and running ventures for economic empowerment in ASEAN. While he started his career as a corporate lawyer, Marcus set up several ventures and non-profits (with particular focus on investments in deep-tech). With his background in law, Marcus also volunteers as corporate counsel at various regional non-profit organisations, often advising and providing subject matter expertise to management teams. A real foodie and also a classical musician – he's always up for a good meal, good laughs and great company!