Map Your Talent & Potential to Your Best Career Path & Succeed in This Difficult Job Market (Gamification Guide to Career)
About this event
First, find and attain the skills you need to succeed in this difficult job market.
Many people are looking to learn new skills to level up their career due to unemployment or free time caused by the current pandemic. The reasons to learn new skills may be exploring new professional paths to progress to a more senior position or transit to a new industry. However, most of them seek out others to find out the current skills to learn. This may be what the market needs but maybe not what they need. The best is what your need is aligned with what the market needs. If you are one of them, I would like to tell you that now is the right moment to prepare to upgrade yourself aligning your needs and market needs. In this course, you will identify skills gaps to learn the needed skills regardless of your reasons.
In the course, you will learn an important skill for you to succeed in this difficult job market. That is the self-awareness skill. What is self-awareness and Why is it so important to acquire? Self awareness is "having conscious knowledge of one's own character, personality and feelings". Acquiring this self-awareness capability is the key to unlocking and increasing many of your other skills, one of them leads to better leadership skill. As the former CEO of PepsiCo, Indra Nooyi highlighted that self-awareness is crucial for evolving and finding coping strategies for not just weaknesses, but to boost your strength and your talent as well. A survey of the Stanford Graduate School of Business Advisory Council rated self-awareness as the most important capability for leaders to develop to identify their personal idiosyncrasies — the characteristics that they take to be the norm but actually represent the exception which is their talent.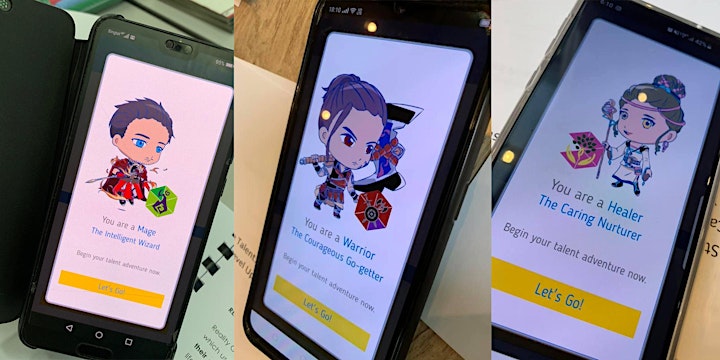 In the course, you will discover your natural born talent and your character. We map your talent and character to The Skills Framework by Skillsfuture to provide you the key information on your best career pathways, job roles, and existing and emerging skills for the required job roles.
You will also be taught to understand the talent and character of people around you such as your colleagues, boss, clients, business partners, subordinates, and even your staff and friends. Why are they talented in certain skills or careers? Why do they work in this way? By understanding from their perspectives, you can build better working relationships and trusted connections. You know that having a strong and trusted relationship and connection is very important to the progression and well-being in your career and life.
You will learn to master them in this one-day course!
You will also learn how you use scientific proven gamification concept and techniques to make you career enjoyable and exciting like playing an adventurous game.
Sharing of insights on a scientific proven gamification concept and techniques of our own where you cannot get it from other gamification solution and service providers.
Do you think that for not attending the course, you have nothing to lose?
For not attending the course, you will not know the following...
Your purpose to work beside a monetary income. We are referring to work with your purpose. The notion of work with purpose becomes increasingly important and bigger. How you can make a difference to society and at the same time earn an income. You will also learn how to gamify work to enjoy leveling up your career. This will increase your fulfillment and have joy in your career.
Are you aware of your purpose? How do you work with purpose? How do you earn an income with your purpose? If you are the leader of your business, how do you weave profit with purpose? How do you have fulfillment and joy in your career?
Course Content:
Identify your talent and personality traits
Identify your career purpose
Acquire self-awareness skill (the missing piece)
Acquire reality gamification & character-based gamification knowledge to have fun levelling up your career (the missing piece)
Know the career and job roles that best-fit your talent and character
Know the skills you need to learn and develop to succeed in difficult job market
Derive strategies to work with purpose and at the same time, earn an income
Understand the talent and working style of others to obtain best work collaboration
Highlight: Talent match for long-term connections for career and project opportunities
Highly Recommended For:
Job Seekers
Freelancers
Human Resource & Recruitment Professionals
Hiring Professionals
Management Professionals
Training Providers
Educators
Project Managers
Entrepreneurs
Founders of Start-ups
Achievers
Higher Learning Students and University Students Who Are Soon Transiting to Workforce
Those Individuals Who Care for Their Career
Available Course Format & Date:
Online Class (24 Nov 2020) / Physical Class (Currently not available due to Covid-19)
Course Fee:
Early-bird Offer: SGD 397 (Register now to get this offer)
Normal Fee: SGD 597
Note: This offer comes with the Fast-Action-Taker Bonuses listed below
Register free with us now and pay at the later date. - Note: We will follow-up with an email for ticket fee payment (as stated above) when a minimum number of participants have registered. After payment, you will receive a confirmation email and details of the course from us.
Preview Fee:
Preview Offer: SGD 0 (Register now to get this offer)
Preview session date and time for this course is 12 Nov 2020, SGT 7pm
The preview is a 2 hours sharing session about this course. In the preview, you are able to know more details about what this course is offering. Find out why Career + Gamification = Level Up Your Career, Unleash Your Potential & Succeed in this Difficult Job Market.
Note: This offer does not come with the Course and Fast-Action-Taker Bonuses
We welcome participants from other countries (beside Singapore) as well
Participants: We have participants from Singapore Government Agencies, Indonesia Recruitment and Development Company, Singapore Advertising Company, Malaysia Finance Agency, Malaysia Training & Development Company, Singapore Training and Consultation Company, Singapore university, Malaysia university, Institute of Higher Learning, Singapore Private School and Tuition Centre.
Pre-requisites: None.
Fast-Action-Taker Bonuses:
You will receive:
1. FREE Personalized QuestLife Talent Intelligence Interpretive Report: Character-based Identification & Gamification: Self-Awareness of Talent to Leadership (As shown below pictures) [Worth S$267]
2. FREE Two Hours Online One-to-One Talent-to-Career Coaching [Worth S$597]
3. FREE Soft Copy of The Secret Code Book (Gamification Book) for Online Class only. FREE One Autographed Paperback Copy of The Secret Code (Gamification Book) for Physical Class only [Worth S$27]
4. FREE Membership of QuestLife Inner-Circle Network to Learn and Give/Receive Career and Project Opportunities from One Another
5. Explore Collaboration Matching: A chance to match project/career opportunities from any matching project/business owners or a chance to have a meetup session with any 1 matching project/business owner. [Note: No guarantee]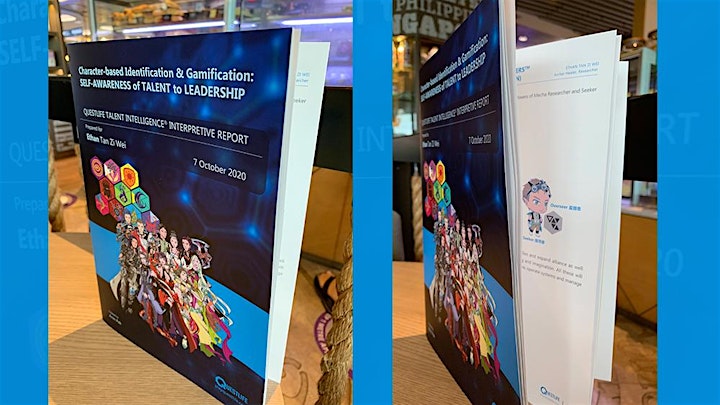 Course Duration:
9am to 6pm (include 1 hour lunch)
Course Materials (given):
1. Course Notes
2. Course Character Game Book
3. Character & Talent Identification Tool
Raving Reviews:
"My first time meeting Anm and she wowed me totally. Her depth of understanding of gamification was amazing!!! Her ability to stand on stage and share with a group of youngsters and capture their attention was impressive! We have organized our industry talk for 5 months and this is the first time I have seen my staff so engaged! Thank you Anm on sharing. I'm sure now we will all be able to level up because of you! " - Tay Ling, Client Services Director, Singapore
"This is the 2nd time I met up with Anm to learn more about myself through her Character-based gamification system. Anm's persona has always been one which gives and gives, friendly and professional. Anm is truly an expert in her field as she knows how to interpret the report, provide insights and advice on how I can improve myself and grow my business. I highly recommend anyone who wants to improve self or business - go to Anm." - Adrian Toh, Success Frontiers Training and Consultancy, Singapore
Course Educator:
Anm Pek
Conducted personally by the Creator & Researcher of Reality Gamification & Character-based Gamification Framework, Singapore's Leading Gamification Specialist, Educator and Best Selling Author Anm Pek.
Anm is the Chief Executive Officer and Chief Educator of QuestLife. She is one of the Founders of QuestLife - a talent collaboration app. She has been studying and creating her own Character-based gamification & Reality gamification since year 2015. She is devoted to provide gamification solutions to solve problems and create results in empowerment, personal development and learning. Anm has been in the game design field since year 2002.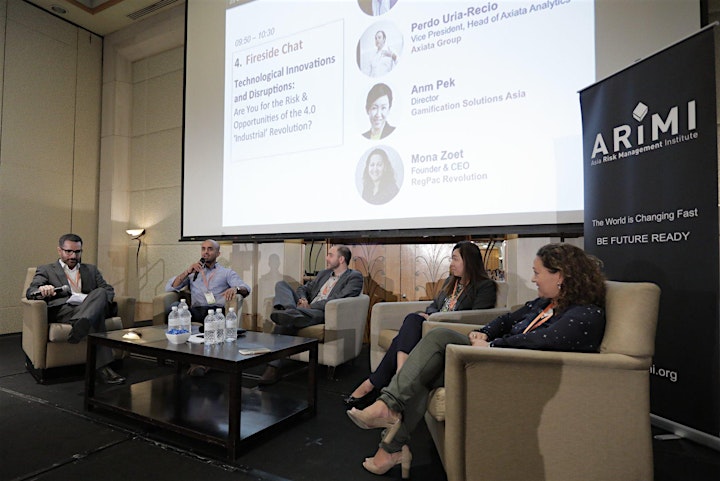 Anm is also the gamification and design advisor for QuestLife. Together with Meow Ling, the Founders created Gamified Talent Matching Engine for QuestLife. Anm believes that individuals can be empowered and achieve their goals faster and easier than they ever imagine through the gamified characters that she has designed and developed for QuestLife. Anm also created Flashback and Recollect, learning card games to develop association skill, enhance creativity, memory, and Socratic questioning. Anm is a bestselling Author. She has written two books on gamification titled Success Today which hits 2 Amazon bestseller lists, and, The Secret Code: Is It for Real? with forewords by Asia's Top Success Coach, Adam Khoo and Social Entrepreneur, Elim Chew. Anm received her Best Seller Quilly Award on Best Seller's Summit & Golden Gala Awards by National Academy of Bestselling Authors on 25 September 2015 in Hollywood, California. It is one of the most influential, compelling events for Best Selling Authors who are committed to recognizing their success as a stepping stone on the path to further ambitions. The Best Seller Quilly Award is to honor Bestselling Authors around the world for their contribution to education, enlightenment and the advancement of business.
Since 2016, Anm has been contributing in Serious Games industry. Anm is the executive member of Serious Games Association. Anm is the reviewer of Gamification and AR in University for EE-ICT special issue by EURASIA Journal of Mathematics, Science and Technology Education. She is also the review committee for the Serious Games Evaluation Framework with Associated Quality Label for Serious Games used for Training, Engagement and Assessments.
Anm is the pioneer to setup Games Development and Testing Centre in Institute of Technical Education which serves as a base for games innovation and enterprise creation, and, she is also the pioneer to design and develop the Game Art track of Higher Nitec Games Design & Development course in year 2007.Anm appears on Dean's list for her Bachelor of Science in Multimedia Technology and Design and received numerous distinctions and merit awards throughout her studies. In July 2014, she graduated with a Master of Science in Digital Media Technology (Nanyang Technological University, Singapore). Her research paper titled, Design and Development Beyond Fun: Serious Games with Social Impact has built her a strong foundation in gamification. She is also a Higher-Learning Educator since year 2008.
Free Registration First, Pay Later:
Click on SELECT A DATE button now to secure your seat. For any inquiry on this course, feel free to email Anm at anm@playquestlife.com.
This course is brought to you by: QuestLife Pte. Ltd., https://playquestlife.com.
Please write to Anm at anm@playquestlife.com if you would like to be on the mailing list for further enrollment updates.