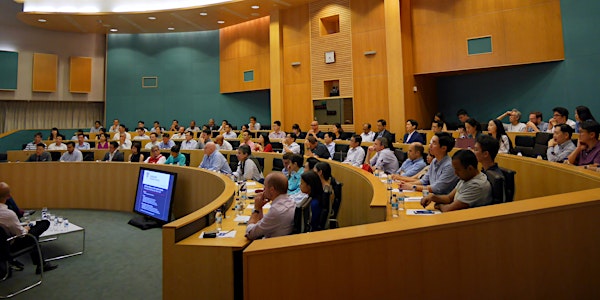 Talk by HBS Professor Ranjay Gulati: Why Do Great Companies Derail?
By Harvard Business School Club of Singapore
Date and time
Thu, 12 Sep 2019 18:00 - 20:30 +08
Location
Temasek International The Atrium @ Orchard 60B Orchard Road Singapore, 238891 Singapore
Description
The Harvard Business School Club of Singapore invites you to an interactive talk with HBS Professor Ranjay Gulati.
Professor Gulati regularly speaks to executive audiences around the world. Much of his speaking focuses on helping firms discover growth opportunities in dynamic and uncertain markets. He explores the dilemmas and enablers for building actionable strategies that encompass making strategic choices and architecting organizations to drive chosen strategies. His systemic approach also emphasizes the requisite leadership skills and pipeline that is essential to support strategy. Through a variety of pedagogies, he helps his audience uncover their key strategic challenges and brings focus on their strategic choices and the organization and leadership team required to help bring it to fruition.
Our talk will explore why great companies derail and delineate some of the underlying reasons. We will look at some of the strategic, organizational, and people issues that may drive these outcomes. We will distill lessons for present-day organizations to avoid derailing and pursue market success.
This event is open to HBS/Harvard University alums and their guests only. Light refreshments will be served before the talk. Seating is extremely limited, please buy your tickets early.
The HBS Club of Singapore would like to thank Temasek International for sponsoring this event.
Event Details
6:00 - 7:00 pm: Registration and Networking
7:00 - 8:00 pm: Professor's Talk
8:00 - 8:30 pm: Q & A
Profile of Professor Ranjay Gulati
Ranjay Gulati is the Jaime and Josefina Chua Tiampo Professor and the former Unit Head of the Organizational Behavior Unit at Harvard Business School. He is an expert on leadership, strategy, and organizational issues in firms. His recent work explores leadership and strategic challenges for building high growth organizations in turbulent markets. Some of his prior work has focused on the enablers and implications of within-firm and inter-firm collaboration. He has looked at both when and how firms should leverage greater connectivity within and across their boundaries to enhance performance.
Professor Gulati is the former Chair of Harvard Business School's Advanced Management Program. He has directed several executive education programs on such topics as Building and Leading Customer-Centric Organizations, Leadership in Turbulent Markets, Managing Strategic Alliances, and Sustaining Competitive Advantage. He is also active in custom executive education. He has received a number of awards for his teaching including the Best Professor Award for his teaching in the MBA and executive MBA programs at the Kellogg School where he was on the faculty prior to coming to Harvard.
About the organiser
For further details, please contact info@hbsclub.sg