Taller de Negociación: "Theory and tools of the Harvard Negotiation Project...
Description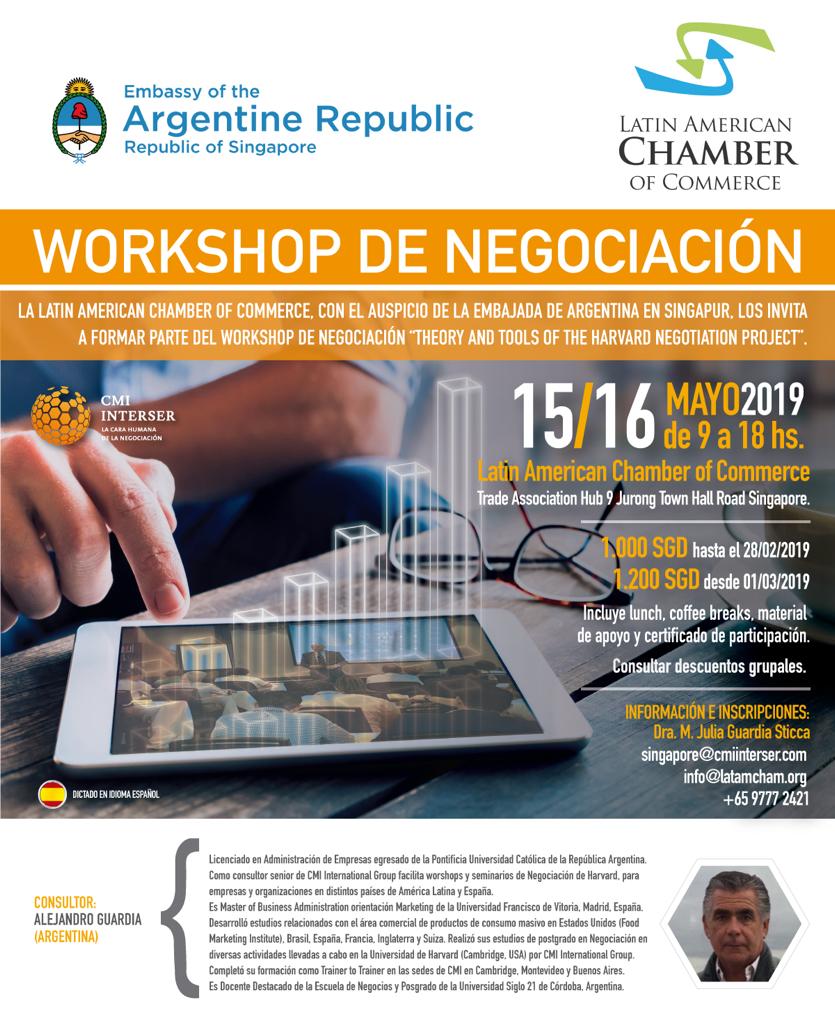 Unica oportunidad de realizar el Taller de Negociación "Theory and Tools of the Harvard Negotiation Project" en español en Singapur con el consultor Alejandro Guardia de CMI International Group.
Fecha: 15-16 de Mayo 2019
Hora: 9:00 - 18:00 hrs
Lugar: Trade Association Hub 9 Jurong Town Hall Road Seminar Room T1
Precio: Tarifa especial $1,000.00 pagos antes 28-02-19; $1,200 pagos después del 01-03-19
Mas información: singapore@cmiinterser.com - info@latacham.org
Alejandro Guardia es licenciado en Administración de Empresas egresado de la Pontificia Universidad Católica de la República de Argentina.
Como consultor senior de CMI International Group facilita workshops y seminarios de Negociación de Harvard para empresas y organizaciones en distintos países de America Latina y España.
Tiene un MBA con orientación en Marketing de la Universidad Francisco de Vitoria, Madrid, España. Desarrollo estudios relacionados con el área comercial de productos de consumo masivo en Estados Unidos (Food Marketing Institute), Brasil, España, Francia, Inglaterra y Suiza. Realizó sus estudios de postgrado en Negociación en diversas actividades llevadas a cabo en la Universidad de Harvard (Cambridge, USA) por CMI International Group. Completó su formación como Trainer to Trainer en las sedes de CMI Cambridge, Montevideo y Buenos Aires. Es docente destacado de la Escuela de Negocios y Posgrado de la Universidad Siglo XXI de Córdoba, Argentina.